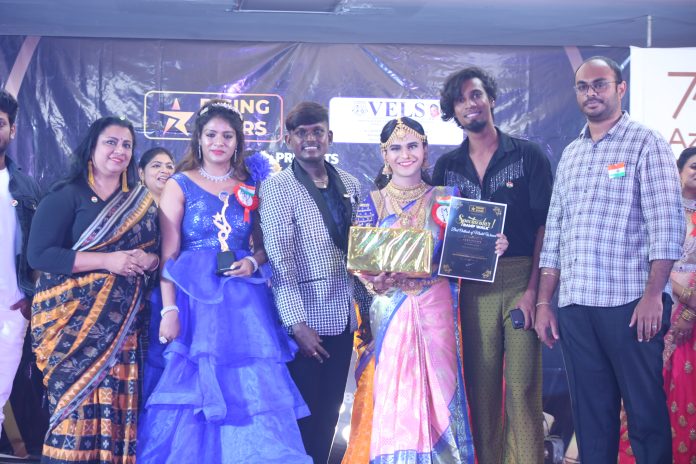 Makeup Artist Agathiya wins the Best Outlook  makeup Artist award for transforming a male to female in her makeup for The Spectacular Ramp Walk In Kalam's world record.
Makeup Artist Agathiya is part of the Spectacular Ramp Walk of Kalam's world record. Among so many makeup artists choosing their own theme in bridal, Agathiya choose the bridal transformation makeup from male to female and completed it within 2 hrs beautifully… Salman was her model.Her makeup was spot on that you couldn't identify the model  is actually a male. Infact Salman looked a lot prettier than most of the models in the event. It shows her talent, finesse and dedication to her chosen profession.
Agathiya is not just a makeup Artist. She's a woman of so many talents. We have seen her as a model, a boxer, an ardent dancer, a TV anchor, an actor and now she's all upto setting a record in makeup surpassing all her previous milestones. She not just participated but went a step ahead and won the Best Outlook Makeup Artist Award.
The Makeup Marathon for Kalam's world record was conducted on the 75th Independence Day of India and was organised by Rising stars and Vels University, Pallavaram. It is a longest relay of makeup for passing social awarenenss message in a fashion walk. There were 90 participants in the relay. The achievement is registered in the Kalam's world records.
The makeup artists were supposed to complete their makeup and hairstyle in 2 hours. The makeup was judged by the Celebrity makeup artist Seldon, Movie celebrity Priyadarshini, Writer Latha Saravanan, Vels University VP Ms. Preetha Ganesh.