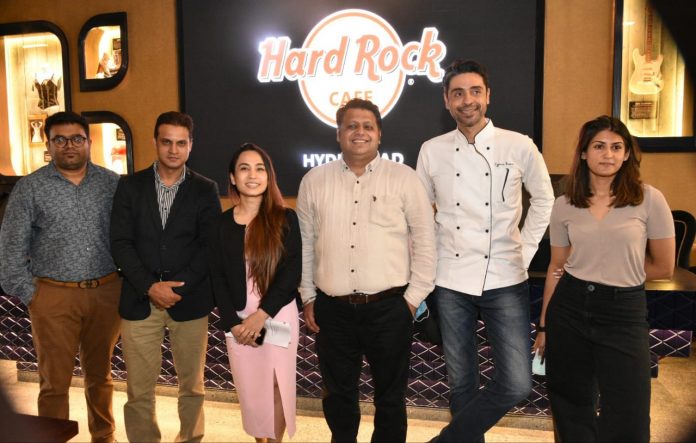 HARD ROCK CAFE® BRINGS DOUBLE THE MAGIC TO HYDERABAD WITH SECOND OUTPOST IN HITECH CITY
Hyderabad:  Hard Rock® introduces the brand's one-of-a-kind blend of music, entertainment, iconic merchandise, and authentic American fare to Hyderabad's tech hub – Hitech City, with its second outpost in town, as the brand celebrates 12 years in the city! The Rock 'n' roll-themed chain with a high-energy vibe, serving burgers & American classics will cater to the tech crowd of Hyderabad and local visitors, who will experience Hard Rock's new design style and latest technology at Hard Rock Cafe® Hyderabad Hitech City, which is located at the Ground Floor at Salarpuria Sattva, Knowledge City. This opening is special as the brand also celebrates its 50th anniversary globally this year.
Customers of Hard Rock Cafe at Hitech City will be able to enjoy fresh and high-quality authenticAmerican items from Hard Rock's most extensive menu innovation in the company's history that features many new offerings. Guests can indulge in signature dishes such as Legendary Steak Burgers, The Original Legendary Burger, The Big Cheeseburger and more. The Starters & Shareables include the famous Jumbo Combo, One Night in Bangkok Shrimp, Wings, All-American Sliders, Classic Nachos and more. An extensive selection of Salads, Sandwiches & Specialty Entrees will also be on offer to tantalize taste buds such as the BBQ Pulled Pork Sandwich, California-Style Cobb Salad, Baby Back Ribs, and Famous Fajitas, just to name a few. Additionally, a new local inspired Indo-fusion menu created by Chef Cyrus Irani put the spotlight on hyperlocal dishes such as Fiesta Platter, Hyderabadi Biryani, Fish & Chips, South of the Border Cottage Cheese among others. Don't forget to add a zing to your dining experience by trying one of our many signature beverages including: All new Boozy Milkshakes, cocktails such as Rockin' Fresh Rita, Rock House Rum Punch and Hurricane.
Spread over 8897 square-feet with a capacity of over 194 seats, the space promises the best of indoor & outdoor dining experiences for a city that loves both alike for dining in & out at different times of the day. The outdoor seating area is lined with tropical landscape along its periphery and a gigantic photo-opportunity in the form of a street art mural, curated by local talent, set alongside the outdoor bar.
The indoor section boasts of a stunning bar counter on a raised platform, and a striking ceiling that needs a special mention since the same has been meticulously crafted with a combination of coffers and metal baffles – which add immense character to the overall energy of the space. There exists a 4,000 Sq Ft of fully air-conditioned indoor space with a sizable podium at the nucleus of the space to house live performances on one side, and an exciting combination of a cafe format of Hard Rock, known as Constant Grind, along with a Rock Shop on the other side. The Constant Grind, a coffee-shop by Hard Rock International, will open its second exclusive shop ever at Hard Rock Cafe Hitech City. It will serve freshly brewed gourmet coffee to its guests; one can work remotely from this space and enjoy a latte, espresso, or a refreshing iced drink to go with freshly baked cookies, all-day breakfast, sinful smoothies and sandwiches. A special attraction here is a Gelato Bar for our little rockers and families.The new Hard Rock Cafe at Hitech City will create over 65 direct jobs and several others by way of indirect services, within the city at a much-needed time.
Memorabilia from Hard Rock's iconic collection adorns Hard Rock Cafe Hitech City's walls, including items from legendary musicians like a belt worn bylead guitarist, Slash, of Guns N' Roses, a pair of fancy boots donned by Elton John, Rihanna's metal bikini and accessories, a long-sleeved cat costume worn by Lady Gaga, among many others. Some more star pieces include a Harley Davidson hat worn by Elvis Presley, and a brown pinstripe vest by Will.I.Am of Black Eyed Peas –
The Hyderabad second outpost's Rock Shop® will offer music-inspired items, as well as customized collectible Hard Rock Cafe merchandise. Fans can acquire exclusive HyderabadHitech City-specific merchandise and much-coveted signature pins at this retail location.
"Opening a second outpost in Hyderabad during such unprecedented times has been a huge challenge for our partners, and we feel extremely proud to finally be able to announce the opening of this iconic cafe in the beautiful Nizam city of Hyderabad," said Anibal Fernandez, Vice President of franchise operations, Hard Rock International.
We once again look forward to welcoming our Hard Rock fans in Hyderabad, India, in a "SAFE + SOUND" environment.
Those looking to dine at Hard Rock Cafe Hitech City can make a reservation by
To purchase Hard Rock Cafe merchandise, visit the online Rock Shop at https://shop.hardrock.com.