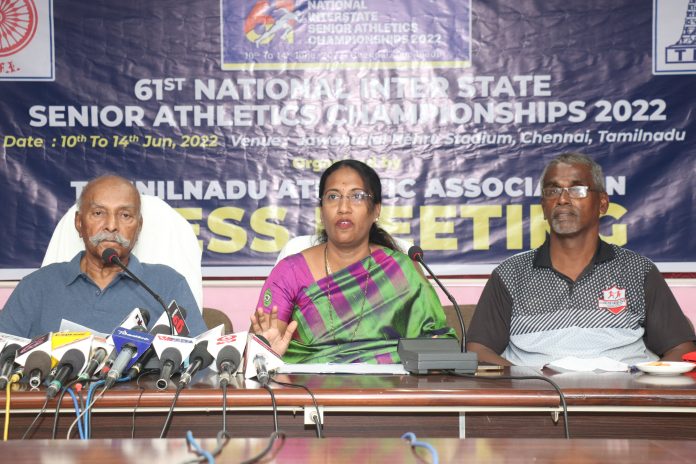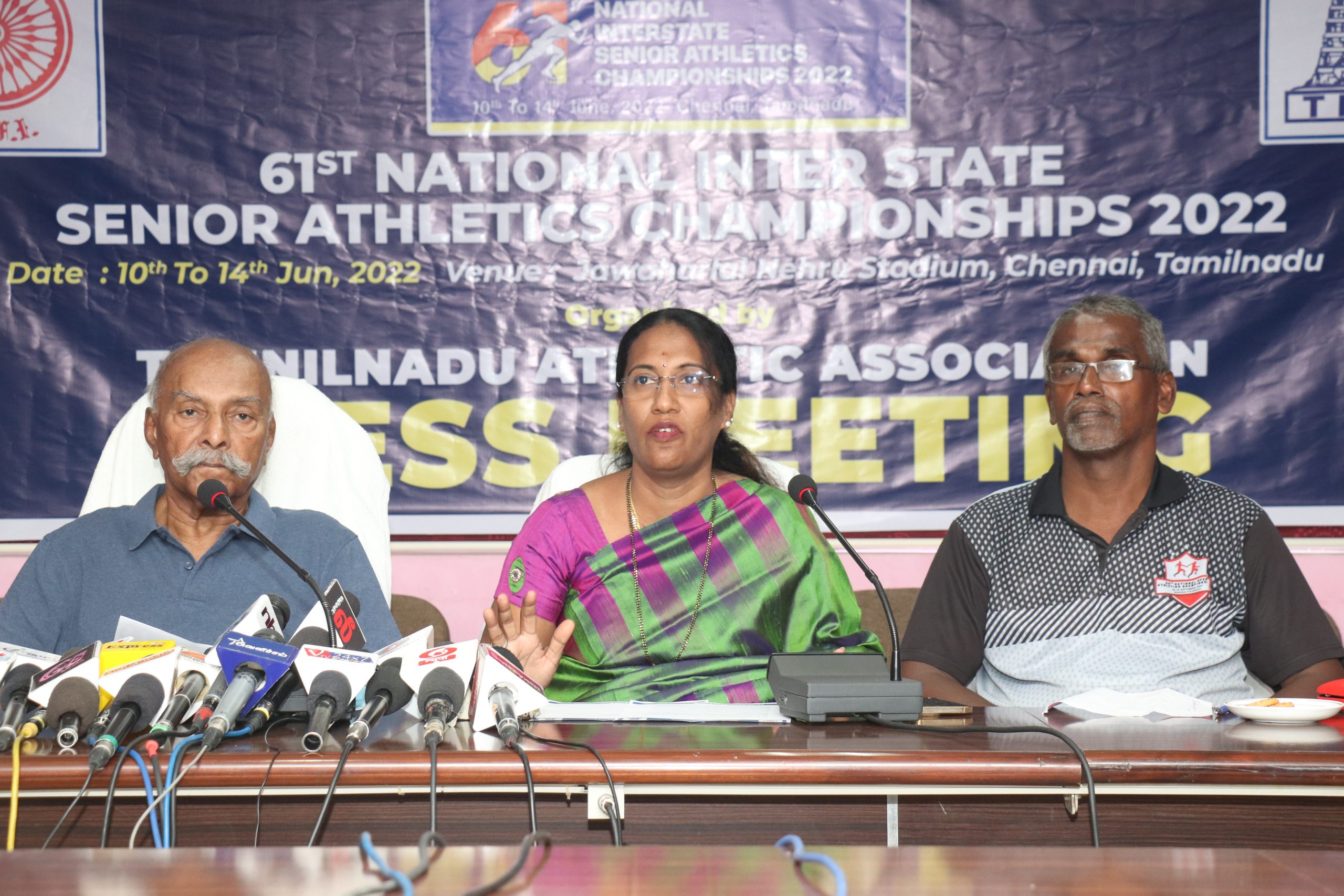 61st edition of National Inter-State Senior Athletics Championships five-day meet will be staged from 10th to 14th of June at Jawaharlal Nehru Stadium announced by W.I.Davaram & Smt.C.Latha
The big-time athletics is coming back to Chennai this week! Tamil Nadu Athletic Association, under the aegis of Athletics Federation of India, will be hosting the SNJ 61st edition of National Inter-State Senior Athletics Championships at Jawaharlal Nehru Stadium here. The five-day meet will be staged from 10th to 14th of June.
The Event will be inaugurated by our Honourable Thiru. Siva V Meyyanathan, Hon.Minster for Environment-Climate Change, Youth Welfare and Sports Development, Govt of Tamil Nadu. The flag hoisting will be done by Pon, Dr. Gautham Sigamani, Member of Lok Sabha, Kallakuruchi. The gathering will be welcomed by Thiru W.I.Davaram, IPS, President, Tamil Nadu Athletic Association, followed by the Presidential Address of Thiru. Adille J Sumariwalla, President, Athletics Federation of India. The customary Torch Relay will be started by Thiru. S.N.Jayamurugan, Managing Director, SNJ Gorup, Chennai. A special address will be delivered by Dr. Lalit K Bhanot, Chairman, Planning Committee, Athletics Federation of India. Smt.C.Latha, Secretary, Tamil Nadu Athletics Association will thank the gathering.
The above championships is highly significant in this year's national athletics calendar, as it will serve as the Final Selection Trials to identify the Indian athletes looking forward to gain a ticket to enter in the forthcoming Commonwealth Games and World Athletics Championships.
The World Athletics Championships will be held at Oregon, United States of America, from 15th to 24th July, while the multisport Commonwealth Games later in Birmingham from 28th July to 8th August.
Around 750 athletes from 23 states and union territories across the country are taking part in the Chennai Nationals. It is the eleventh time Chennai is playing as hosts to the National Inter-State Championships in its 60 years history, the last edition being in 2015.
Some of the prominent athletes who represented the country will be in action such as Sreeshankar M in Long Jump, Jyothi Yarraji in 100m Hurdles, Hima Das and Dutee Chand in Sprints, Tajinderpal Singh Toor in Shot Put, Annu Rani in Javelin and Mohammed Anas in 400m.
The host state is fielding a strong contingent of 65 athletes including 28 women, to the upcoming event. Long Jumper Jeswin Aldrin, who recently won the Federation Cup at Calicut, will be the main attraction in the Tamil Nadu team. Other prominent athletes from the state include tow times Olympian Arokia Rajiv in 400m, 2018 Asian Games Silver medallist hurdler Dharun Ayyasamy, national pole vault record-holder Subramania Siva, ace triple jumper Praveen Chithravel among men, the current sprint sensation Dhanalakshmi Sekar, Olympian Subha Venkatesan in 400m,high jumper Harshini, in the women's section. It is also to be noted that the Athletics Federation of India will allow five men 400m athletes to participate on behalf of Tamil Nadu, making a special entry where the default entries are only three per state, due to resource rich performances.At this moment we are also grateful for our sponsors and appreciate the support provided by our Title Sponsor SNJ Group, Co-Sponsors Besten Pumps, Dr. M.G.R. Educational and Research Institute, Marc Global Network, our associate sponsors NPR Group of Institutions and Kalvi Group of Institutions.
The competition schedule for the Inter-State Championships and Entry Standards for various international competitions can be viewed at 
www.indianathletics.in