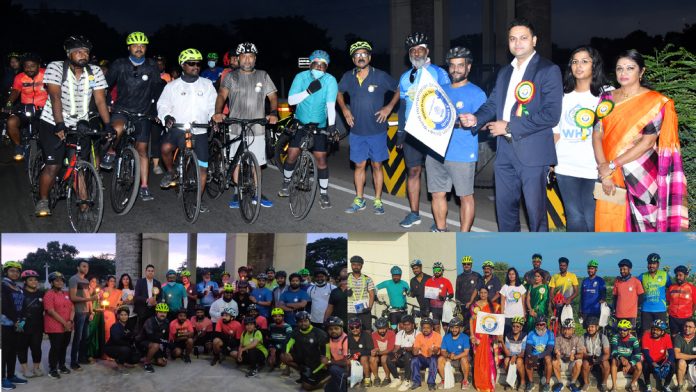 World Humanitarian Drive
World Humanitarian Drive [WHD] is an International NGO founded by Dr. Abdul Basit Syed, a global peace activist in London. WHD currently has its chapters in twelve countries pioneering in enabling humanitarian activities worldwide. The primary goal of WHD is to promote Peace, Education and Trade Harmony.
WHD has been working on numerous activities all over the world to intensify the need for 'World Moral Day' to be celebrated on 2nd of September every year as a remembrance of the last day of World War II.
Following the footsteps of Dr. Abdul Basit Syed in this profound vision, the state president of Tamil Nadu, Mrs. S. Meenakshi became the forefront in organizing the event "Leading Moral Cycle"– a 15 kms bicycling ride till Chembarambakkam Lake starting from the Madras War Memorial which was built to honour the lives of soldiers who sacrificed their lives and shed blood, sweat and tears in World War II in order to attain peace and harmony. The inaugural flag off was by Dr Abdul Basit Syed – Founder Chairman of WHD and the finishing flag off was by Mrs. S. Meenakshi – TN State President of WHD.
Dr Syed said "We started this World Moral day Campaign to reach millions of people just to say War is not the solution and for all of us to contribute towards peace in remembering the lives of 40 million innocent people lost in World War II".
Many cyclists from "Ithu Namma Cycling Group- INCG", one of the active cycling groups in Chennai with 11 chapters spanning across Chennai and Tamil Nadu, have shared their support to WHD by taking out this 15 km stretch pedalling towards morality in extending their support to highlight the duty of every individual in conserving nature using eco-friendly means of transportation. Mr Shankar, the founder of INCG also a super randonneur said the primary goal is to "Connect Cyclists Beyond Cycling" in making them realise the significance to develop their moral virtues.
In the same regards, with heartful willing, we will also put forth the same request of "World Moral Day" to Hon Chief Minister of Tamil Nadu, Thiru MK Stalin.