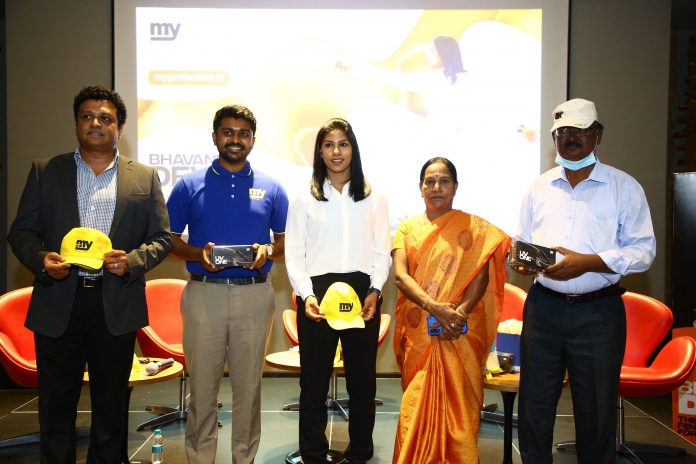 'MY' Ropes in Bhavani Devi as their Goodwill Ambassador
Chennai, March 30, 2021: World's first Safety Lifestyle brand 'MY' ropes in Olympic qualifier Ms. C. A. Bhavani Devi as their Goodwill Ambassador. Bhavani Devi is the first Indian Fencer to qualify for the Olympics that is to be held in Tokyo, July 2021. She has bagged many medals and trophies, and the Silver medal in the Asian Championship made her the first Indian to accomplish this flight.
Mr. Kavin Kumar Kandasamy, Founder & CEO, 'MY' said– "We are excited to be the official protection partner for a vibrant and promising young athlete like Bhavani Devi. Her persona completely resonates with our brand and our motto of creating a safe and secure lifestyle for all. Bhavani Devi's passion for the game, her grit and commitment to create a change, and her positive emphasis on Safety, and fitness relates to our brand. We at 'MY' believe that the need for a safe place starts right at our homes. With such association, we reiterate the importance of hygiene and safety for every individual, organization, community, and the country as a whole and we look forward to seeing a positive change in our lifestyle routines with improved immunity and fitness." 
Fencing Olympic Qualifier, Ms. Bhavani Devi, said– "I am very happy to be associated with 'MY'. The thought of weaving safety in our lifestyle is unheard of and I would like to voice the need for this.The Pandemic has taught us a lot and made us re-think about the importance of safety. Through my association with the brand, I look forward to making and endorsing Safety, a part of our lifestyle. As an athlete, fitness and immunity is the key to performance and through 'MY', I want to put Safety and well-being the top of my priority list and recommend the same to the people. The creations from 'MY' are elegant and stylish but at the same time through their innovative Safety gears, the Brand looks at making Safety a desired lifestyle choice to the people because, the way I see it, the only way to move forward is by improving our immunity levels, working on our fitness by picking a sport we like and making safety a part of our lifestyle".