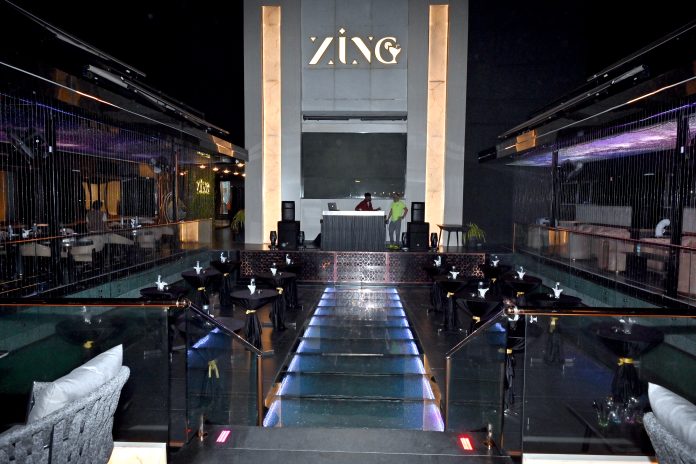 Elevate Your Evenings at Zing, JP Hotel's Rooftop Bar with Mesmerizing Sunset Views
JP Hotel proudly introduces Zing, the crown jewel of our rooftop offerings, perched on the 9th floor. Zing invites you to savor spectacular sunsets while enjoying distinct cocktails and savoring traditional Indian delicacies.
Experience the Magic of Zing:
1. Sunset Spectacle:** Zing offers an unobstructed, panoramic view of the setting sun. Located on our 9th floor, it provides the perfect backdrop for unforgettable evenings.
2. Traditional Meets Contemporary: While Zing's ambiance exudes a vibrant, contemporary vibe, our culinary creations are steeped in tradition. Our menu is an ode to the rich flavors of India, meticulously prepared using only the freshest ingredients and cooked in authentic copper urali vessels.
3. Luxurious Rooftop Oasis:Zing's stage is graced by cascading water fountains on either side, creating an enchanting and dreamy atmosphere that complements the premium rooftop bar experience.
4. Entertainment Galore: Zing boasts a 12.5 feet visual screen and a pulsating DJ counter, ensuring your senses are engaged throughout the night.
Must-Try Dishes:
– Kozhi Ghee Roast:** A tantalizing chicken dish, bursting with flavor.
– Steaming Momos:** Delicate dumplings served piping hot with a variety of delectable sauces.
– Crispy Prawns:** A seafood lover's dream, offering a satisfying crunch with every bite.
– Rabdi Gulab Jamun:** A sweet ending to your evening, served in traditional clay pots.
Join the Joyride at Zing and GetZinged:
Reservations: +91 9600162000
Address: JP Hotel, 1131, 100 Feet Rd, Jai Nagar, Koyambedu, Chennai, Tamil Nadu 600107
Whether you're seeking a romantic rendezvous, a vibrant night with friends, or a memorable celebration, Zing at JP Hotel promises an enchanting rooftop bar experience that seamlessly blends tradition with modernity.