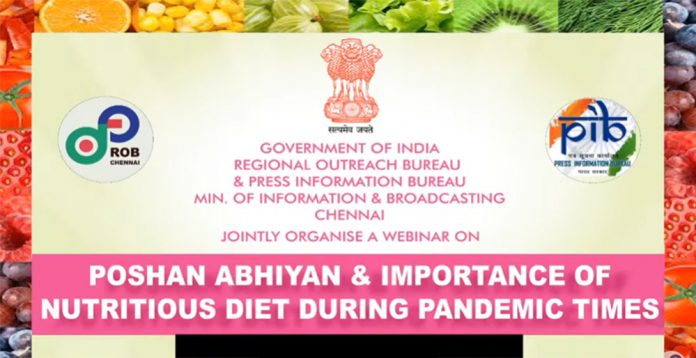 Poshan Abhiyan & Importance of Nutritious food during pandemic times
Chennai, September 8, 2020
Regional Outreach Bureau in coordination with Press Information Bureau,  Ministry of Information & Broadcasting, Govt. of India, Chennai organized a Webinar on "Poshan Abhiyan & Importance of Nutritional Diet during pandemic times" today.
The guests, Smt. J M Yamuna, Joint Director (National Nutrition Mission), Directorate of ICDS, Government of Tamil Nadu, Dr. S Srinivasan State Nodal officer,  Child Health and  Registrar, Institute of Child Health & Children Hospital, Madras Medical College, Dr. G. Sivaraman, Chief Siddha Physician, Arogya Siddha Hospital Chennai threw light on various aspects of nutrition to the participants.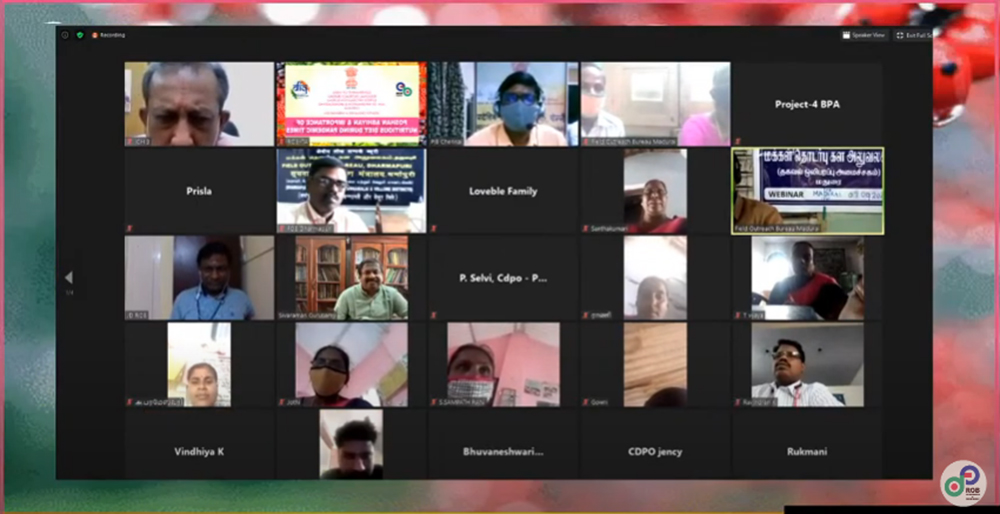 Delivering the introductory address, Shri.B.Gurubabu Balaraman, Director, PIB, Chennai said during a pandemic like Corona it is very important to have nutritious food to support the immune system. He added that most of the people who have succumbed to death were due to lack of immunity. Healthy living and a positive approach is the need of the hour and this month being the National Nutrition month (#POSHANMaah2020)  one  should look back to our elders' approach to  diet.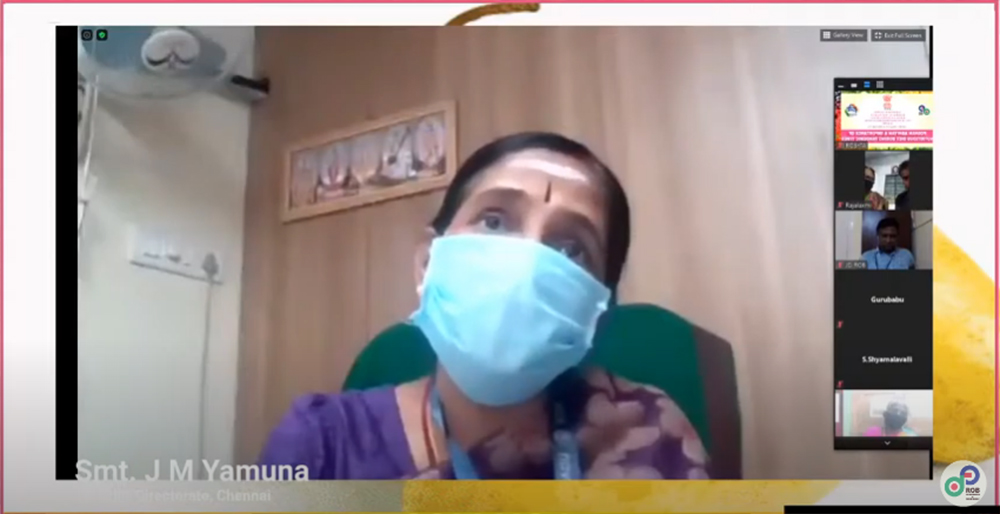 National Nutrition Mission-  #POSHANMaah2020  focuses  on Identification and treatment  of Severe Acute Malnutrition Children and promotion of Kitchen gardens: Smt. J M Yamuna
Special guest of the webinar, Smt. J M Yamuna, Joint Director (National Nutrition Mission), said, September  is observed as National Nutrition Month (Rashtriya Abhiyan Poshan Maah) for the last three years and this celebration is done throughout the month through various platforms. Especially during this pandemic, the departments have come up with innovative ways of engaging people, she said. The  focus has been majorly on how to tackle malnutrition.  Central government has come up with  two special themes, one,  Identifying Severe Acute Malnutrition (SAM)children  and referring them to the concerned departments or on how to improve their nutrition from their own homes and the other one is promotion of kitchen gardens/nutri gardens.
Briefing on types of malnutrition, Smt. Yamuna said, though ICDS was introduced in 1970s, Poshan Abhiyan introduced in 2018 covers a wider spectrum of targeted activities  and ensures proper  nutrition is given  to the women and children. Anganwadi workers have been provided with smart phones and also software modules created to follow up the pregnant and lactating mothers regularly . As  many as 75000 WhatsApp groups are operational among the Anganwadi workers and other related workers for dissemination of essential messages.   Public health messages, preparing children for getting back to school and much more activities are done in convergence with various departments under Poshan Abhiyan, she added.  Speaking on importance of growth monitoring, she gave detailed information on care for ante- natal and post natal mothers where health mix and other supplements like iron and folic acid are being provided. Talking about  Deworming and holistic nutrition, she emphasized on providing nutritious food for adolescent girls as well as the mothers. Speaking about the Kitchen Garden, she said departments like horticulture, agriculture, TNAU, KVK along with the local panchayat have been promoting the theme to promote plantation of traditional vegetable and medicinal plants for getting  nutritious food from  home gardens.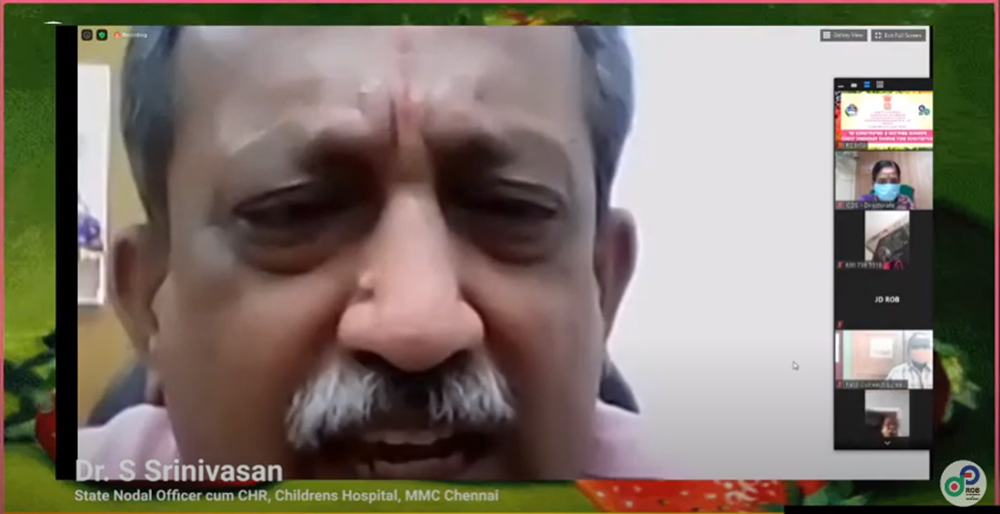 Exclusive breastfeeding for first six months, will save both Mother and Child against all disorders: Prof. Dr. S. Srinivasan
Prof . Dr. S Srinivasan State Nodal officer,  Child Health spoke on Nutritional interventions required for Pregnant/Lactating mothers and children and pointed out the lacunae in  achieving  100 percent target  in maternal and child health and how to tackle the challenges in combating anemia. He said that though 98.8% of the deliveries happen in  hospitals in Tamilnadu , a promoting exclusive breast feeding for the first six months still remain a challenge. He said the health professionals and workers will have to do a lot more counseling and explain the nutritious benefits of mother's milk right from  ante natal stage.  He said, when breastfeeding is done right, there is no scope for malnutrition. He also explained on when and how to start supplements for the baby and importance of protein for both the mother and the child. He also added mother's weight gain is proportional to baby's weight gain and he busted the myths on mother's weight gain and taking iron supplements during pregnancy. Speaking on the significance of breastfeeding within an hour of birth, he said 'demand feeding' is wrong and the mother needs to follow the child by the cues.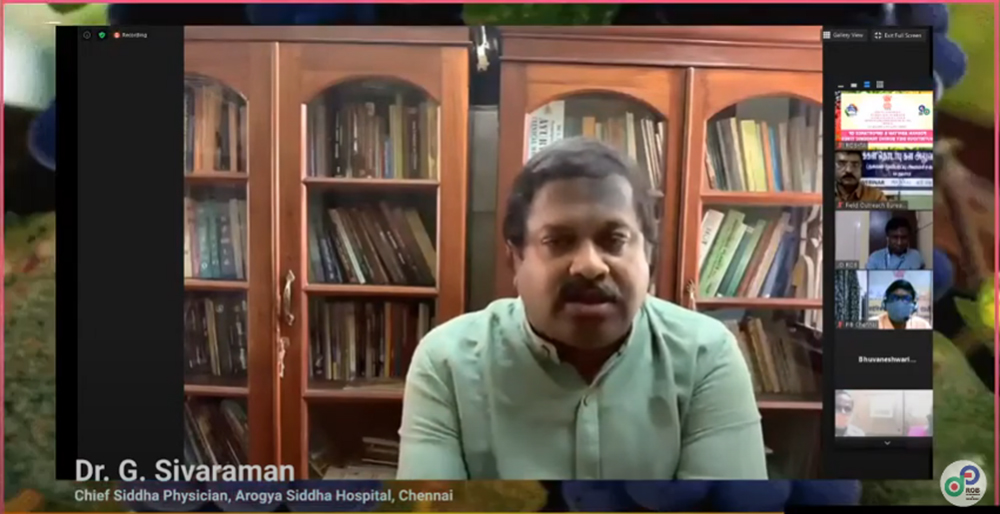 The traditional food crops and native vegetables and fruits, big boosters of immunity: Dr Sivaraman
Dr. G. Sivaraman,  Siddha Physician, spoke on the  Nutritional Health, the Ayush way. Calling ICDS, a social responsibility he said all of us are responsible for a healthy society. He insisted on reviving  traditional food habits and home made recipes  that have been followed for ages now. He also said that we need to look deep into the science of our traditional food and medicines. After COVID, all the doctors have been speaking on importance of Zinc and it is abundantly present in all the greens and  cereals,  he said. He also added that our body comes up with an adaptive system to fight such pandemics. This adaptive system is high for all the children who have been breast fed for the first two years. He said we need to keep the system alert and not get stuck with the lifestyle diseases. Speaking on lifestyle diseases like Diabetes and hypertension he said we need to avoid junk foods. Speaking on importance of Raagi porridge, he said we need to have a clear understanding of our genetics before we fall for false endorsements. He said Bajra (Kambu) has 8% more iron than polished rice and helps a lot for expecting mothers.  Consumption of organic millets not only helps us in maintaining a healthy lifestyle but it also helps our farmers, soil health and the biodiversity at large. He also added that a pandemic is a mere reflection if man's selfishness and is a result of anthropocentrism.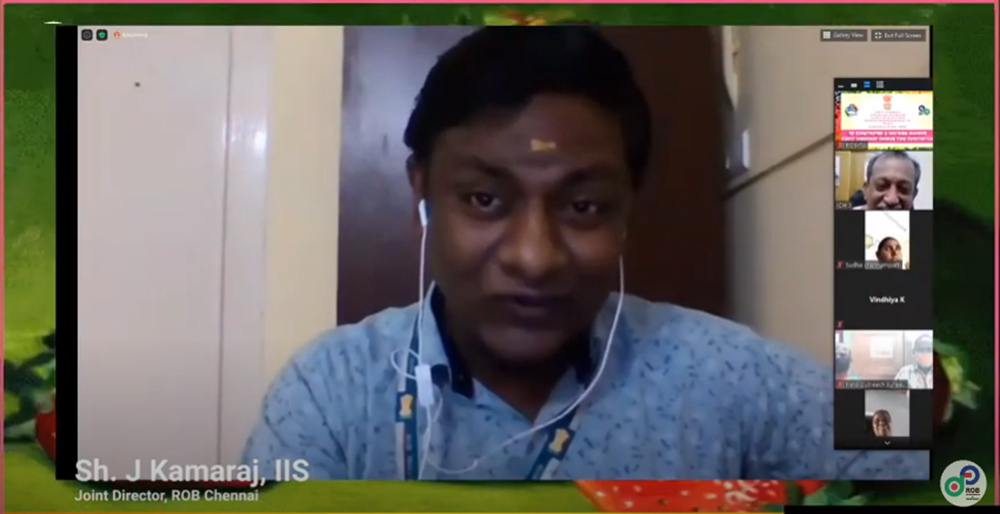 Concluding the session, Shri J Kamaraj, Joint Director, ROB, Chennai referred to the Poshan Abhiyan website and said that the state of Tamil Nadu has been doing extremely well in different variables. He also pointed out that the Ministry of Women and Children Welfare has called for innovative ideas for high nutritional value recipes including the traditional and medicinal to be shared by the public through text, photos or videos in innovate.gov.in website.  He thanked all the guests for a very informative session on nutrition, breastfeeding and science behind traditional foods and medicines. The webinar was well received by the public and e certificates were issued to the participants.
The webinar can be viewed on "Regional Outreach Bureau, Tamilnadu & Puducherry region's YouTube Channel https://www.youtube.com/watch?v=ZaOKHM8b8wg