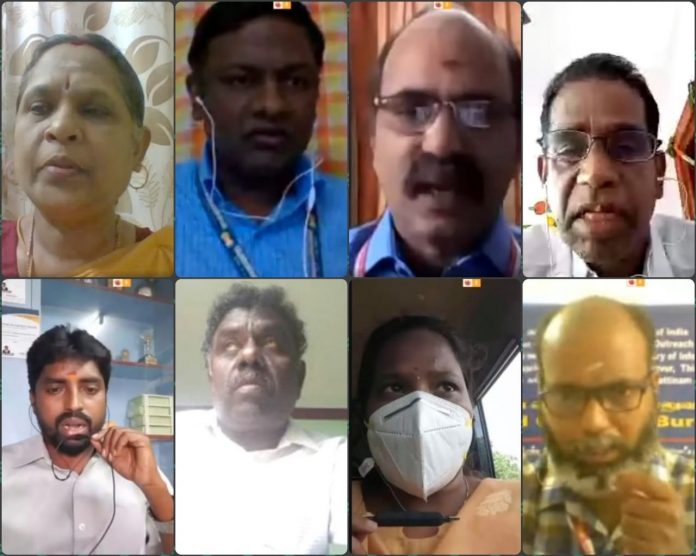 NATIONAL EDUCATION POLICY WILL REVOLUTIONIZE THE COUNTRY'S EDUCATION SYSTEM; TO LAY STRONG FOUNDATIONS FOR INDIA'S PURSUIT OF KNOWLEDGE SUPERPOWER.
The National Education Policy 2020 ensures quality  education for all and 100 per cent gross enrolment at school level  by 2030. This was stressed in webinar on COVID-19 and National Education Policy organised by Field Outreach Bureau Thanjavur under Union Ministry of Information and Broadcasting on 13th August, 2020.
Presiding over the webinar , Shri J Kamaraj, Joint Director, Regional Outreach Bureau, Chennai said that the  National Education Policy(NEP) will revolutionize the education system in the country ,  laying strong foundations for it  to become a knowledge superpower.  This policy will transform  the education sector in the way the Green revolution has changed the face of the agriculture sector, hr added.  He pointed out that the policy will overhaul the higher education system and develop Indian universities into world class educational institutions. On COVID-19, he said that lack of  awareness about the pandemic is a cause of concern and it is everyone's responsibility to prevent the spread of COVID-19 by observing safety norms laid out by government.
Shri K Devi Padmanabhan, Field Publicity Officer, Field Outreach Bureau Tiruchirapalli in his introductory speech said that National Education Policy aims to bring back 2 crore school drop outs  into the education system. He said that the 10 plus two system will be changed to 5+3+3+4, which will bring Anganwadi children into school education system.
ALSO READ:
Delivering key note address, Dr K Kalaichelvi, Research Advisor, Head Department of Commerce, Govt  Arts and Science College, Orathanadu, Thanjavur said that NEP is based on sustainable development goals. She spoke about the evolution of national education policies from pre-Independent period to various national policies in 1948, 1952, 1964 and first National Education Policy in 1968. She pointed out that quality education has been given importance in the NEP. She elaborated on nutrition meal for students, digital education, infrastructure development in schools and early childhood development.
Dr S Kamaraj, former Principal, Bharathidasan University Constituent Arts and Science College, Nannilam, Thiruvarur in his address said teachers training at national level recommended by NEP should be welcomed. He said that vocational education  being part of curriculum will boost the skills of the students right from childhood.
Dr E Sakthivel, Principal, Kavira Community College, Mannargudi, Thiruvarur said NEP is a brilliant blueprint for nation's development and therefore be welcomed by every section of the society.  He said that it is unfortunate that some people are opposing it without understanding the basic features of the policy.
Shri S Deivasigamani, District Youth Coordinator, Nehru Yuva Kendra, Thiruvarur, in his , felicitation address urged youth to spread the good intention  of NEP to public. He said that NYK volunteers will be conducting awareness programmes on NEP.
Earlier Dr Nandhini, Medical Officer, spoke about prevention measures to be taken against spread of COVID 19 pandemic. She said that children, old age, diabetic and heart patients are in high risk category. She said that testing centers have been increased in the state and advised compulsory testing for symptomatic patients and for others  who are in contact with COVID 19 positive patients. She spoke about importance of safe distance norms and importance of hygiene.
Field Publicity Assistant, Thanjavur,  Shri S Arunkumar,  welcomed the participants and moderated the Webinar. Shri R Balakrishnan, Accountant of Nehru Yuva Kendra Thiruvaraur rendered vote of thanks. One hundred people including, students, teachers,  anganwadi workers from delta districts attended the Webinar. The Webinar was streamed live in YouTube of Regional outreach Bureau Tamil Nadu and Puducherry region https://youtu.be/mdzre8Ap9nk. All the participants were given e-certificates through internet link.