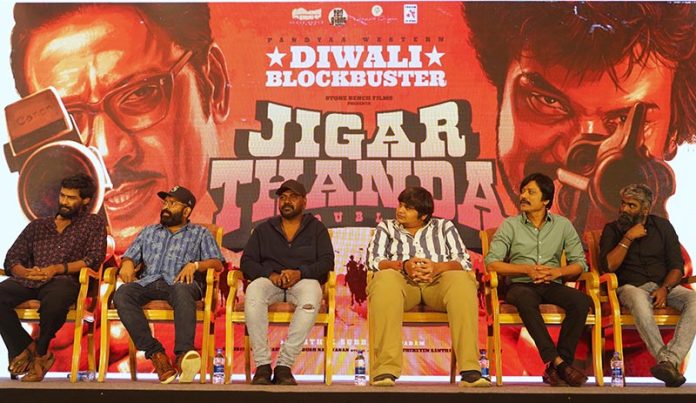 'Jigarthanda Double X' Super Duper Hit! Team's Thanksgiving Meet Highlights!!
Thanksgiving meet of 'Jigarthanda Double X' blockbuster movie directed by Karthik Subbaraj and produced by Stone Bench Films' Kaarthekeyan Santhanam and Five Star Creations' S Kathiresan

The Thanksgiving meet of blockbuster Deepavali release 'Jigarthanda Double X', directed by Karthik Subbaraj, produced by Kaarthekeyan Santhanam of Stone Bench Films and S Kathiresan of Five Star Creations, co-produced by Kal Raman, S Somasegar, Kalyan Subramaniam and Alankar Pandian and released by Red Giant Movies was held in Chennai on Friday (November 17). Highlights of the event are below:
Vidhu who played the role of Sattani said…
Thanks to everyone who are here. Thanks to all journalist friends. Thanks to all the well-wishers. It is a pleasure to act with seniors. I feel very happy to act with Lawrence sir and SJ Suryah sir.
Editor Shafique Mohamed Ali said…
I belong to the Stone Bench family. I am where I am today because of Karthik Subbaraj sir. Thanks to all the journalists, I wouldn't have been able to talk here if you hadn't talked about this film.
Actor Naveen Chandra said…
Big thanks to our journalist friends and Stone Bench Films for making this a success. The story was such that I started hating my character in this. Acting with SJ Suryah sir and Lawrence sir was an unforgettable experience. I am very thankful to Karthik Subbaraj sir for giving me this role. After watching 'Jigarthanda' I wanted to do just one scene in Karthik Subbaraj sir's movie. I am indebted to him for giving me such a great character in this movie.
Music composer Santhosh Narayanan said…
In the film industry, there is always a debate among the technicians about what kind of film to make. Sometimes we get the films that we aspire to make, and it is good that people love that kind of film in 'Jigarthanda Double X'. A director like Karthik Subbaraj doesn't do the same thing over and over but takes cinema to the next level and I am happy to be with him. Our team worked hard for the music of this film. We were waiting for Karthik Subbaraj's film to hit theaters again. Glad people are celebrating this movie in theaters now. Thank you for your support.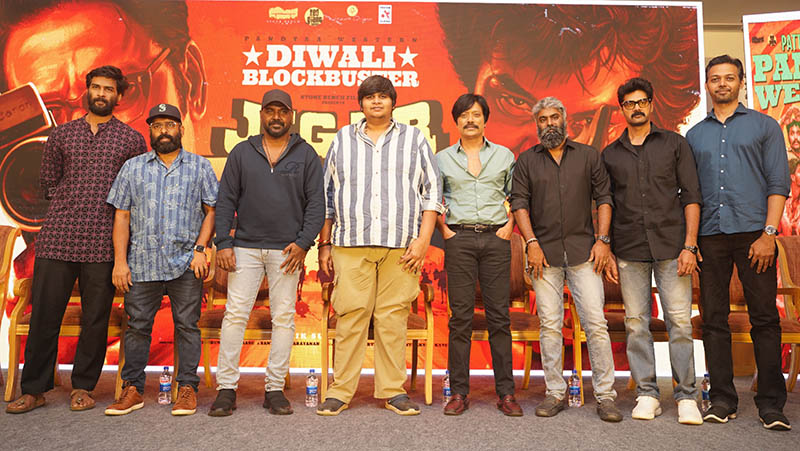 Actor and director SJ Suryah said…
This is time to share the success. Thanks to press and media friends. We went to cities like Madurai, Trichy, and Coimbatore to personally see how the theatre response was. Taste of audience has now evolved a lot. A comedy scene may get applause, but when emotional scenes receive claps from the fans, it makes us very, very happy.
Thanks to Red Giant for releasing this movie. Karthik Subbaraj used to say, "Let us not speak, let our film speak." This film speaks has just done that. Lawrence is my great friend, a good man, and he has earned a good name. Thanks to Producer Kaarthekeyan Santhanam and his team. Everything is good in this movie. It is being liked by all. The director has shown a good story on screen.
Actor Raghava Lawrence said…
Thanks to all journalists. This film has given me great success. Karthik Subbaraj is the hero of this movie. God's blessings are abundant on this film. Big kudos to Vidhu for his portrayal of Sattani. We are thankful to Red Giant Movies.
Many people have praised this film. Thank you very much for your greetings, my Guru Superstar Rajinikanth Sir. Having never seen Shri Raghavendra Swamy in person, I consider Rajinikanth as my Raghavendra Swamy. I am indebted to all my fans. I am going to build a big wedding hall in my mother's name and request your best wishes. Thanks.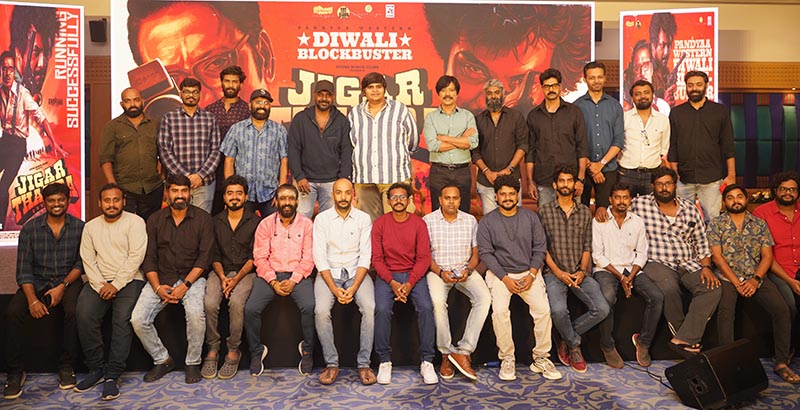 Director Karthik Subbaraj said…
Greetings to everyone. I had high hopes for this movie and was nervous at the same time. We are very happy that 'Jigarthanda Double X' is a huge success today with all your support. Thanks to each and everyone who watched this movie in theaters. Gratitude to Mr S Kathiresan of Five Star Creations for giving us the title. Thanks to everyone who worked on it. Gratitude to Kaarthekeyan Santhanam of Stone Bench Films. Raghava Lawrence, SJ Suryah and Nimisha acted well. Sattani's character is not that easy. Vidhu who played that role worked hard.
God has showered His blessings on this film. A lot of good things happened. It was not us who crafted some of the much-appreciated scenes of the movie, everything happened automatically by God's grace. We were talking about this story a year and a half ago and today it is running successfully on screens. Thanks to actor Dhanush, directors Shankar, Nelson, Mari Selvaraj and many others who personally congratulated me over the phone. My Thalaivar Superstar Rajinikanth has praised me. Thalaivar was the only person who appreciated 'Pizza' and 'Mercury' too. Thank you, Thalaiva. Thanks to the journalists for their great support.