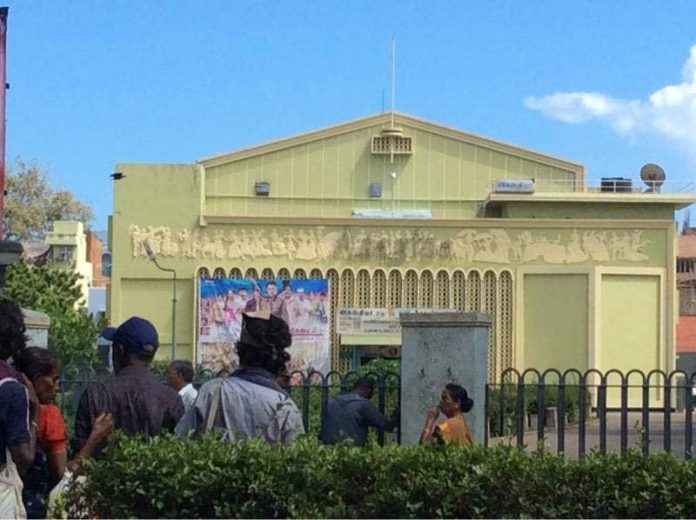 CHENNAI'S ICONIC THEATRE WITH MORE THAT 50 YEARS OF PRIDE TO BE PERMANENTLY CLOSED!
Chennai's iconic Agastya theatre which is the pride of North Chennai to be closed permanently!
We live in an age when movies can be watched on devices that fit in your pocket. But there was a time when Madras had charming theatres showing English, Hindi and Tamil cinema.
Each one had its own pluses and minuses, and movie-going was quite another experience altogether. Many of those theatres are now only part of our nostalgia, given that these days most of us prefer to watch movies in multiplexes.
Agastya theatre, Tondiarpet
The sprawling space in front of the theatre here always came as a surprise to the first timer. Even today, it is difficult to find a theatre in North Chennai that boasts of such large parking space. Agastya used to show both English and Tamil films. Agastya theatre was opened in 1967 and the first film to be played here was Bama Vijayam. It had only one screen and a capacity of 1004 seats,". The theatre often played the music of the English film Come September, which was a hit back then, during intervals."
Now, North Madras Icon Theater Agastya 70 mm will be permanently closed from 01/09/2020, due to substantial loss for past 3 years and pandemic.
It has screened many commendable films like former chief minister Thiru MGR avargal film ulagam surturm valiban, Thiru MGR's KAVALKARAN , ( first Film after his return to cinema after the Gun fire incident) was the first 100 days run.
Many MGR pictures were screened including his film Meenava Nanban. Sivaji Ganesan's Sivandha Mann, Sorgam, Devar Magan etc. Rajini' s first appearance Apoorva Ragangal, and then hits like Bairavi, Priya, Padikkathavan etc.
Sooriya's Kaaka Kakka, Kamal's Apoorva Ragangal, Apporva Sagotharargal, Thevar Magan etc.
Vijay's Kushi, and many more.
Ajith's first movie Amaravathi, hits like Deena ,etc.and many more hit films by various actors.
It has Bagged many Film Fan"s Association awards for the Best Maintained Non- Air Conditioned Theatre year after year.
ALSO READ:
சென்னையில் 53 ஆண்டுகளாக இயங்கி வந்த அகஸ்தியா 70எம்.எம் திரையரங்கம் நிரந்தரமாக மூடப்படுகிறது! ரசிகர்கள் அதிர்ச்சி!!