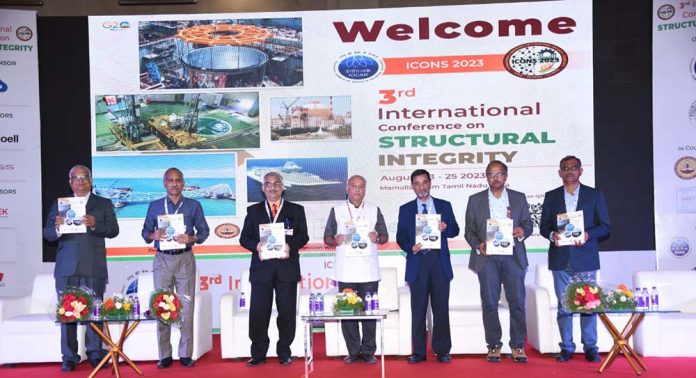 Third International Conference on Structural Integrity inaugurated at Mamallapuram
Chennai,
The Third International Conference on Structural Integrity (ICONS 2023) was inaugurated at Mamallapuram, Tamil Nadu on August 23rd, 2023 virtually by Dr. N Kailaiselvi, Director General, Council of Scientific & Industrial Research & Secretary, Department of Scientific and Industrial Research. ICONS 2023 is jointly organized by the Indira Gandhi Centre for Atomic Research, Kalpakkam and the Society for Failure Analysis, in association with Indian Institute of Technology Madras, Indian Society for Non-destructive Testing, Kalpakkam Chapter, Indian Institute of Metals Kalpakkam Chapter and Indian Structural Integrity Society.
Dr. Kalaiselvi, during her inaugural speech, she has highlighted on degradation of structures of power plant, petrochemical industries and iconic structures of India due to global warming. She has emphasized on developing a novel methodology to curb the structural degradation due to absorption of CO2. She suggested young researchers to take advantage of this conference and interact with experts from India and abroad.
The Presidential Address was delivered by Dr. B Venkatraman, Director, IGCAR, Kalpakkam. In his speech, he has related the structural health monitoring with anatomy of human central nervous system. He also emphasized on developing Indian standards and codes for structural integrity assessment of engineering components.
The Conference Chair, Prof. Raghu Prakash from IIT Madras, shared with the audience a brief history of structural integrity testing in India and the culmination of testing into the International Conference on Structural Integrity. He emphasized on the need to develop indigenous codes for various structural applications. Through this, he shared the aspiration to bring the International Conference on Fracture to India in the future.
Shri N. Rama Mohan, Executive Director – LWR Engineering, Nuclear Power Corporation of India Limited, shared his experience of the various sectors involved in setting up critical structures- design, manufacturing and construction. He stressed upon the need for structural integrity assessment in various forms in each of these sectors. He concluded by encouraging all stakeholders to collaborate with R&D institutes and academia to evolve optimal ways to achieve these goals.
Shri Thomas Mathew, Executive Director – Quality Assurance, Nuclear Power Corporation of India Limited shared his perspective on the intrinsic linkages between quality assurance and structural integrity evaluation. He highlighted the manner in which structural integrity has been integrated successfully into design and fabrication process, and expressed the need to similarly focus on integrity assessment for construction industries.
Prof. K Ravi-Chandar from the university of Texas, USA has delivered the first plenary lecture of ICONS 2023, presenting a holistic perspective on crack initiation in elastomeric materials. He succinctly summarised the various theories used to study damage in elastomers, and identified gap areas revealed through new forms of experimentation. Through these experiments, he presented key findings on the initiation and propagation of damage in elastomeric materials, and successfully correlated these with damage in other classes of materials.
ICONS 2023 is attended by around 250 delegates from India and abroad comprising of mechanical engineers, materials scientists, academicians, industry experts, plant managers and regulatory personnel. The conference will be deliberating on various topics related to recent development and future directions in assessing and ensuring structural integrity of structures and operating equipments in nuclear, defense, aerospace, chemical and oil industries.
About 35 invited lectures by leading experts in the field and about 200 contributory papers are to be presented in the next two days of the conference.