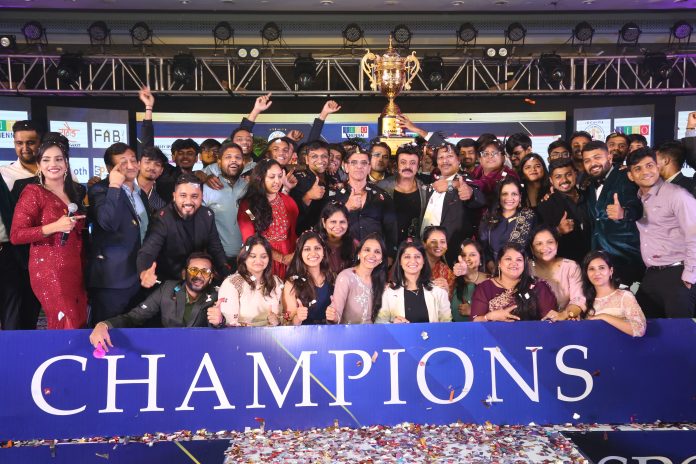 Jito Chennai Sports Awards Champion Trophy won by Team Fresh given by Miss India Anukeerty Vas, Babloo Prithivraj,  Riyaz Khan &  Aarthi Arun
Norwood Switches & Automation Presents Jito Chennai Sports Fest Powered By J J Jewellery Mart, Team Fresh Grabs The Champion Trophy while Yashashvi Royals grabs the runners up trophy In Presence Of Miss India Anukeerty Vas  & Babloo Prithviraj.
11+ Sports , 16 teams , 8 houses and 1000+ Players from the age of 18 To 69 yrs. The Awards Night Was Held At Taj Coromandel To Support The Society And Add An Extra Bond To The Community.
The Awards Night Was Curated Under The Guidance Of Ramesh Dugar, Nehal Shah, Jeetu Doshi, Chirag Jain & Ankit Siroya With The Support Of Hello Cables & Switches, Navochem India Pvt Ltd, India Shopee and Saffron Home.
Special Tropies were Given By  Actor Riyaz Khan, Aarthi Arun.
 The tournament support was taken care by Mr. Lalit, Mr.Nilesh, Mr.Gaurav, Mr.Akash, Mr. Kunal, Mr. Pravesh, Mr. Aayush, Mr.  Gyanesh, Mr. Utsav, Mr. Rajesh, Mr. Naman,  Mr. Dhiraj & Mr. Kalpesh Bokadia.
JITO Chennai Sports Team Takes Immense Pleasure To Thanks All The Presenters For The Heartful Support
The Team FRESH bagged the Champions the Trophy.
And Team YASHASHVI ROYALS bagged as 1st Runner Up Trophy