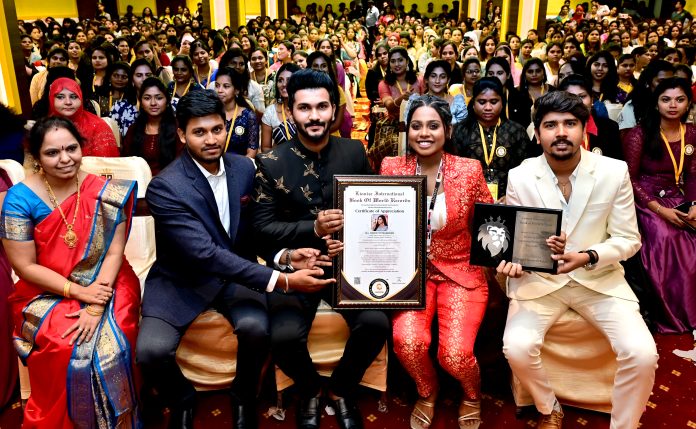 Beautician Sridevi Thiyagarajan  performing Bridal Makeup involving 493 Makeup Artists in 25 Minutes at one place created Official Lionize International Book of World Records in Chennai
New Beauty World Record in Chennai organized by MUA Mrs. Sridevi Thiyagarajan, CEO of Sridevi's contour imprinted their achievement under Lionize International Book of World Records for creating a bridal makeup look in just 25 minutes with 493 Makeup Artists to honor their profession for World Beautician's Day, 26 June, 2023.
Mrs. Sridevi Thiyagarajan, CEO of Sridevi's Contour and the Most sensational Makeup Artist in town created a world record under Lionize International Book of World Records with 493 Makeup Artists within given 25 minutes of time at Ameen Palace, Chennai in order to honor their profession on World Beautician's day.
The event looked so colorful with many makeup Artists from various parts of the world as they also have participants from different parts of the world connected online.
 This glorious event had a separate legendary team to cheer up the Makeup Artists participating in this World Record.
Special Appreciations to Mrs. Sridevi Thiyagarajan, CEO of Sridevi's Contour and her team for organizing such a big event in such a short notice. It doesn't look like it took just a month but so many months of planning. Very well Executed!
She says, "I don't want to be minimal, I don't want to be an ordinary MUA! I always wanted to do really big in order to honor my profession and fellow Makeup Artists. This was a dream event that I planned just a month ago and approached Lionize International Book of World Records. As I expected, they approved this event. Within a month of approval, we did our own promotions with our social media team, Selected the venue of the event and invited all the Guests. It's all done in just a month just because of the hard work of our team!  I know, I deserve this!"
The legendary Makeup Artist, Mr. Kannan Rajamanickam, CEO of KR Beauty felicitated the event as Chief Guest and he was her Guru inspired her to achieve more along with many Top South Indian Makeup Artists Mrs. Padmapriya Varatharaj, Mr. Vetrivendhan, Mr. Vijil and some of the Entrepreneurs of beauty field Mr. Anil Kothari, Managing Director of Fine Shine Jewellery and Mr. Bharath Raj, CEO of Jwala Beauty, Chennai, DR. G Padmapriya, Member of Airport Authority of Indian Advocate/ Motivational Speaker/ Social activist/ Psychologist  has teamed up together to cheer the record creators.
Mrs. Sridevi Thiyagarajan, CEO of Sridevi's Contour has planned to organize this event to show up the skills and power of the Makeup Artists was shining throughout the event with her big smile tells, "it feels surreal for a little girl who moved from Edapadi a small village in Salem District, Tamil Nadu and Body shamed for her Size and Skin tone with no real friends to come this far making my parents and Guru proud."
She's one of the sensational Makeup Artist in the Town right now with an International Award for training the Top most Makeover Artists in SFX and Body painting from Asia and other countries in an International Seminar that happened at Phuket, Thailand in the later part of 2022.
She started his Career as a Self-learned Makeup Artist and created more record with her makeover skills. Her dusky skin makeover looks captured many cover pages. Started her own studio and academy 6 years before in a very small space in her house, now this woman owns a big dazzling Studio with luxury Nail and Lash extension lounge and some Spa services including Facials, Pedicure and Manicure along with the academy in Porur, Chennai.
The Growth is so huge. Her Instagram account gives Goosebumps as you can visualize the Characters of the Animated movies which she created on herself and teaches her students as she's a Makeup Educator too!
This Wonder Woman is breaking Stereotypes and proving her skills in all the fields. Her Weight loss Journey amaze everyone!
The world record event was full of colors, big smiles and celebration. This is considered to be one noticeable event in the field of Makeover industry that happened in Chennai so far. There were many colorful bridal makeover looks created by various Makeup artists from so many places and if you're a bride-to-be, this event could definitely excite you!
 Congratulating all the record creators and Mrs. Sridevi Thiyagarajan for one such colorful and inspiring event that has been a treat for eyes and our hearts too!
And Mrs. Sridevi with a boss smile and wide eyes thanked us telling, "It's just a beginning and there's a lot more to come! Let's meet again real soon for something really big!"