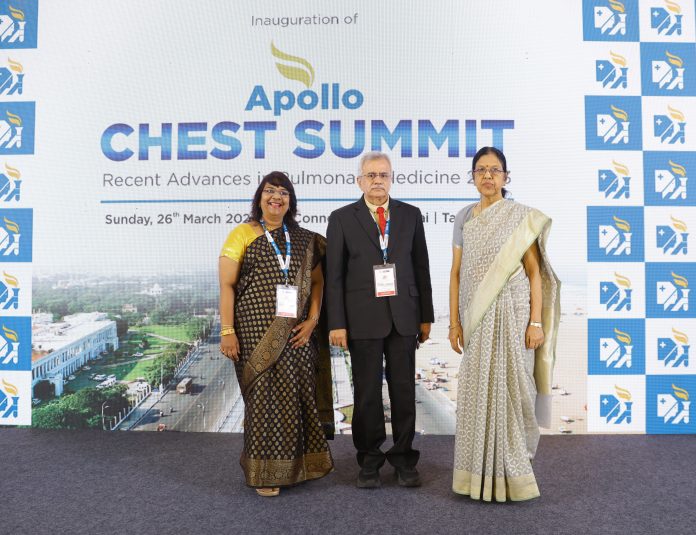 Apollo Hospitals organises Chest Summit on respiratory conditions, top minds attend
Experts flag spike in influenza cases, long COVID as persistent health concerns in post-pandemic scenario
Chennai, Apollo Hospitals took a significant step towards raising awareness about the increasing influenza cases and the potential consequences of long COVID by organising the Apollo Chest Summit 2023, Today. The event was inaugurated by Ms. Preetha Reddy, Executive Vice Chairperson of the Apollo Hospitals Group in the presence of subject expertise.
The Summit was spearheaded by Dr R Narasimhan, a Senior Respiratory Physician and In-charge of the Endobronchial Ultrasound and Bronchial Thermoplasty Services. Its main goal was to promote understanding and treatment of respiratory diseases while fostering a research culture that is dedicated to the subject. Distinguished experts in the field of Respiratory Medicine participated in the Summit, where they exchanged insights on recent outbreaks of influenza, the potential impact of long Covid, and the latest advances in Pulmonology interventions.
Ms. Preetha Reddy, Executive Vice Chairperson of Apollo Hospitals, said, "The importance of healthcare leaders being prepared for new challenges presented by the pandemic. We, at Apollo Hospitals have been closely monitoring new strains of the virus and implementing cutting-edge treatments, surgical procedures, and interventions to stay ahead of the curve. The Apollo Chest Summit 2023 is a fantastic platform to demonstrate our preparedness, expertise, and rigour in healthcare delivery, particularly during times of disaster.
During the Summit, doctors discussed the current influenza strain in India, which is a combination of influenza A and B, making it highly contagious and challenging to treat. Dr. Suresh Kumar, an Infectious Diseases Specialist at Apollo Hospitals, highlighted the link between influenza and long Covid, stating that viral pneumonia is one of the leading causes of mortality. He noted that vaccinations can prevent interstitial lung diseases and severe viral infections that cause morbidity and mortality.
In line with the cutting-edge face of Apollo Hospital's Respiratory Medicine expert Dr. Ajay Narasimhan highlighted the advanced facilities offered in robotic thoracic surgery. He emphasised that these interventions significantly reduce pain and improve patient satisfaction, aligning with Apollo Hospitals' cutting-edge approach to healthcare.