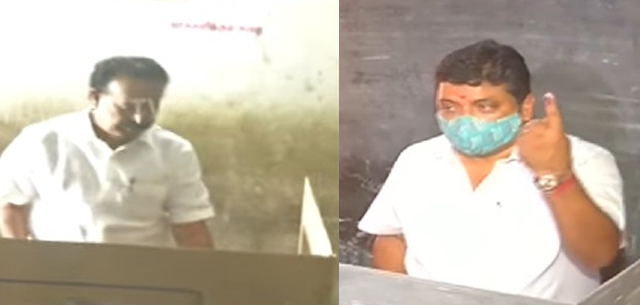 TN ULB polls live: Finance Minister PTR and AIADMK's Jayakumar cast their votes
Chennai:
* AIADMK leader and former minister D Jayakumar cast his vote in Foreshore estate.
* Finance Minister Palanivel Thiagarajan cast his vote in Madurai
* Arappor Iyakkam Jayaram Venkatesan registers not willing to vote protesting against non availability of Nota for local body polls.
* PMK Supremo Ramadoss cast his vote.
* DMK MP Tiruchy Siva cast his vote in his Tiruchy booth. He had to wait following the EVM glitch. The voting machine became dysfunctional after recording 60-odd votes.
* Stalin after casting his vote has briefed the scribes, here are the following statements he made.
1) No issues in Coimbatore, SP Velumani protest out of fear of poll loss.
2) Nine months of my administration will reflect in LB poll results.
3) Misconduct in gold loan waiver by AIADMK has been exposed and we will rectify it.
4) We will win all the 21 municipal corporations.
5) As Mahatma Gandhi said, local administration is the microcosm of the republic.
6) Local administration pivotal to implement government schemes.
7) People should definitely cast their votes.
* Tamil Nadu Chief Minister MK Stalin and wife Durga Stalin are casting their votes in Chennai Teynampet's 122nd ward at SIET college.
* Minister Duraimurugan, Former AIADMK MP KP Munusamy and state health secretary Radhakrishnan have casted their vote. The minister voted in Vellore, Radhakrishnan voted in Chennai's Tiruvanmiyur.
* Actress and BJP leader Khushbu exercised her franchise in her Mandaveli booth. NTK convenor is in has cast his vote in his Alapakkam booth.
* SP Velumani casts his vote at Coimbatore.
* EVM issues reported in Chidambaram and Nagercoil.
* Greater Chennai Corporation Commissioner Gagandeep Singh Bedi has cast his vote.
* Minister Ponmudi has cast his vote in Villupuram.