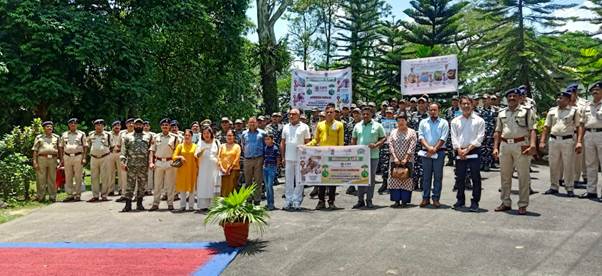 The Environmental Information, Awareness, Capacity Building and Livelihood Programme (EIACP) Centres  and Eco-clubs spreading messages on LiFE as integral part of  mass mobilization drive undertaken in the run-up to the World Environment Day celebrations
Delhi
The Ministry of Environment, Forest and Climate Change (MoEF&CC), Government of India envisages to celebrate the World Environment Day 2023 with a thrust on the Mission LiFE. The concept of LiFE, introduced by the Hon'ble Prime Minister of India, aims to promote sustainable living by encouraging individuals to make changes in their lifestyles and emphasizes responsible and conscious use of resources to safeguard and conserve the environment.
To generate widespread awareness and advocacy for LiFE across India, a month-long mass mobilization campaign on Mission LiFE is currently underway.  Following the "whole of government" and "whole of society" approach, the Ministry has mobilized Central Ministries/ Departments, State/ UT Governments/ Administrations, Institutions, and private organizations to spread the message of Mission LiFE. The ongoing mass mobilization campaign aims to amplify pan-India advocacy and awareness about LiFE, leading up to celebration on World Environment Day on 5th June 2023.
Environmental Information, Awareness, Capacity Building and Livelihood Programme (EIACP)
The Environmental Information, Awareness, Capacity Building and Livelihood Programme (EIACP) is one of the Central Sector sub-scheme being implemented in alignment with Mission LiFE. As a part of the current mass mobilization campaign, 60 EIACP Centres are actively engaged in promoting awareness about sustainable actions that individuals can undertake.
Throughout the month of May 2023, over 2,387 LiFE-related events focusing on action and awareness have been organized across India by EIACP Centres. These events have successfully mobilized more than 89,000 individuals to participate in pro-environment activities. Additionally, more than 80,432 Mission LiFE Pledges have been taken by students, individuals, and institutions through the EIACP Network. The wide range of programs includes photography, essay writing, debates, quizzes, awareness and outreach initiatives, cleanliness drives, thematic webinars on LiFE, bicycle rallies, plantation drives, LiFE hoardings on public places such as Bus Stops, etc, promoting LiFE actions through e-rickshaws, plastic collection campaigns, workshops, and the undertaking of a LiFE pledge. Many EIACP Centres are also conducting competitions such as street plays, paintings, youth parliament conclave and Jan Bhagidari programs related to Mission LiFE in schools and colleges.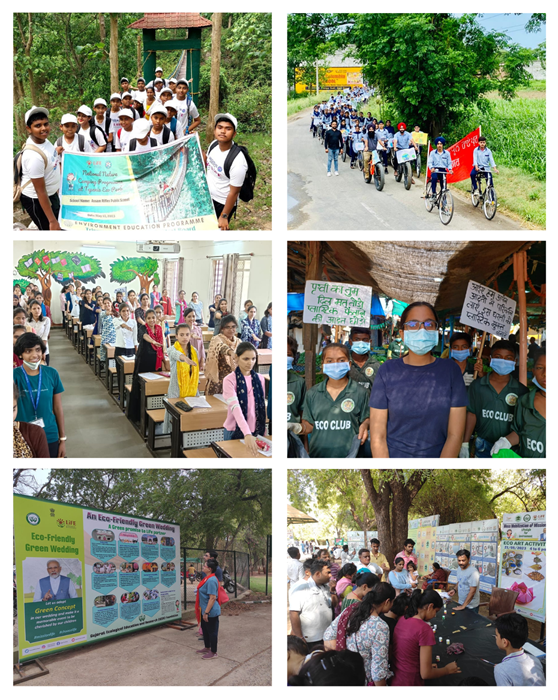 Environment Education Programme (EEP)
The Environmental Education Programme (EEP) is a Central Sector sub-scheme being implemented for imparting non-formal environment education through inter alia initiatives for strengthening Eco-club activities in schools and colleges. Sharing the common goal of promoting sustainable lifestyle, EEP is implemented in full alignment with Mission LiFE, through State/UT-level Implementing Agencies.
Activities of Eco-clubs have a cascading effect when the children carry the message to their families and further to the society. Eco-clubs are used an effective medium to spread messages on LiFE and thus form an integral part of the mass mobilization drive undertaken in the run-up to the World Environment Day celebrations. In addition to awareness and action events conducted at school/ college level, the Implementing Agencies also undertake various initiatives for mass mobilization of Mission LiFE.
Since the start of the mass mobilization campaign on May 5, 2023, the Implementing Agencies of EEP and Eco-clubs together have registered more than 38,000 awareness and action events on the Meri LiFE portal with a participation of 17.8 lakh students, teachers, etc. Activities undertaken by Eco-clubs included pledge, plantation, rallies, awareness sessions, vermicomposting, kitchen garden, quiz competition, cleanliness drives, street plays, promotion of millet based foods, etc. Around 17.4 lakh pledges have also been registered under this programme.
Implementing Agencies of EEP have organized some very unique and eco-friendly initiatives like nature camps, eco-art workshops, clay & pottery workshop, promotion of eco-friendly green wedding ideas, awareness campaign on medicinal plants, campaign in market places against single use plastics with the help of Eco-club students, painting competition, signature campaigns, distribution of name stickers with LiFE messages, etc.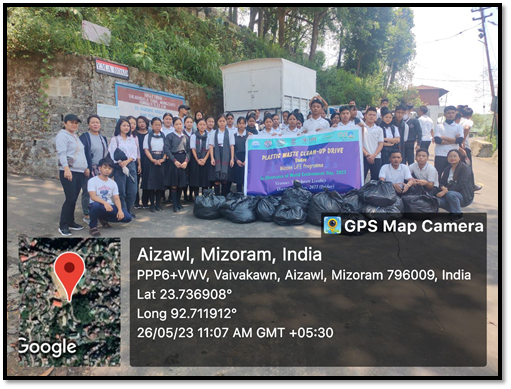 National Museum of Natural History
Director National Museum of Natural History addresed the college students of Bharati college New Delhi and administered the LiFE Pledge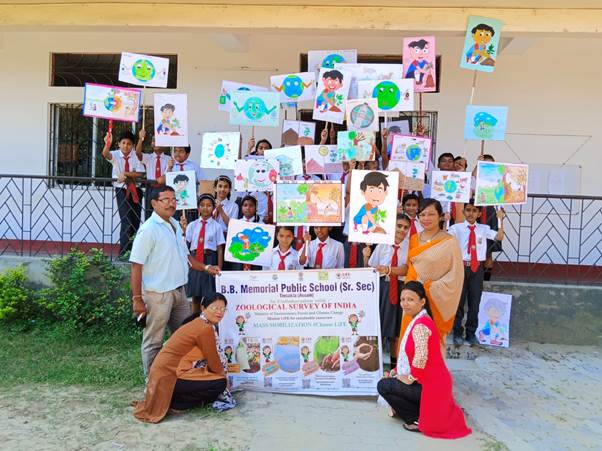 Zoological Survey of India
B.B.Memorial Public School (Sr.Secondary) Tinsukia, Assam in collaboration with Zoological Survey of India organized a poster making competition as a part of Mass Mobilisation under Mission LiFE.The students of fifth and sixth standard participated in the poster making competition with great enthusiasm.These young minds came up with message of saving the Earth through the posters. BD Memorial school also celebrated Green Day for the playhouse toddlers in which art competition and other events on LiFE themes were organised.
Zoological survey of India, Itanagar, Arunachal Pradesh organised a number of events in Itanagar under Mission LiFE. An awareness campaign was conducted for around 150 jawans and officers of CRPF, Itanagar who took pledge led by DIG, CRPF. In another event  at Central Water Commission (CWC) Office, Chimpu, Itanagar all the members took pledge. The pledge was administered by the Commissioner, Itanagar Municipal Council.A program under Mission LiFE was conducted for students and teachers of Bunny's Fantasy World School, Itanagar, Arunachal Pradesh in which all of them took the LiFE pledge.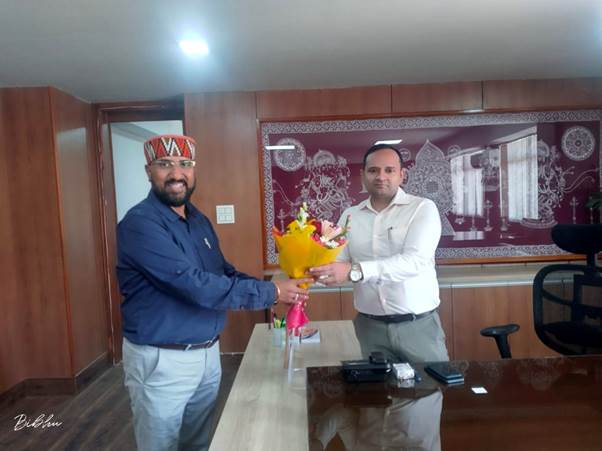 GB Pant National Institute of Himalayan Environment
The Director of NIHE had an interaction meeting with the newly appointed District Magistrate of Almora, Uttarakhand Shri Vineet Tomar (IAS) and briefed him about the ongoing awareness and action campaigns being conducted by the institute under the different themes of Mission LiFE such as Save Water, Say No to Single-Use Plastics, Adopt Sustainable Food Systems, Adopt Healthy Lifestyles and Reduce Waste. The director also requested the district administration to support in the mobilization of the local communities at the grass-root level on themes of mission LiFE and suggested to participate in the celebration of the upcoming World Environment Day 2023 on the theme "Solutions to Plastic Pollution".
Additionally, The Director, NIHE also took the opportunity to interact with the Scientists of Vivekananda Parvatiya Krishi Anusandhan Sansthan, Almora Uttarakhand, NIHE and Tata Institute of Social Sciences (TISS) Hyderabad and aware about the different themes of Mission LiFE. He further highlighted the ongoing awareness and action campaign being organized by the NIHE under Mission LiFE.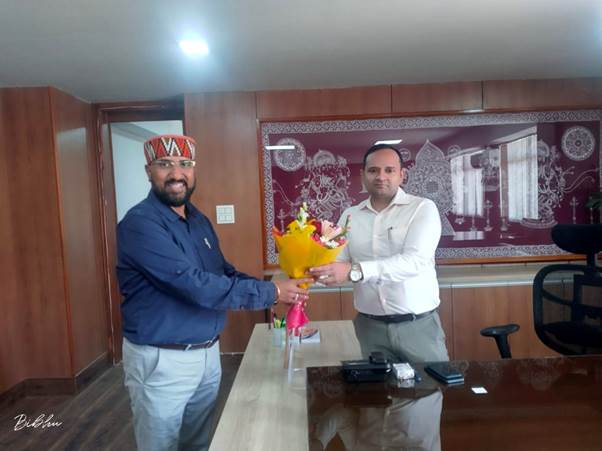 Sikkim Regional Centre (SRC) of G.B. Pant National Institute of Himalayan Environment (NIHE) organized an Awareness program under "Mission Lifestyle for Environment (LiFE)" on 30 May 2023 at Pangthang. The program was targeted to enhance the knowledge of participants on compost management under the Reduce Waste theme of Mission LiFE. Moreover, the participants were demonstrated on water management and organic farming under the save water and healthy lifestyles themes respectively. A total of 22 community people of Pangthang and staff of the campus participated in the program and were encouraged to adopt the Mission LiFE actions. During the program, five themes under Mission LiFE were mainly covered viz. Save Water, Adopt Sustainable Food Systems, Adopt Healthy Lifestyles, Say No to Single-Use Plastic and Reduce Waste (Swachhata Actions). All the participants took the LiFE pledge to sustain the natural resources of the region.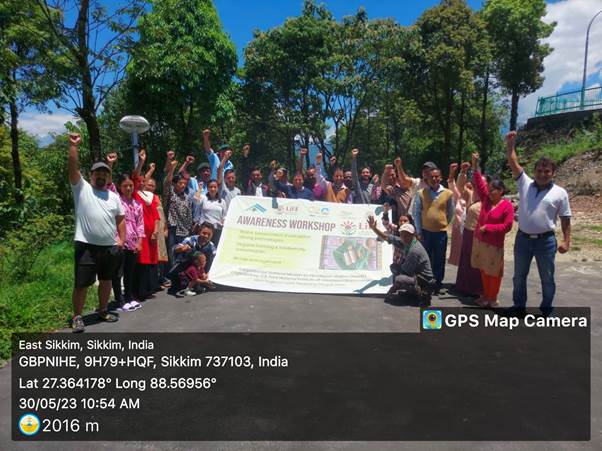 National Centre for Sustainable Coastal Management
Under the mass mobilisation of Mission LiFE, NCSCM organised a clean-up event and awareness campaign on the Marine Drive promenade in Vembanad Lake, a wetland ecosystem in Kerala, on the southwest coast of India. The mission is to encourage people to engage in small, everyday actions that, when widely adopted, can drastically halt climate change. The mission is to establish an ecosystem through the "Pro-Planet People' community that will support environmentally responsible behaviours and become self-sustaining. This wetland ecosystem complex spans an area of about 256 km2 and includes backwaters (over 50 percent of the total area of backwaters in the state), marshes, lagoons, mangrove forests, reclaimed land, and a network of natural and manmade canal systems. Because of its global importance and biodiversity values, it was included in the Ramsar site in November 2002. Six rivers and several tributaries discharge huge amounts of freshwater annually into this estuary, of which the Periyar River draining into the north estuary has a major influence on the ecology of the lake. This ecosystem supports a very productive agricultural system in Kuttanad, the "rice bowl of Kerala," and is considered the lifeline of the region. The Vembanad wetland serves as a crucial economic resource for the locals dependent on fishing-related sectors as well as a popular travel destination. Over 1000 houseboats are the main tourist attraction, and over 100 transport boats traverse the lake's waters to connect other cities and villages. In recent years, the lake's environmental conditions have been in steady decline due to both endogenous and exogenous factors, and hence the wetland ecosystem and the dependent communities face various threats to their livelihoods.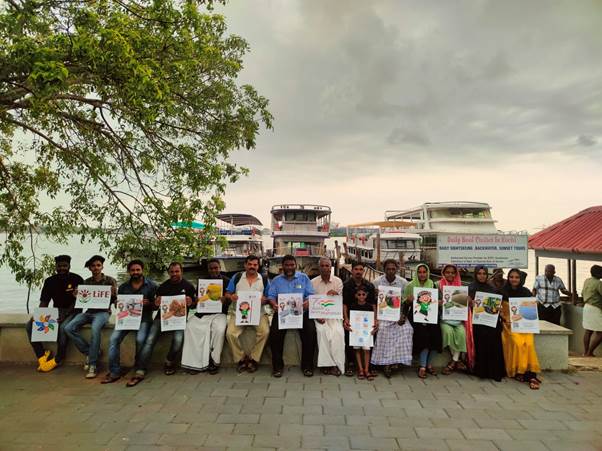 To emphasise the importance of wetlands and their ecosystem services, NCSCM scientists conducted a clean-up event and awareness drive at Lake Vembanad. The various themes of the Mission LiFE campaign, such as conservation of lake ecology and biodiversity, reducing single-use plastics, using eco-friendly alternatives to single-use plastics, sustainable and responsible fishing, including mesh size regulation of stake nets and Chinese lift nets, responsible tourism, and a healthy lifestyle, were explained by the scientists to over 150 tourists from all over the state. Additionally, NCSCM scientists sensitised tourists, local vendors, and representatives of the fishing community on their important role in sustainable management of backwater tourism, wetland conservation, de-weeding of creeks and canals as a measure of flood management, and the need to live in harmony with nature. During this event, a clean-up drive was conducted, where about 10 kg of plastic were collected from the parking area and handed over to the material recovery facility. The scientists also emphasised the necessity of community participation (Jan Bhagidari) in mangrove afforestation, restoration, and conservation through the Mangrove Initiative for Shoreline Habitats and Tangible Incomes (MISHTI) scheme and clean-up events to minimise the lotic input of plastic into wetlands, which is vital for the health of coastal and marine ecosystems. Awareness was also raised among tourists, shop owners, beach vendors, and houseboat operators on the various ecosystem services provided by the lake, and helping them understand the need to protect the lake by avoiding 'littering' when visiting these fragile ecosystems and placing further emphasis on reducing litter generation in everyday life is the most significant step towards positive environmental gain, including climate change mitigation. The scientists underlined the need to follow the litter minimization hierarchy (reduce, reuse, recycle, recovery, and disposal) for their daily litter footprint, changing litter behaviour through environmental education. The tourists were made aware of the necessity to reduce plastics in such sensitive ecosystems by using eco-friendly alternatives, waste segregation at the source, and adopting a sustainable lifestyle. During the event, participants undertook the LiFE pledge and the signature campaign in support of the LiFE mission and safeguarding the environment. As part of the event, placards, posters, and LiFE mascots were displayed on the beach to describe Mission LiFE to the local community.