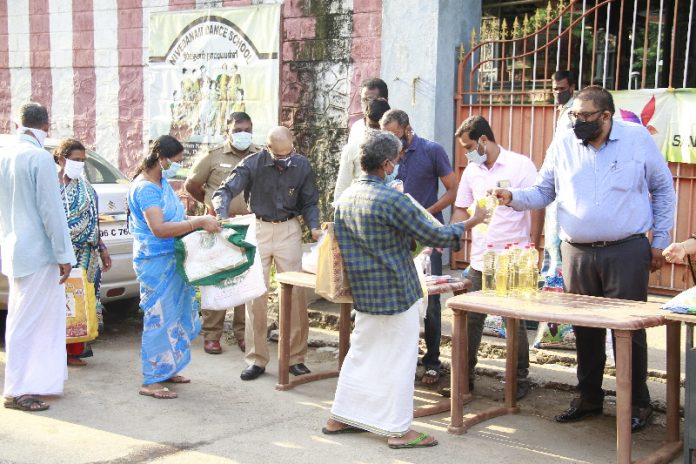 Sankalp Beautiful World distributed one month Groceries kit to Cancer Patients at Taramani, Chennai
In its ongoing endeavor to support cancer patients and survivors, Sankalp Beautiful World today (August 29) distributed one month Groceries kits to Cancer Patients families in the presence of Dr. Latchumanadhas Kalidoss, Founder& Chairman, Sankalp Beautiful World, Mr. M.M. Ashok Kumar. TPS, The Deputy Commissioner of Police, Traffic West District Greater Chennai Police, Arumbakkam, Chennal, Mr.G.Murugesh, CMD, ABC Techno labs india Pvt ltd, Chennai, Dr.Vandhana Mahajan, Director, Sankalp Beautiful World, Mr.Sairam Ramaswamy, Director, Sankalp Beautiful World, Mr.Rakesh held at Sri Ram Nagar, Taramani, Chennai.
As citizens across the nation come together to fight the coronavirus pandemic, Sankalp Beautiful World have been working around the clock to feed the needy. During this pandemic for the past six month SANKALP Groceries kit distributed to more than 2000 Cancer patients and survivors at Chennai.Cancer Patients and Survivors need to have good food and ensure the immune system is in good condition says Goutham Chander, CEO, SANKALP Beautiful World.
He further said to support the needy cancer patients world wide, patients can upload their Medical records in the website www.sankalpbeautifulworld.org where experts examine their medical records and give their opinion to them. Cancer patients can also get support & help through Helpline No: 7825888000.
The Cancer Patients families thanked SANKALP for their thoughtful gesture.