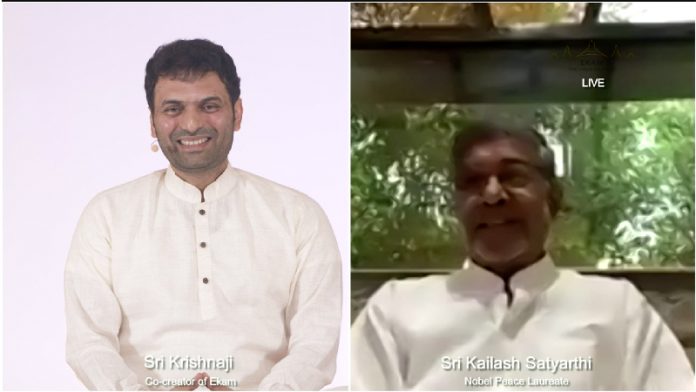 EKAM WORLD PEACE FESTIVAL :- PEACE FOR THE NATION (PEACE For Future Generations) with Nobel Peace Laureate Mr. Kailash Satyarthi and Mr. Sri Krishna, Co-Creator of EKAM.
Collective Meditation by Millions has the power to end Wars – Krishna ji, Co-creator Ekam
Connect to innocence within you, you will spontaneously take action to protect the children of the world.
Kailash Satyarthi, Nobel Peace Laureate
Ekam World Peace Festival began today with its intention of ending wars in the world and bring harmony between nations. Ekam world peace festival is by far the world's largest online meditation festival with over 10 million people attending it, on day one. People from over 100 countries, 2000+ Indian villages and more than 2000 education institutions and organizations mediated for world peace with Ekam.
This meditation is all the more poignant for India, given the context of war like atmosphere between China and our nation. The central idea behind Ekam world peace festival, Sri Krishnaji said, is that the collective violence in human mind becomes the trigger for all wars. No war is noble. All war is fought because of greed, hate and power hunger. And collective meditation and collective prayer intention has the power to infuse human consciousness with peace and dissolve tension and war. Krishnaji said, "Individual peace is the way to world peace."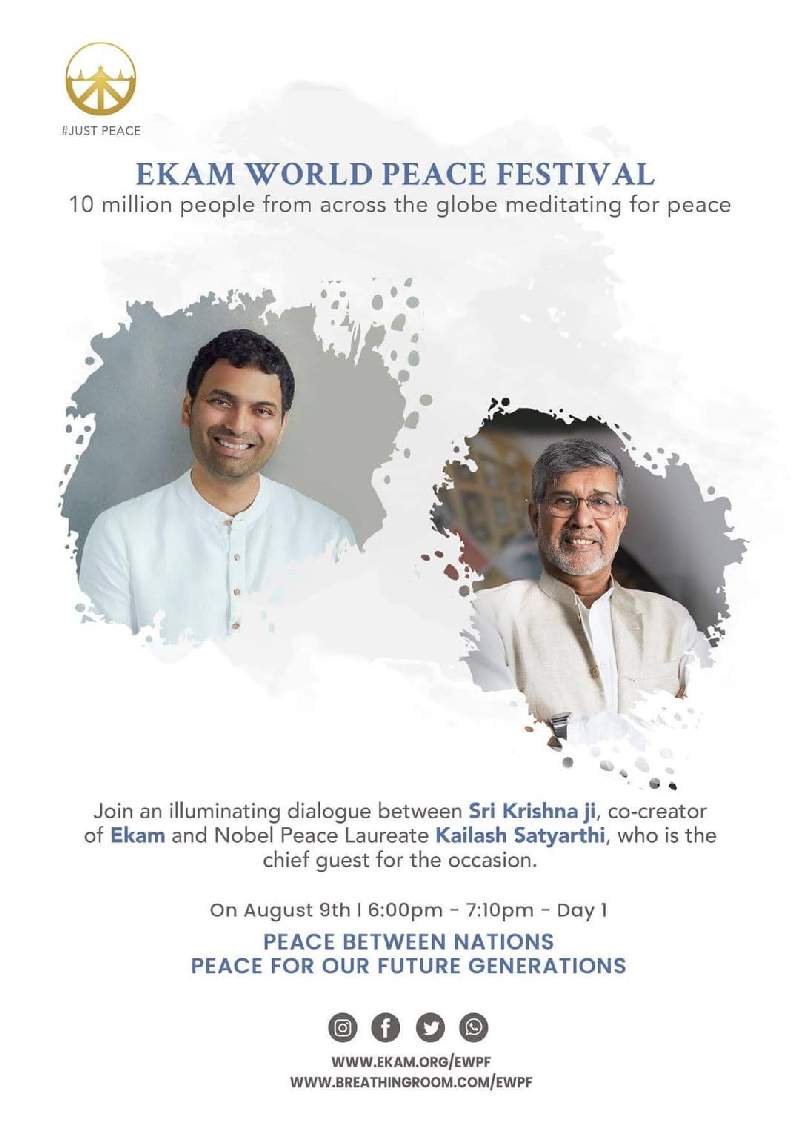 Today's chief guest was Kailash Satyarthi, Nobel peace laureate, who has saved more than 90000 children from slavery and trafficking. He has pioneered the cause of protecting the purity of children and their right to education and dignity. In his conversation with Sri Krishnaji, he encouraged every young person to go beyond the division of caste, class, community and nationality and unite for the most marginalized and vulnerable children of the world. He said the world has globalised everything but it is time we globalize compassion for our children.. He encouraged every adult to connect to the child in themselves and to protect the innocence of under privileged children.
Kailash Satyarthi applauded Preethaji and Krishnaji for holding a divine vision for ending war and bringing peace to the world.
The festival concluded with a magnificent meditation led by Sri Krishnaji. He lead over 10million people into inner peace and made them radiate peace energies to every nation that is gripped by conflict and war. The meditation dissolved anger and hate and opened hearts to peace.
This peace festival will last until the August the15th. Tomorrow will be for dissolving violence against children and nurturing peace in young people and children.
All are free to join, for more information visit www.ekam.org/ewpf/