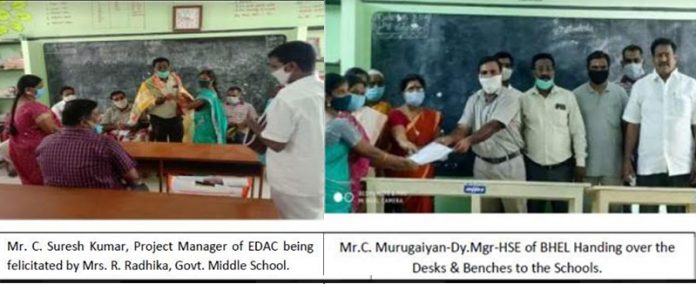 EDAC Engineering donates classroom furniture to two Government schools in Cuddalore district, Tamil Nadu as part of its CSR initiative
For bettering primary education and school infrastructure facilities, EDAC Engineering in association with BHEL donated classroom furniture to Government Girls Middle School and Government Middle School, Melbhuvanagiri Taluka, Cuddalore district, Tamil Nadu
A pair of twenty study-desks and study-benches were handed over to the heads of the two schools as part of CSR initiatives of the group under the aegis of AM Foundation
12th  September 2020, Chennai: EDAC Engineering Limited, a leading EPC and O&M player and part of AM International, recently donated class-room furniture to the Government Girls Middle School and Government Middle School, Melbhuvanagiri Taluka in the Cuddalore district of Tamil Nadu. Under the aegis of AM Foundation, the CSR arm of AM International, group companies have been contributing to the betterment of the local communities for making a long-lasting impact.
Applauding the initiative, Mr. Ashwin Muthiah, Chairman, AM International Group and Principal Investor of EDAC Engineering, said, "Creating a conducive environment at the primary school level goes a long way in augmenting the learning process and inspiring young students to succeed. Making an impact by supporting local community needs is a key goal of our Foundation. My appreciation for the EDAC Engineering team for their good efforts."
EDAC Engineering in association with BHEL (Bharat Heavy Electricals Limited), one of its prestigious customers, donated twenty study-desks and twenty study-benches to two government schools in Melbhuvanagiri Taluka, Cuddalore district in Tamil Nadu. Mrs. M. Umavathy and Mrs. R. Radhika, the headmistresses of the two schools – The Government Girls Middle School and the Government Middle School thanked EDAC Engineering and AM Foundation for supporting the welfare of school children with this initiative.
Mr. C. Murugaiyan (Deputy Manager-HSE BHEL) and Mr. C. Suresh Kumar (Project Manager at EDAC) attended the handing over ceremony. Mr. Poovarasan (Engineering), Mr. Venkatachalapathy (Deputy Engineer, BHEL), Mr. K. Anbazhagan (Secretary, Tamil Association, Cuddalore district) and schoolteachers Mr. S K. Muthukumar and Mr. A. Manivasakan from The Government Girls Middle School and the Government Middle School were present on this occasion.