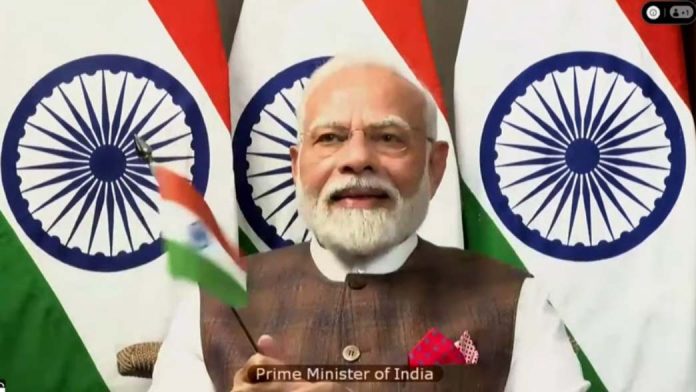 Prime Minister Narendra Modi expresses gratitude to world leaders for wishes on Chandrayaan-3
NEW DELHI: Prime Minister Narendra Modi on Thursday expressed gratitude to world leaders for their wishes on Chandrayaan-3's successful landing on Moon. The prime minister in reply to UAE President Sheikh Mohamed bin Zayed Al Nahyan's wishes said the milestone is not just India's pride but a beacon of human endeavor and perseverance.
"I thank HH Sheikh @MohamedBinZayed for his wishes. This milestone is not just India's pride but a beacon of human endeavor and perseverance. May our efforts in science and space pave the way for a brighter tomorrow for all," PM Modi posted on X (formerly Twitter). The UAE President earlier said: "The successful lunar landing of India's Chandrayaan-3 spacecraft represents a significant leap for collective scientific progress. I extend my heartfelt congratulations to Prime Minister @narendramodi and the people of India for this historic achievement in service of humankind."
In response to wishes by EU President, Ursula von der Leyen, PM Modi wrote: "Thank you @vonderleyen for the kind words. India will continue to explore, learn and share for the betterment of all humankind." The EU President wrote: "Congratulations to @narendramodi for the successful landing of Chandrayaan-3. A historic milestone and proud moment for the Indian people. India has become a true pioneer in space exploration. This Indian success will benefit researchers all over the world."
Chandryaan-3 on Wednesday successfully performed a soft landing on the moon. ISRO tweeted: "Chandrayaan-3 Mission: 'India, I reached my destination and you too!' Chandrayaan-3 has successfully soft-landed on the moon! Congratulations, India!"
Spain Prime Minister Pedro Sánchez on Wednesday said: "India's achievement opens up new horizons for humanity. This mission is another proof of the power of science and of the great opportunities it offers us to keep promoting scientific progress and research. Congratulations, @narendramodi!" PM Modi in reply wrote: "Indeed, through the power of science, India is working towards a brighter future for all. Thank you for the wishes @sanchezcastejon."
Madagascar President on Wednesday wrote on X: "#Chandrayaan3 makes a historic landing on the Moon's south pole! I would like to congratulate #India for such an incredible and emulating achievement. This success belongs to all of humanity, thank you @NarendraModi for your inspiring words and leadership. #IndiaOnTheMoon #BRICS."
PM Modi in response wrote: "Grateful for your wonderful words, President @SE_Rajoelina. India's strides in space will truly benefit humanity in the times to come." As the Vikram lander carrying the Pragyaan rover in its belly touched down on the lunar surface, it marked a giant leap in India's spacefaring journey providing a well-deserved finale to ISRO's long years of toil. This makes India the fourth country – after the US, China, and Russia – to have successfully landed on the moon's surface, it has earned a place in record books as the first to touchdown on the south side of Earth's only natural satellite.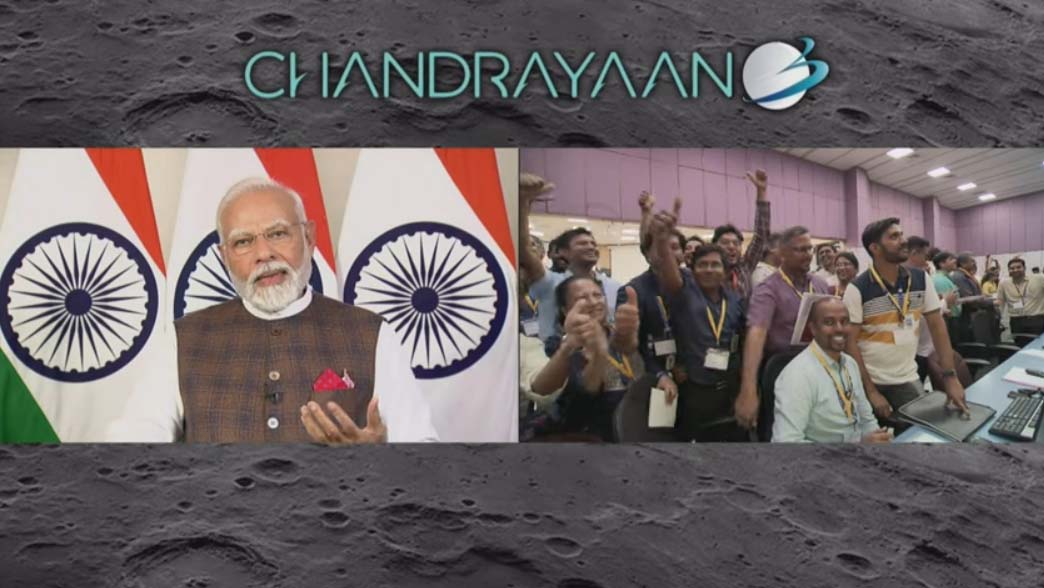 While congratulating India on Chandrayaan-3's landing, Bhutan's Prime Minister Lotay Tshering wrote on X: "Congratulations @narendramodi & India! We rejoice with you in the successful landing of the auspicious Chandrayaan-3. Like you all, we said our prayers & held breath with as much nervousness and excitement, because we know this is not just about India."
PM Modi in his reply wrote: "Thank you @PMBhutan Lotay Tshering for the words of appreciation on Chandrayaan-3. India's space programme will always do whatever is possible to further global well-being."
Special screenings of Chandrayaan-3' soft landing were organized across the country, including schools science centres, and public institutions. ISRO made the live action available on the ISRO website, its YouTube channel, Facebook, and public broadcaster DD National TV. The spacecraft was launched from the Satish Dhawan Space Centre in Andhra Pradesh's Sriharikota on July 14.