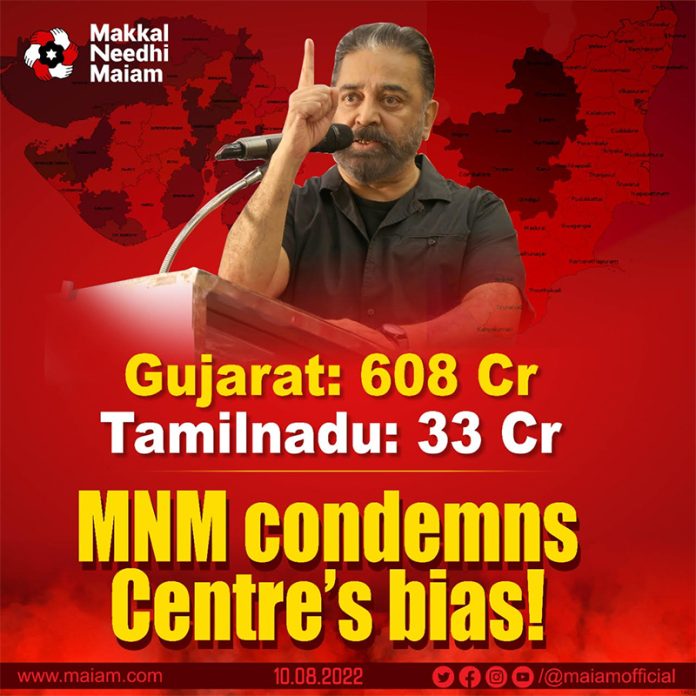 Gujarat: 608 Cr Tamilnadu: 33 Cr MNM condemns Centre's bias!
The evident favouritism in the allotment of funds to develop sports infrastructure is not only disappointing, but also condemnable. It is unfair and biased that the BJP- ruled Gujarat is alloted Rs.608 crores while Tamilnadu, a larger State has been alloted a meagre Rs.33 crores.
Recently, the Ministry of Youth Welfare and Sports responded in writing, to a question that was raised in Lok Sabha. It documented the details of fund allocation to different States of India through the 'Khelo India' project.
TN has been allotted much lesser funds than smaller states such as Assam, Bihar, Himachal Pradesh, Mizoram, Delhi, Haryana and Kerala. Similarly, bias is seen in the appointment of coaches and trainers too. Delhi has been sanctioned to appoint 121  coaches, Assam to appoint 56 coaches, while TN receives only 18 coaches.
The sportspersons from TN are scaling great heights and achieving accolades internationally. It is imperative that they are encouraged. Instead, the Centre is displaying its prejudice quite evidently.
While TN is necessary to collect high rates of Taxes for the centre and serve as a spectacular venue for International Chess Olympiad, unfortunately the Centre continues to stay prejudiced when it comes to TN which is severely affecting the growth & progress of the entire Sports community in our state.
Mentioned in the press release from  R.Thangavelu, Vice President, Makkal Needhi Maiam.