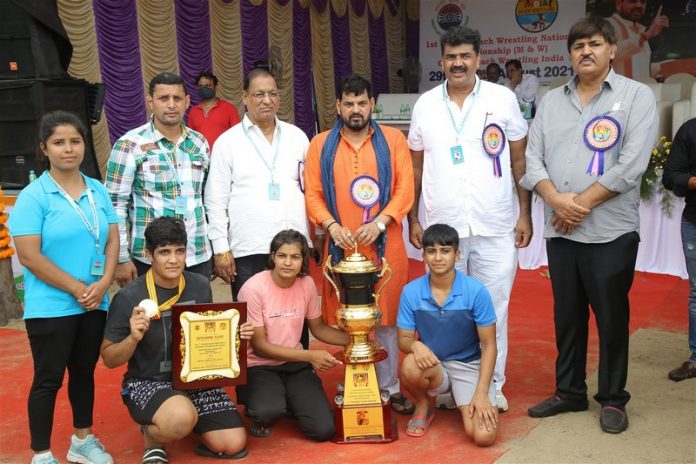 First Beach Men & Women Wrestling National Championship Grand Finale
Shri. Brijbhushan Sharan Singh, MP (Lok Sabha) felicitated the Wrestling Champions of the First Beach Men & Women Wrestling National Championship by Wrestling Federation of India.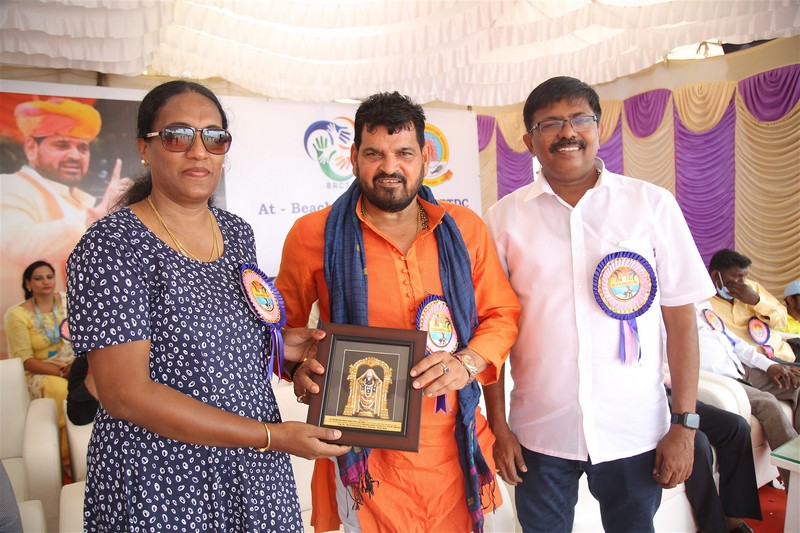 The Wrestling Federation of India (WFI) organised its first-ever Beach Wrestling National Championship at the Beach Resort Complex of Tamil Nadu Tourism Development Corporation in Mahabalipuram from August 28 to 30. Unlike the mat wrestling, the shorter version played on the beach will witness grapplers competing in four weight divisions each in men's and women's categories.
Weight divisions (seniors)
Women: 50kg, 60kg, 70kg and 70+kg
Men: 70kg, 80kg, 90kg and 90+kg
Wrestling has been promoted day by day all over India and our wrestlers are performing very well at the Olympic, Asian & Commonwealth Games. The person who is behind the 2020 Tokyo Olympic medal, is dynamic supervision / leadership of Sh. Brijbhushan Sharan Singh, a Member of Parliament (Lok Sabha), Kaiserganj, UP, President, WFI,Who is the Chief Guest for the event. Sh. V.N. Prasood, Secretary General, Wrestling Federation of India, Sh. S. P. Deshwal, Treasure, Wrestling Federation of India,Sh. Jai Prakash Singh, Joint Secretary, Wrestling Federation of India,Sh. Bholanath Singh, Sh. M. Lognathan, Secretary, Tamilnadu Wrestling Association,C.Latha, Secretary Tamilnadu Athletic Association & J. Manoharan attended & felicitated the Wrestlers in the Grand finals.
90 + Kg Men
1) Sumit Gulia (OPJS)
2) Rohit (Del)
3) Deepak (Har)
90 kg Men
1) Robin Singh (Har)
2) Reham Khan (MP)
3) Akash (UP)
80 Kg Men
1) Sameer (Mah)
2) Bablu Gurjar (Raj)
3) Ankit Vats (Del)
70 kg Men
1) Ravi Raj (Mah)
2) Udhay Veer Yadav (UP)
3) Rakesh (Del)
50 Kg Women
1) Hanny Kumari (Har)
2)Nisha Tomar(UP)
3) Manisha (OPJS)
60 Kg Women
1) Preeti (Har)
2) Sumitra (Del)
3) Preeti Kumari (Raj)
70 Kg Women
1) Monika (Raj)
2) Reetika (OPJS)
3) Shafali (Har)
70 +Kg Women
1) Pooja (OPJS)
2) Sanofar Pathan (Guj)
3) Gursharan Preet Kaur (Pun)
Overall Womens Championship
1) Haryana
2) OPJS
3) Rajasthan
A state association can enter a maximum of three athletes per weight category. However, the WFI president may issue a special authorisation to increase the number of athletes of the same category per unit if the brackets are not full.
The bout consists of one period of three minutes. Mat wrestling has two periods of three minutes each. Besides, beach wrestling is practised only in a standing position and use of the legs is allowed in action.
A wrestler is awarded one point if he/she manages to bring any body part, except the hands, of his/her opponent to the ground. A push-out or a caution for an illegal action will also earn 1 point. The attacker (and only the attacker) can put one knee to the ground when executing an action if this action is finished by the opponent in the ground.
Three points are awarded to the wrestler who manages to expose his opponent's back to the ground during a takedown or a throw. The first athlete to 3 points wins the match. If there is a tie at the end of the match, the winner will be declared on criteria. The following criteria will be used to declare the winner: a) Last point scored, b) Weight of the athletes* and c) The lowest (smallest) number pulled during the draw/rank.
There are three age groups in beach wrestling – Cadet, Junior and Senior Wrestlers .Wrestlers below age 17 compete in cadet, while grapplers between the ages of 18 and 20 wrestle in juniors. The ones above 20 fall in the senior category.
Unlike in the mat, beach wrestling has only eight weight categories – four each in men's and women's style.
7 Indian Wrestlers (3 Men & 4 Women) represented the country in the 2020 Tokyo Olympic Games.The entire Indian contingent of 2020 Tokyo Olympic bagged 7 medals (1 Gold, 2 Silver & 4 Bronze Medals) and Wrestling is the only game which secured 2 medals (Silver Medal by Ravi Dahiya & Bronze Medal by Bajrang). Indian Wrestling constantly secured medals in Olympic which includes 1 Bronze Medal in 2008 Beijing Olympic, 1 Silver & 1 Bronze in 2012 London Olympic Games, 1 Bronze in 2016 Rio Olympic Games and now 2 medals in 2020 Tokyo Olympic Games.