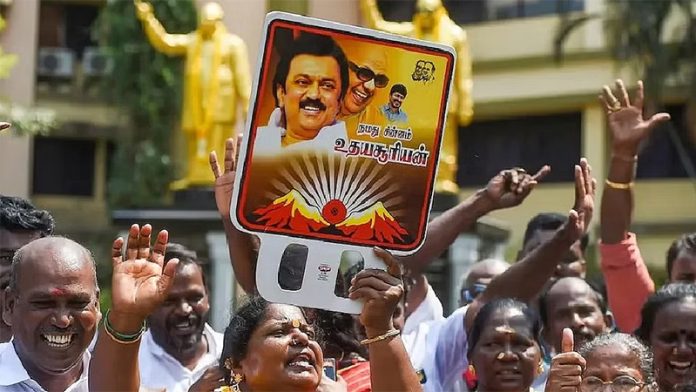 DMK youth wing units divided into 9 zones
CHENNAI: The youth wing of the ruling DMK has been rejigged into nine zones to increase its efficiency. In a notification issued on Tuesday, state youth welfare minister cum DMK youth wing secretary Udhayanidhi Stalin announced the 'division' of the youth wing into nine zones. A state deputy secretary of the youth wing would be in charge of each zone comprising not less than two revenue districts each (except Chennai).
As per the notification published in Tuesday's edition of the party mouthpiece 'Murasoli', advocate S Joel, deputy secretary of the DMK youth wing would be in charge of the six units of Chennai DMK youth wing district besides Andaman, Mumbai, Karnataka, Andhra and Kerala. P Abdul Malik would be in charge of zone II covering Tiruvallur, Villupuram, Kallakurichi and Cuddalore party districts. K Prabhu would oversee the affairs of zone three consisting of Kancheepuram, Vellore, Tiruvannamalai and Puducherry districts of the party.
The reorganisation happens in the backdrop of the party completely revamping the youth wing. Eight of the nine deputy secretaries appointed by the party recently were new faces, barring deputy secretary S Joel.
The notification has requested the district secretaries, district in charge and youth wing office bearers of the party to extend cooperation to the newly appointed zonal in charge of the youth wing.
The notification seeking cooperation has been published close on the heels of the influential youth wing secretary publicly criticizing the lack of cooperation of the district secretaries of the parent party to his functionaries. More than a few speakers at the recent meeting of the party functionaries had sought better operational freedom for the 23 party wings and cooperation from the district secretaries.