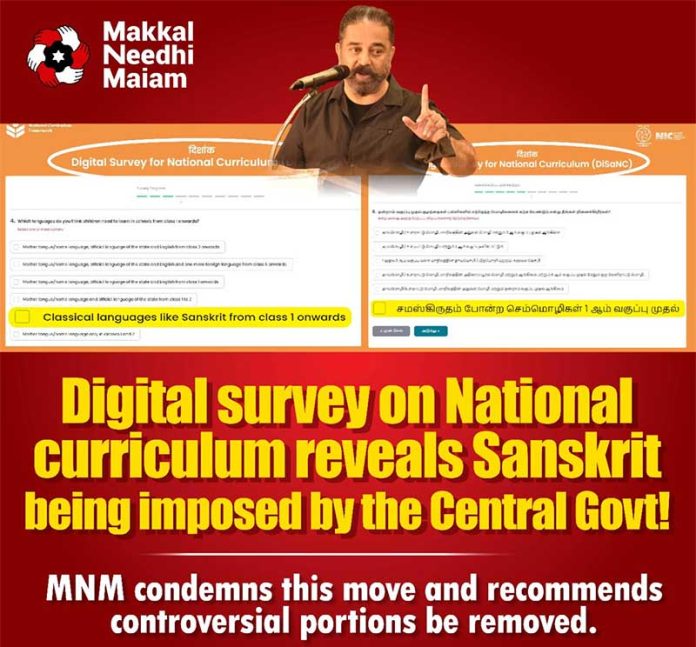 Digital survey on National curriculum reveals Sanskrit being imposed by the Central Govt! Makkal Needhi Maiam condemns this move and recommends controversial portions to be removed
Makkal Needhi Maiam State Secretary Senthil Arumugam has said in a statement:-
It is strongly condemned that in the digital survey to be conducted for the National curriculum framework, the Central Government has forcefully included Sanskrit .
The Central Government announced the National Educational Policy (NEP) 2020. Many States including Tamil Nadu has opposed this and refused to accept it. Tamil Nadu is in the process of formulating a state education policy. In this regard, a digital survey is being conducted in 23 languages to develop the National Curriculum Framework.
A dedicated website ( https://disanc.ncert.gov.in) and a mobile app have been developed . Parents, students, teachers, School heads, social welfare activists, NGOs, Multidisciplinary experts, public representatives, artists, artisans, farmers have been invited to participate. The Union Education Minister has said that this initiative is being taken to create an in-depth, vibrant and dynamic curriculum for the next generation and to raise the standard of education.
In this survey , there are 10 questions about the languages that children should learn from class I in school , the contribution of teachers in their holistic development and the subjects that children should study till class 8.The answers are also indicated giving a choice to choose the desired one.
For a question "Which languages do you think should be learnt in the schools from class I?", several options such as Mother tongue, Official language of the state, English, Foreign language have been given as answers to choose from. Apart from this, "classical languages like Sanskrit" has also been forcefully included as an option.
The Central Government is already giving a lot of importance to a language that is not very popular with the people (it may be recalled that even when the National Education Policy document was published, Sanskrit was given a special mention).It has been continuously observed that very less funds are allocated for the development of classical language like Tamil in comparison with the funds allocated to development of Sanskrit which are manifold.
In this case, trying to impose Sanskrit in the digital survey for the National Curriculum framework shows the Central Government's one-sidedness. While several languages including Tamil have been declared as classical languages in India, the mention of "classical languages like Sanskrit" cannot be considered as a random occurrence. This is an attempt to forcefully include Sanskrit. This approach is highly reprehensible. Therefore the mention of Sanskrit language should be removed from the digital survey immediately. As a solution, there can be a general reference as classical languages or all the classical languages can be listed. It is unacceptable to refer to both as "classical languages like Sanskrit". Makkal Needhi Maiam strongly condemns and urges the Central Government to stop indulging in such devious activities.
This is stated in it.