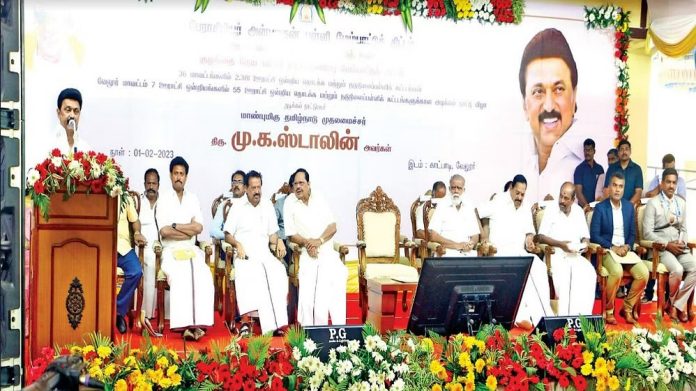 CM launches Rs 2,400 cr school infra development scheme
VELLORE: Education and medicine were like two eyes of the government and hence both the sectors were being given priority, said Chief Minister MK Stalin, while inaugurating a Rs 2,400 crore Professor Anbazhagan School Development Scheme at Government Boys HSS, Katpadi on Wednesday.
Elaborating, the Chief Minister said that the scheme was designed based on feedback from the public during field inspections he undertook in various parts of the state. The feedback resulted in a survey, which revealed the need for new buildings in various schools and to provide this Rs 784 crore was allocated to construct 5,381 classrooms in 11 districts.
Welcoming the scheme, Rural Development Minister I Periyasamy said, it would be implemented in 2,381 panchayat union primary and middle schools in 36 districts. The survey had revealed the need for 11,000 classrooms in schools in the state, he added.
Tiruvannamalai Collector B Murugesh, students and school management committee representatives from 11 districts, where the scheme was started on Wednesday, also interacted through video conferencing at the spot.
Proposing a vote of thanks School Education Minister Mahesh Poyyamozhi said a total of Rs 7,000 crore would be spent for the scheme over the next five years.
Ministers Duraimurugan, R Gandhi, K Ponmudy, MPs DM Kathir Anand and S Jagatrakshakan and MLAs P Karthikeyan, AP Nandakumar and Amulu Vijayan and Vellore Collector Kumaravel Pandian took part in the launch.