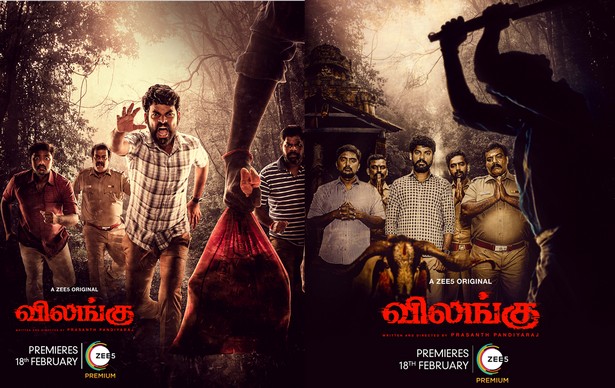 ZEE5 Original Series "Vilangu" is all set to enthrall the audience with ultimate edge-of-seat moments
ZEE5 with its consistent delivery of stupendous Originals had been declared the undisputed champion in the OTT domain. In particular, it's valuable endowment of keeping its subscribers engaged with unlimited entertainment based on the different genres has expanded its fame organically. The wide array of Originals including Auto Shankar, Finger Tip, Ka Pae Ranasingam, Malaysia to Amnesia, Dikkiloona, Vinodhaya Sitham, Blood Money, Mudhal Nee Mudivum Nee and many more have won the hearts of audiences. And now, ZEE5 is all set to enthrall them with an ultimate edge-of-seat thriller moments through an Original web series titled "VILANGU", which will premiere from February 18, 2022, onwards.
The 7-episode web series, an investigative crime drama features Vimal as the protagonist named Paridhi, a sub-inspector at the Vembur Police Station, Trichy. The others in the cast include Iniya, Munishkanth, Bala Saravanan, RNR Manohar, Reshma, and a few more prominent actors. Set against the backdrop of the Police Station in Trichy, the story dwells into the lives of simple cops and lets us explore their human side as well. With Paridhi's wife expected deliver a baby soon, everything looks like a picture-perfect life for him until he gets a phone call regarding a mysterious case and his life gets changed with unexpected twists and turns.
Vilangu is directed by Prashanth Pandiyaraj, and is produced by Madan of Escape Artists. Ajeesh is composing music, and Ganesh is handling the editing, Cinematography – Dinesh Purushothaman. Art Director – G. Durairaj
ZEE5 Original Series "VILANGU" will be premiering from February 18, 2022, onwards.