Vijay Antony's Pichaikkaran 2
Marking the occasion of actor Vijay Antony's birthday, the official announcement of the actor's much-awaited is made now. The film titled 'Pichaikkaran 2' is directed by National award-winning filmmaker Priya Krishnaswamy of 'Baaram' fame. The film marks the 10th production of Vijay Antony Film Corporation/Vijay Antony Films.
Sharing the news, Producer Fatima Vijay Antony says, "We are extremely happy to announce our yet another dream project titled 'Pichaikkaran 2'. Firstly, I would like to thank director Sasi sir for gifting us such a huge film like Pichaikkaran, which will remain as an unforgettable success for our production house forever. It's because of his wonderful work; we are moving ahead 'Pichaikkaran' franchise with more confidence."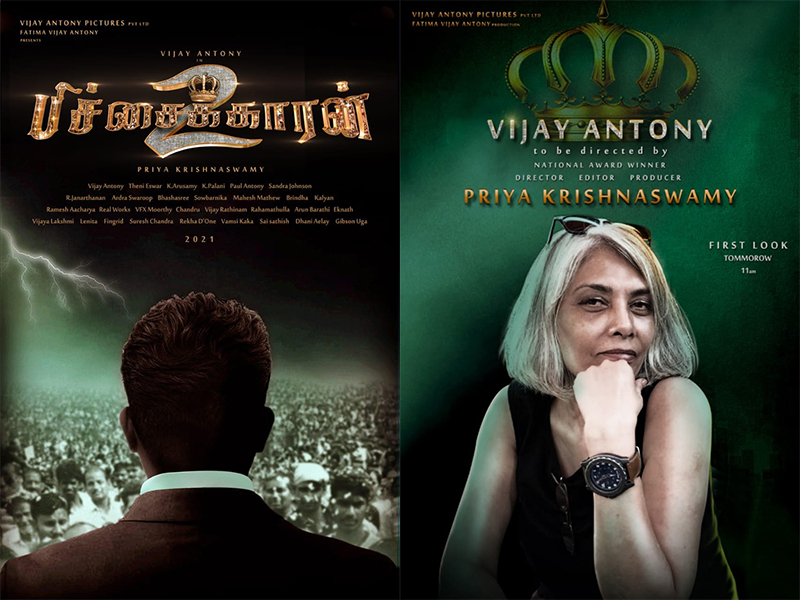 Producer Fatima Vijay Antony continues to add, "Getting the critically acclaimed and National award-winning filmmaker Priya Krishnaswamy enhances our confidence level on this project. She has carved a niche of excellence by bringing more honor to Tamil cinema with her colossal film 'Baaram' and her other films like Gangoobhai & Percy have been exceptionally brilliant pieces of works. Now, to have her as the captain of the ship positively assures us. This will be the first-ever film in the career of Vijay Antony to be produced at a big budget for the script demands for high production values."
On his part, Vijay Antony has been scrupulously preparing to make his character look more substantial and will be shedding around 10-15Kgs. The production house is currently holding talks with A-league heroines and will be soon making an official announcement on this. As of now, Theni Eswar (Cinematography), K Aarumuga Swamy (Art), and Mahesh Mathew (Stunt) have been signed on board for the project.
ALSO READ: