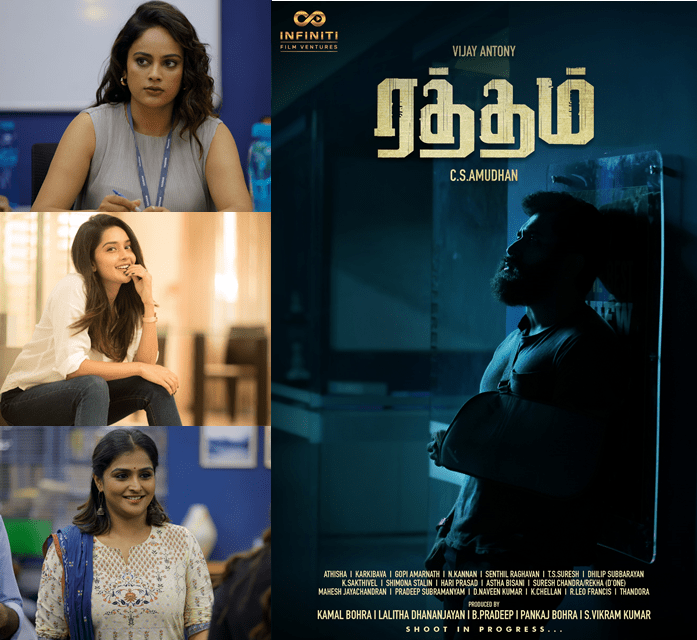 Vijay Antony will be paired with three heroines for the movie titled Ratham
Infiniti Film Ventures' Filmmaker CS Amudhan – Vijay Antony starrer "Ratham" will have three heroines.
Mahima Nambiar, Nandita Swetha & Remya Nambesan are signed as the lead heroines of Ratham.
Vijay Antony, the multi-faceted icon of the Tamil movie industry has been highly extolled for his stellar performances, choice of good scripts, which won the hearts of audiences, and spins profits for the trade. Following the grand success of 'Kodiyil Oruvan', the actor's career graph has escalated to the next level, and the business factors have been expanding as well. While his line-ups look more promising, the actor's collaboration with filmmaker CS Amudhan (Tamil Padam franchise fame) for the film titled 'Ratham' has created a huge sensation. Besides, the inclusion of powerhouse talents into the star-cast and technical crew has been adding more emblazonments to this project. Significantly, the film has now got the arrival of promising actresses Mahima Nambiar, Nandita Swetha & Remya Nambesan, who will be playing the lead heroines.
Filmmaker CS Amudhan created a new trend in the South Indian industry with his 'Tamizh Padam' franchise. He is now stepping into a new domain with Ratham, which is an out-and-out political thriller. Stand-up comedian Jagan Krishna is playing an important role in this film. The film has cinematography by Gopi Amarnath, musical score by Kannan, editing by Suresh, and stunts choreographed by Dhilip Subbarayan.
Kamal Bohra, Lalitha Dhananjayan, B. Pradeep, Pankaj Bohra & S. Vikram Kumar of Infiniti Film Ventures are producing this film. It is noteworthy that Vijay Anthony has teamed up with the same production house for another couple of projects titled 'Kolai' and 'Mazhai Pidikatha Manithan'.
'Ratham' completed 40% of shoot already. Balance shoot is scheduled in February. The film will be a Summer 2022 Release.