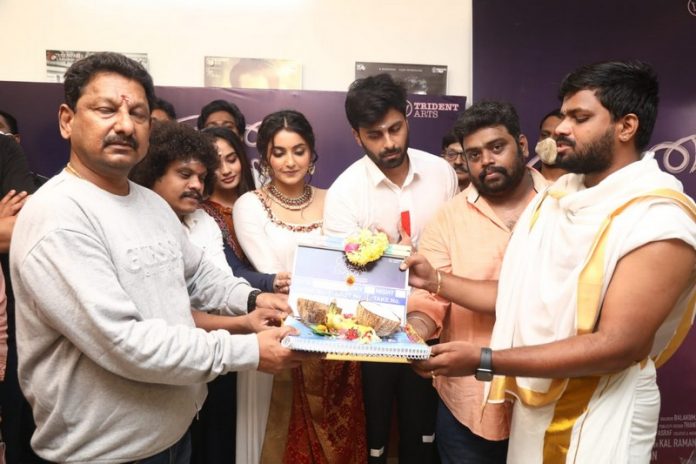 Trident Arts R Ravindran productions Ashwin Kumar Lakshmikanthan's debut movie as hero launched
R Ravindran of Trident Arts, one of the most reputed producers of South Indian industry has introduced the handsome and talented actor Ashwin Kumar as hero with his upcoming production "Enna Solla Pogirai". The movie was launched this morning with a ritual ceremony in Chennai. The movie is directed by Hariharan A and is produced by Trident Arts Ravindran. The movie launched happened with strict health protocols in accordance with the current pandemic situation. Moreover, this is the first-ever time, a movie launch that had a live online streaming. The shooting of Enna Solla Pogirai will be commencing by end of this month.
Initially, director Hariharan had told that the team is looking out for heroines, who would do justice to their respective characters. And now, the latest sensations Avantika and Teju Ashwini have been roped in. "Rom-Com movies always bank complete trust on characterizations as they are very limited. So, we wanted to bring in female lead actors, who will add more life to the script. After auditioning both the actresses, we felt that they would befittingly perfect," says director Hariharan. Avantika is a Bengaluru-based model and Teju Ashwini, as everyone knows, is already high on fame for her performances in independent singles like Asku Maaro.
Apart from the lead actors Ashwin Kumar Lakshmikanthan, Avantika, and Teju Ashwini, the others in the star cast include Vijay TV Cooku with Comali fame Pugazh, Delhi Ganesh, Panchu Subbu, and few more prominent actors. Written and directed by Hariharan A, Enna Solla Pogirai has cinematography handled by Richard M Nathan, musical score by Vivek-Mervin, Art by G. Durairaj, editing by JA Mathivathanan. A. Keerthivasan is the stylist, Balakumaran M is writing the lyrics, Apsar is the choreographer.
ALSO READ:
கோலகலமாக நடைபெற்ற குக் வித் கோமாளி அஸ்வினின் என்ன சொல்ல போகிறாய் பட பூஜை