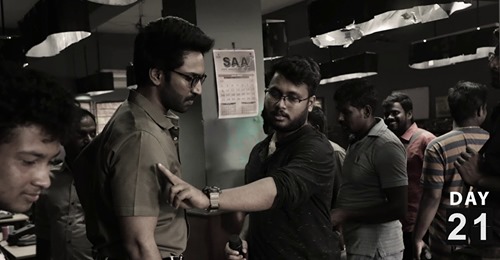 The entire team of Aadhi starrer "Clap" is delighted and invigorated as the shoot comes to an end.
Producer I.B. Karthikeyan, Big Print Pictures says, "It's been a pleasure working with a crew comprising powerhouse talents and young vibrant team. Collaborating with actor Aadhi has been a delightful experience. As soon as the Lockdown was relaxed and permissions were granted to resume the production works, he was the first one to be more curious to commence the works. Besides, being a producer's friendly actor, he had done a remarkable performance in this film, which will exhibit his new-dimensional avatar. Prakash Raj sir is going to be a big valuable asset to our 'Clap'. Director Prithvi Adithya, the captain of our ship owns directorial expertise, which is beyond brilliance. Being a young filmmaker, it's not an easy task to handle a bunch of top league actors and heavy crowds on the sets, but he has excelled in this aspect, which is going to be an elevator in his directorial journey. We as a team cannot wait to present the beautiful songs from our Isaignani Ilayaraja and would be unveiling them soon. With our shooting wrapped up, the postproduction work is already happening at the right momentum."
Produced by I.B. Karthikeyan of Big Print Pictures and is co-produced by P. Prabha Prem, Manoj & Harsha, Clap will be simultaneously releasing in Tamil and Telugu. With Aakansha Singh and Krisha Kurup playing the female lead characters, the others in the star-cast have Prakash Raj, Nasser, Mime Gopi, and Munishkanth.
ALSO READ: