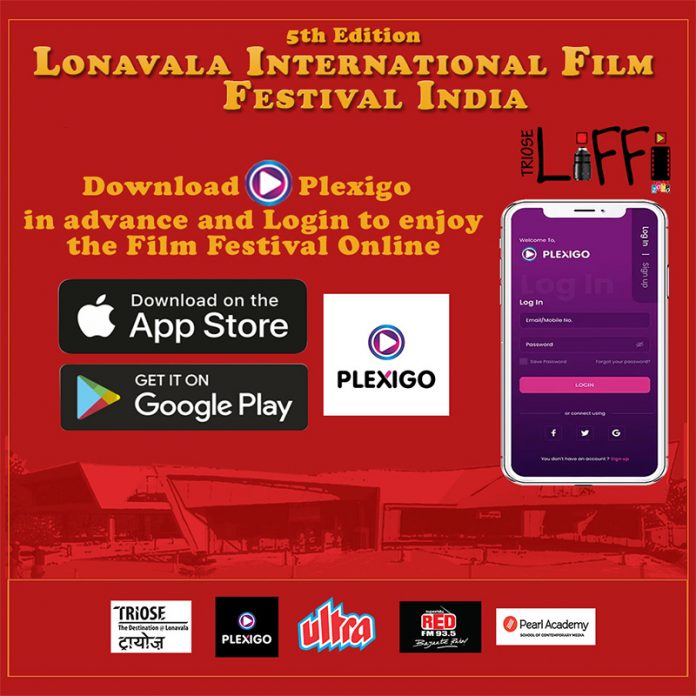 The 5th Lonavala International Film Festival India (LIFFI) 2020 to be held online on 27-29 Nov, 4-6 Dec and 11-13 Dec starting 6pm everyday
The festival pays a Special Tribute to Shri N. N. Sippy and will screen some of his epic films
The Director of the festival is Mr.Madhav Todi & its curated by Viveck Vaswani & have eminent panellists like Ananth Mahadevan, Music Duo Anand Milind, Pravesh Sippy, Divya Solgama amongst others
One film will be streamed each day and in total 9 Hindi feature films and 4 to 5 short films of different languages will be shown throughout the tenure of the festival
Viewers can watch the films and participate in panel discussions from the confines of their home for free
November 2020: The 5th Lonavala International Film Festival India (LIFFI) 2020 will be held online this year in view of the pandemic. People in large can watch the films by downloading the PLEXIGO ( A part of UFO Movieez}  App from the following link :
www.onelink.to/Plexigo. More information on the films and the festival can also be obtained visiting their Website : www.liffi.in , Instagram:  instagram.com/liffi_2020?igshid=r18uabenn51i; &  facebook:  www.facebook.com/LIFFIIndia. .
The earlier physical editions of the festival were held at Triose Plaza, Ryewoods, INS Shivaji Road, Lonavala.  In its 5th year LIFFI is paying a tribute to Shri N. N. Sippy : Prolific Film Producer and Distributor and will be screening some of his master pieces like : Woh Kaun Thi, Gumnaam, Devata, Sargam, Fakira, Chor Machaaye Shor and others. Apart from these, films like "Papa Kehte Hai " & internationally acclaimed "Mukti Bhawan" will also be screened
Mr. Madhav Todi, Festival Director, LIFFI, says, "We have not let the pandemic break our spirit and hence are conducting the festival online this year. We wanted to continue our endeavour of entertaining & edutaining the people of India with interesting films and interactive master classes and workshops. This year we can't organise a physical edition, though we have tried our best to put together an interesting selection for everyone to enjoy with their family from the comfort of their homes"
The first 4 editions of the festival were very successful. Several esteemed artists and film makers from the Indian film industry like Shyam Benegal, Naseeruddin Shah, Shabana Azmi, Ketan Mehta, Govind Nihalani, Sudhir Mishra, Ketan Mehta, Deepa Sahi, Rajit Kapoor, Mukesh Khanna, Kanwaljit Singh amongst others have graced the editions. Several media school students (including from Mumbai and Pune) and film enthusiasts have benefited by meeting film personalities and attending workshops with eminent persons such as Rinki Bhattacharya, Mayank Shekhar ,Joy Sengupta, Tushar Bhatia, Sandeep Soparkar, along with Ananth Mahadevan, & Viveck Vaswani.
The highlight of the last year edition was a tribute to the veteran film maker Mr. Subhash Ghai by screening 9 of his films amongst others.  Mr. Ravi Gupta (Dean Whistling Woods) also graced LIFFI 2019. LIFFI 2018 paid a tribute to Shri Bimal Roy and screened several of his master pieces
Partners for LIFFI 2020 are Triose Plaza, Ultra Media & Entertainment Group, RED FM, PLEXIGO, and Pearl Academy.