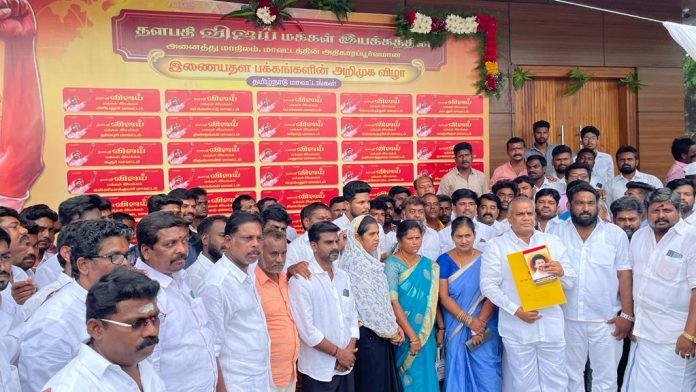 Thalapathy Vijay Makkal Iyakkam official social media web pages open ceremony
Thalapathy Vijay People's Movement's official website launch ceremony was held today with great fanfare.
Vijay has been the leading hero of Tamil cinema. His fans are united under the name of Vijay People's Movement and are carrying out various welfare works.
In this case, official websites and social media pages are being launched for Thalapathy Vijay People's Movement in every district, state and foreign countries.
In this regard, the inauguration ceremony was held today at the head office in Chennai. The function was followed by a lunch of chicken biryani for the people's movement executives.
During the last local government elections, administrators belonging to Thalapathy Vijay People's Movement contested the elections. It is also expected that Vijay will start a political party.
தளபதி @actorvijay அவர்களின் உத்தரவின்படி,

இன்று அகில இந்திய தளபதி விஜய் மக்கள் இயக்க தலைமை அலுவலகத்தில் பல்வேறு மாவட்ட தலைவர்கள்,அணித் தலைவர்கள் முன்னிலையில் அனைத்து மாநிலம்,மாவட்டம் மற்றும் வெளிநாடுகளுக்கான அதிகாரபூர்வமான இணையதள பக்கங்களின் துவக்க விழா நடைபெற்றது.(1/2) pic.twitter.com/O4nr5udYRi

— Thalapathy Vijay Makkal Iyakkham (@TVMIoffl) October 2, 2022