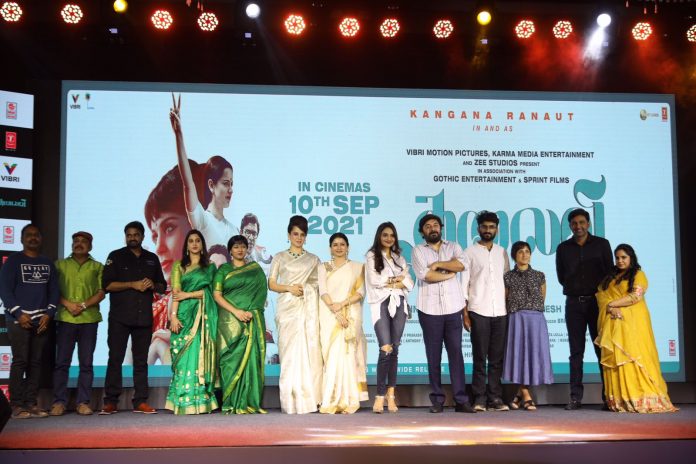 Thalaivi is the best movie in my entire career – Kangana Ranaut
Kangana Ranaut starrer "Thalaivi" is all finally set to enthral the Pan-Indian audiences from September 10, 2021 onwards with its worldwide theatrical release in Tamil, Telugu and Hindi. Thalaivii is directed by Vijay and written by K.V. Vijayendra Prasad. The movie is produced by Vishnu Vardhan Induri of Vibri Motion Pictures and Shailesh R Singh. Thirumal Reddy and Hitesh Thakkar have co-produced the film and Brinda Prasad is the Creative Producer. Madhan Karky has written the dialogues. GV Prakash Kumar has composed music and Vishal Vittal has handled the cinematography.
The movie directed by critically acclaimed filmmaker Vijay is based on the life of 'Evergreen and Immortal Queen and Iron Lady – Puratchi Thalaivi Amma J Jayalalitha. The cast and crewmembers of this film interacted with press and media this evening, herein Chennai.
The event commenced with the beautiful dance performance of choreographer Gayathri Raguram and her group for ravishing song from the movie.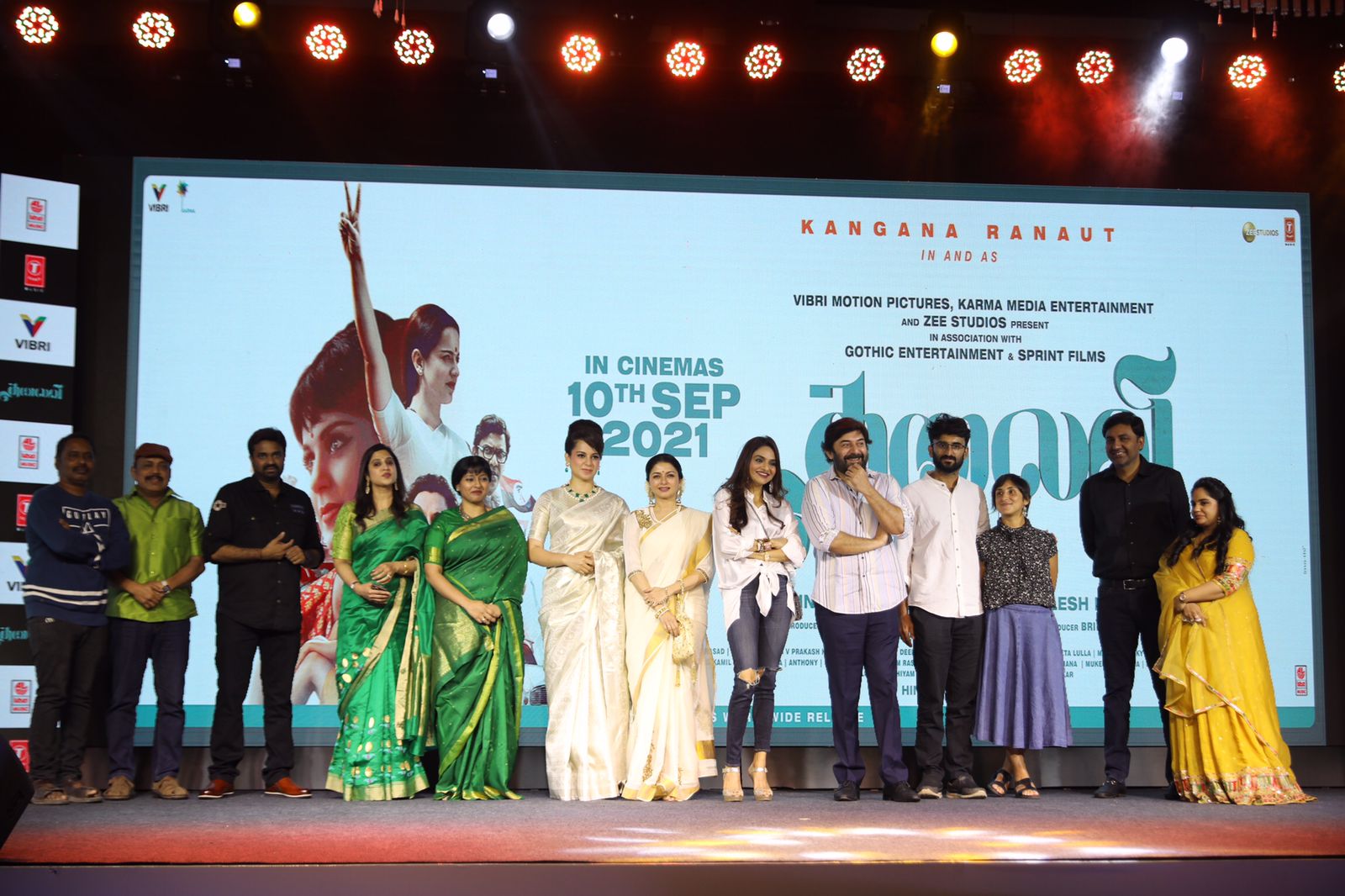 Here are some excerpts from the event.
Creative Producer Brinda said, "We are elated that our movie 'Thalaivi' is finally getting released. The idea about making this movie happened way back in 2017. Jayalalitha Amma has crossed several barricades in her real life. With her blessings, we are happy to bring them all on the big screen. Director Vijay and the screenwriters together have aesthetically made this movie, which will be an entertaining and emotional experience for the audiences. I personally thank Arvind Swami, Samuthirakani, Thambi Ramaiah, and our Indian Lady Superstar Kangana Ranaut for rendering an unconditional support over nurturing this movie. Both Vishnu Vardhan Induri and Sailesh R Singh have exerted incredible efforts, making sure that the movie gets a fabulous output. We are keeping our fingers crossed and looking forward to the response from press, media and audiences with the theatrical release."
Cinematographer Vishal Vittal said, "I am so emotional and glad that being a newcomer, I got an opportunity to be a part of this big movie. I thank my producers Vishnu Vardhan Induri, Sailesh R Singh, and director Vijay sir for making me a part of this project. The film has shaped up very well and audience from all walks of life will enjoy it."
Choreographer Gayathri Raguram said, "I have been associated with director Vijay for past 12 years. Kangana Ranaut has given soul and life to the real life Iron Lady Amma Jayalalitha and has done a fabulous job in her character. We all come across much hearsay about her, and I have heard many as well. However, after working with her, I realized they were wrong. She is such a talented and humble person. She has done a tremendous hard work for this movie, and a little sample is what is seen in the song choreographed by me. I am glad to be a part of a magnum-opus movie, made based on the life of Amma Jayalalitha.
Actress Bhagyashree said, "I thank director Vijay for making a part of this movie. Every actor and technician in this movie has exerted intense hard work for this movie. I have seen the early movies of Kangana Ranaut in Bollywood, and now I am just spellbound and awestruck over her colossally escalated performance in Thalaivi. My close friend Madhubala has delivered a brilliant performance. I thank the producers of this movie for giving an opportunity to be a part of this prestigious project."
Actress Madhu Bala said, "When I made by debut in Tamil cinema with the movie Azhagan, I had some emotional attachment with it. It was my first movie and I could learn more as an actress. To be precise, I felt the same while working in Thalaivi. I am elated to meet audiences with my best efforts in performance. Kangana Ranaut has delivered a natural performance, and she will be adored for her outstanding acting in this movie.
Actor Thambi Ramaiah said, "Actor Vijay's Master drew more crowds to the theatres after the first wave. And now, Thalaivi is going to bring audiences back to theatres after the second wave. In such a male dominant society, Kangana Ranaut has been an epitome and inspiration for many women. Her self-confidence and will power has made her the iconic emblem. Aravind Swami is the only actor, who has no haters. If I was handsome and beautiful like him, I would have either passed away or would have been behind the bars (Hilarious statement), but Arvind Swami was so honest and dedicated with humble and down-to-earth nature. Bhagyashri madam who paired opposite Salman Khan as heroine is playing the role of Sandhya Amma in this movie. Samuthirakani as RM Veerappan has done a remarkable performance. Director Vijay has offered me the role named 'Madhavan', which many people would have never heard off. I am excited to watch the movie along with you all in the theatres.
Writer Ajayan Balan said, "Last month, I lost my mother to COVID-19. When I revealed that I am working in this project, she told me that it will earn me more reputation than the movies I have worked so far. And now, I believe that her words have come true. When director Vijay told me that we are going to work on this project, I told him that it wouldn't be an easy task and will have lots of oppositions from many ends. But he was confident and sure about doing it, and has beautifully made this movie. More than us, the producers of this film know more about Jayalalitha Amma and they have produced this movie in a grand scale. While I was casually interacting with Nasser sir, he told me that Arvind Swami is his favourite actor. I realized that his words were true while watching him perform in this movie. All of us have seen and have been enchanted with the wonderful performance of Kangana Ranaut in many movies. In this movie, she has escalated her performance to the next level…"
Playback Singer Saindhavi said, "My acquaintance with brother Vijay dates many years back in time. He insisted me to render my voice for a song in this movie. I and GV Prakash had earlier decided not to work together and it was Vijay, who broke the pattern and made me sing in Madharasapattinam. The song I have crooned in this movie is very special to me."
Actor Arvind Swami said, "I thank director Vijay for trusting and giving me an opportunity to be a part of this movie. I saw the movie, a couple of days ago and it created an impression of 'Masterclass' film. I felt like, I am just a small dot working amongst the versatile performers like Kangana Ranaut, Nasser, Samuthirakani and Madhubala. Director Vijay's detailing, directorial nuances got me enthralled. I am confident that the movie will be appreciated and enjoyed by Pan-Indian audiences. Every actor and technician has done a great job and GV Prakash Kumar's music has elevated the standard of Thalaivi to a greater degree."
Actress Kangana Ranaut said, "This movie is very close to each and everyone involved in this project. All of us have personally gone through lots of hurdles over the past couple of years, and I hope things get better soon. As a part of Thalaivi team, I am happy that the movie is finally getting released. I am so privileged and happy to have shared the screen space with great actors like Madhubala, Aravind Swami and others. Madhubala mam took care of me so very well during this shoot. I am looking forward like a child to watch the movie in Tamil. I had very good friendship with Bhagyashri mam on the sets. I thank Vijay sir for projecting every character in the movie with best impact and bringing out the best in every actor. Everyone has been good on their parts. I thank producers for not compromising anywhere. With the film made in three languages, we have the leading and eminent personalities in all industries involved in this project. GV Prakash has taken the movie to the next level. Thalaivi is the best movie in my entire career and am looking forward to watch the preview show. I thank Brinda mam as this is her brainchild."
Producer Vishnu Vardhan Induri said, "When we released the Tamil trailer of Thalaivi in Chennai, it turns the spotlights of the entire industry completely. There were lots of offers from the leading OTT platforms, but still, we didn't want to compromise and made sure that it should release in theatres first. In spite of pandemic issues, we never wanted to compromise anywhere on the sets and with the release as well. We are confident with our film and that's the reason we are getting it released in theatres. Director Vijay has done a honest job. Each scene is elevated with GV Prakash's music. Vishal Vittal's cinematography has beautified the movie. Kangana Ranaut has created an intense impact with her performance and so are the others like Arvind Swami sir."
Director Vijay said, "Thalaivi isn't just my dream alone, but the dream of whole crew. I thank my producers for standing beside us, encouraging us in letting our vision and dream come true. I am so emotional and thankful to the producers that they were confident amidst the pandemic crisis and wanted to release the movie in the theatres. Like Arvind Swami sir and Kangana madam told that having vision alone isn't enough, but a great support is needed to make it happen. We have great support in the technical team. Cinematographer Vishal Vittal is a Tamil boy, and got settled in Mumbai. He has done a marvellous job. To talk about GV Prakash, he has been an immense support. Our iconic actors Kangana Ranaut, the backbone of the movie has done a great-great work. Arvind Swami sir is the shoulder for this movie. He brought forth some unique nuances through this character. Samuthikarani sir's performance will be appreciated by all. Thambi Ramaiah sir's energy was very much helpful on the sets. We are looking forward to a positive response from the audiences on September 10, 2021 in the theaters."
ALSO READ: