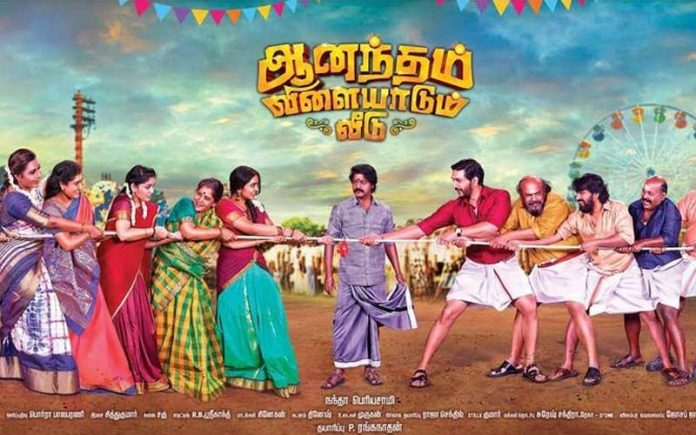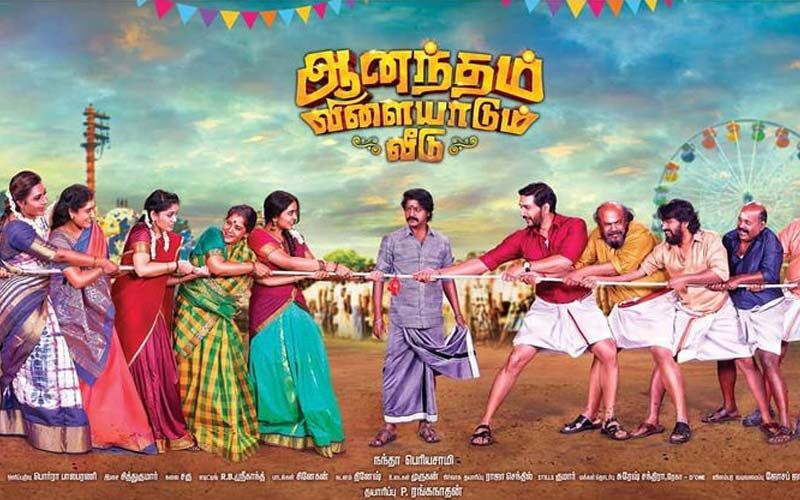 Sri Vaari Films ANANDHAM VILAYADUM VEEDU gears up for theatrical release
Sri Vaari Film Producer P Ranganathan presents Gautham Karthik-Director Cheran starrer Nanda Periyasamy directorial ANANDHAM VILAYADUM VEEDU gears up for theatrical release
Gautham Karthik-director Cheran starrer "Anandham Vilayadum Veedu" turns to be a special movie for being the multi-starrer flicks that Tamil cinema is going to witness after a long sabbatical gap. The movie is a family entertainer encompassing the beautiful relationships, humour, romance, action, and sentiments. Director Nanda Periyasamy has written and directed this movie, which is produced by P Ranganathan of Sri Vaari Film. Both of them recently interacted with the press and media to share their experience of journey with this movie.
Producer P Ranganathan, Sri Vaari Film said, "This is my second production after maiden movie Dharma Prabhu. Initially, director Nanda Periyasamy told me a different script, but I felt it could be materialized in the near future, but not now. So, I requested him to narrate me another story, and that's how Anandham Vilayadum Veedu happened. It's the story about 7 brothers of the same family. The story was quite different from what I have seen in movies of Family genre. This instantly made me to go ahead and Nanda Periyasamy has made it exactly the way he narrated me. The movie will be celebrated by the family audiences…
Director Nanda Periyasamy said, "The shooting of AVV commenced before the Lockdown phase. We started shooting it with 35 actors. Eventually, the pandemic phase had posed a lot of challenge upon us, and with all the support of artistes and technicians, we have managed to complete the shoot. Anandham Vilayadum Veedu has a lots of top league actors like Cheran, Saravanan, and Gautham Karthik. I thank my producer P Ranganathan sir for his earnest support in making this film during the critical juncture of Lockdown. The story revolves around the challenges and problems that arise among the brothers of joint family. How these brothers cross the hurdles and get united form the basic crux. Shivathmika Rajashekar makes her debut in female lead role with this movie. She is fluent in Tamil, which was helpful in getting her portions shots at an ease. I am confident that she will be getting more offers after the release of this movie. Gautham Karthik was supportive during the shoot. He would be the first person to be on the sets. He was so punctual and disciplined. The entire cast and crew was like a family."
With the shooting of Anandham Vilayadum Veedu wrapped up, the audio and trailer will be unveiled soon along with the official announcement of the theatrical release date, which is tentatively scheduled for November.
Siddhu Kumar (Music), Borra Bharani (DOP), Sneghan (Lyrics) are the main technicians. Shivathmika Rajashekar plays the female lead, and the others in the star-cast include director Cheran, Saravanan, Motta Rajendran, Venba, Daniel Balaji, Kizhakku Cheemaiyile fame Vignesh, Singam Puli, Kumki Jommalloori, Lyricist Snegan, Namo Narayanan, Soundarajan, Mounicka, Maina, Paruthiveeran fame Sujatha, Priyanka, Nakkalite Dhanam and many others.