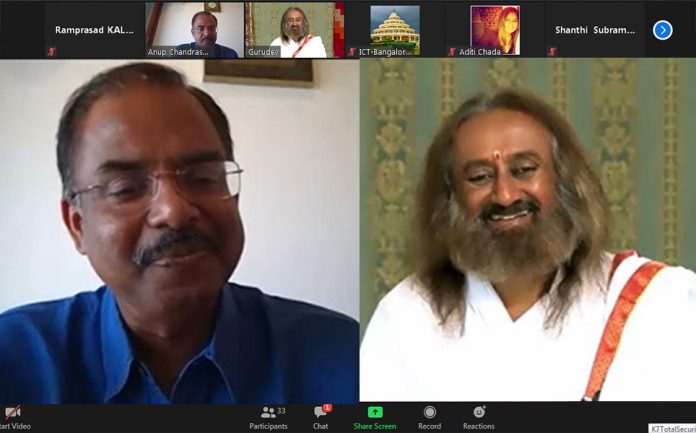 'Simplify the Complicated: Breaking down the whys and hows of life': Colors Tamil In conversation with Gurudev Sri Sri Ravi Shankar
Chennai, 29 August, 2020: "If you can win over your mind, you can win over the whole world", says global spiritual master and humanitarian, Gurudev Sri Sri Ravi Shankar. In these unprecedented times of crisis fraught with stress, anxiety and uncertainty, COLORS Tamil in association with The Art of Living, has set out to bring a message of peace, wisdom and positivity for all the viewers across Tamil Nadu.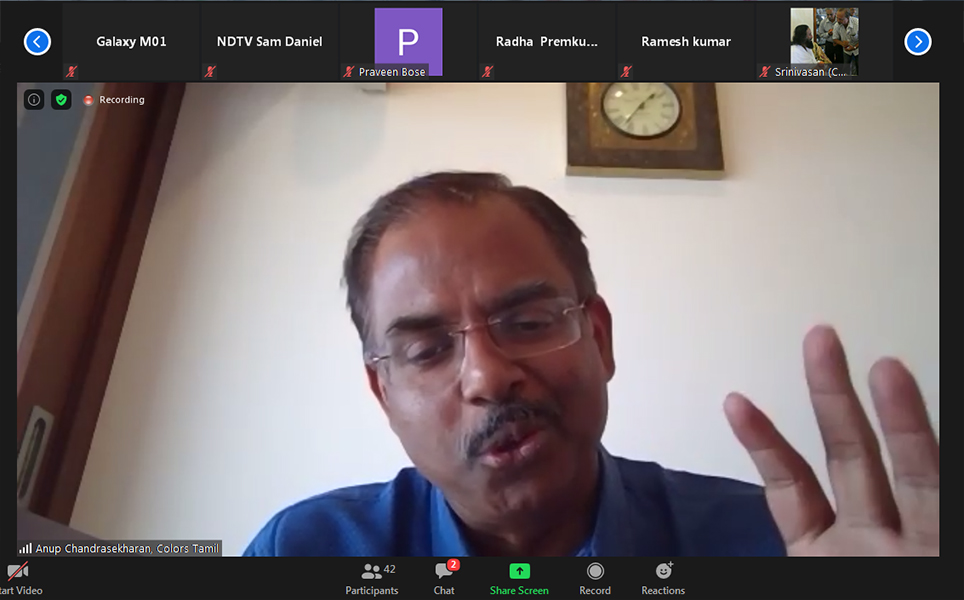 In a thought-provoking fireside chat, Gurudev Sri Sri Ravishankar and Mr. Anup Chandrasekharan, Business Head – COLORS Tamil, conversed about ways to simplify life's many complications, with Gurudev offering deeply meaningful insights that uplifted the minds of the viewers on topics ranging from mental health, isolation, strenuous relationships, ways and techniques to handle a restless and anxious mind, among others.
"I urge everyone to believe in a power that is over looking all of us, Gurudev said during the interaction, "It will guide and protect us. This is a sense instilled by spirituality. There should be unshakable faith in this power. This will give us psychological strength." Here's a snapshot of the enlightening conversation:
ALSO READ:
Anup:  Work from home has become the new norm. However, more than convenience this work situation has added stress. Especially for women professionals, it is a challenging time to balance work and personal life under one roof. How do we keep our body and mind calm during these times?
Gurudev: Rewind a little bit and think about the world around 30 years back.  We did not have access to modern technology and we didn't have internet connections. Television was just making its way into our homes. We had to step out for work in order to survive. Now imagine COVID had struck us during a time like that.  We would be much more anxious and stressed. So the positive outlook in today's situation is that we have the boon of technology making our life a lot safer and easier. Think of this situation as World War -3 with an invisible enemy. We have to divert all our energy in understanding and analysing the intensity of our personal challenges. We should strongly believe that this uncertainty is momentary; we have to be patient and look at the positives.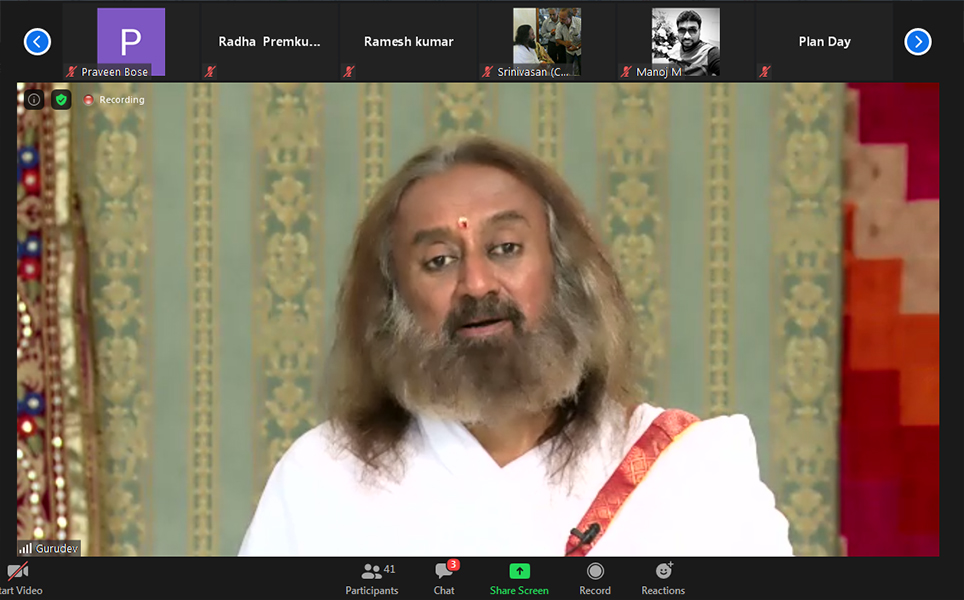 After a long time, there is a situation for families to spend more time at home. This was rare before. It is normal for personalities to clash, we have to keep an open mind and accommodate each other's needs. Our tolerance level should increase. Our creative impulses should be heightened.
We should have the patience and a mindset to win in these challenging times.  Focus our mind towards meditation and entertainment activities. This will give us the calmness we seek and strengthen our mind.   
Anup: Being with family during these times has heightened our insecurities and fear about future, job and life in general. What are your thoughts on this Gurudev?
Gurudev: We have to develop our self confidence during these uncertain times. This will help us win over anxiety. Even before COVID, uncertainty and anxiety were part of our everyday life. Take share market investors, entrepreneurs and people from the tourism and travel industry, they are facing a really challenging time now. One of the highly impacted ones from this pandemic is our daily wage workers from the unorganized sector.
However, COVID has presented an opportunity for people to come together and help each other. Many organizations and the society in general have come forward to offer timely support to those in need. This is a wonderful opportunity for us to help and be there for each other.
Anup: Our ambitions have taken a back seat looking at the current situation. A wish for leading conservative life is creeping in and people are willing to leave behind the rat-race for a simple life pursuing farming etc. Is this the right thought process?
Gurudev: It's a good direction to lead your life. But, I urge everyone to see this as a big opportunity. Every crisis is an opportunity to improve self-sufficiency. This will help our nation grow. It is also an important time for us to understand the balance between being over-ambitious and having no ambition at all. If an opportunity presents itself in an uncertain time, grab it.
Anup: There is plenty of negative emotions and news being spread around us. How do you fight these thoughts? 
Gurudev: Journalism has got big responsibilities. First and foremost, present facts as they are. Sometimes it might be gloom and that is when their second responsibility comes in play – to re-kindle hope. Report more of inspirational, soft stories which will help spread positivity. It will strengthen the faith in our society. We should learn to balance negative and positive news.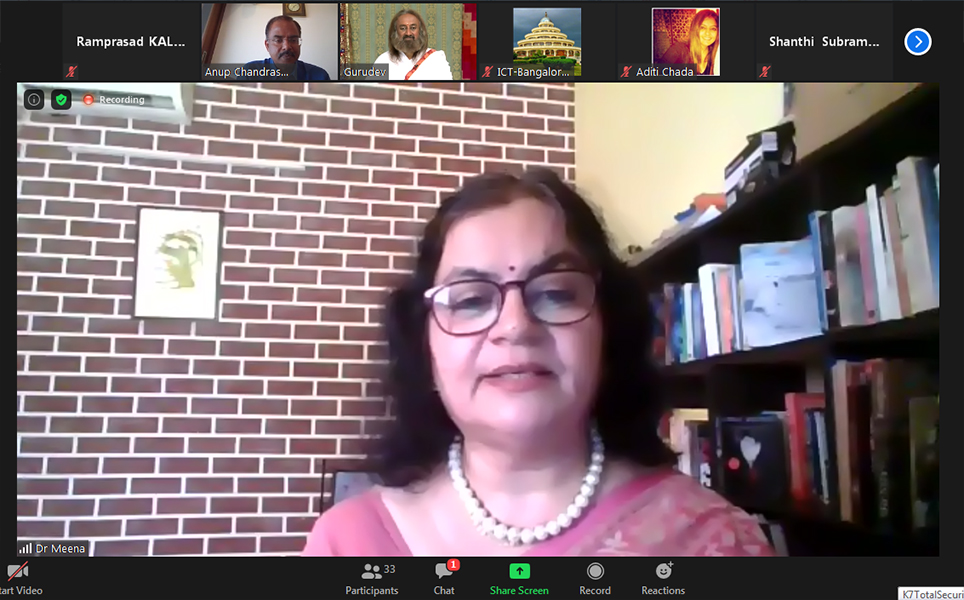 Anup: COVID has pushed many in a situation where they feel abandoned by friends and family. We hear stories of elderly not able to get timely support from their close circle of people. This made me think about who really are our good friends and our one enemy. What are your thoughts on this Guruji?
Gurudev: COVID is not the only time when the people have felt lonely. There are many situations in our day to day life where family members live countries apart and are not able to support each other in time. But I urge everyone to believe in a power that is over looking all of us. It will guide and protect us. This is a sense instilled by spirituality. There should be unshakable faith in this power. This will give us psychological strength. Depression rates are increasing around the world. Especially amongst teachers, depression rates are alarming. This situation can be handled through meditation, breathing techniques and help us in leading a peaceful life.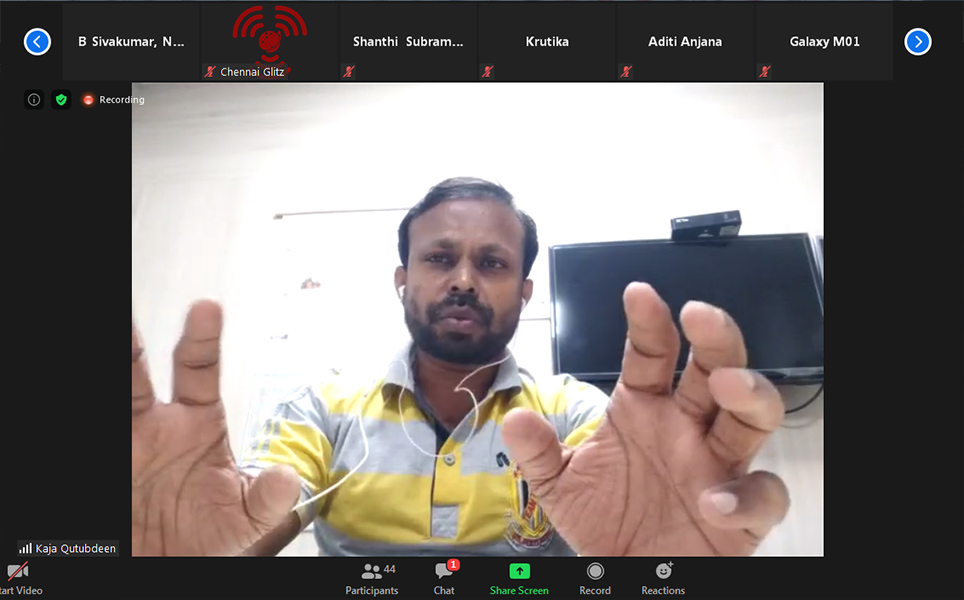 Join us every Sunday at 11:00 AM, on COLORS Tamil with 'Sinthanaigal Simplified', where Gurudev Shri Shri Ravishankar engages in a scintillating conversation about life with celebrities from across industrieslike Lakshmi Ramakrishnan, Gautam Vasudev Menon, Aishwarya Rajesh, Varalakshmi Sarathkumar, Suhasini Maniratnam and many more.
COLORS Tamil is available on all leading cable networks and on all DTH platforms – Sun Direct (CH NO 128), Tata Sky (CHN NO 1555), Airtel (CHN NO 763), Dish TV (CHN NO 1808) and Videocon D2H (CHN NO 553).