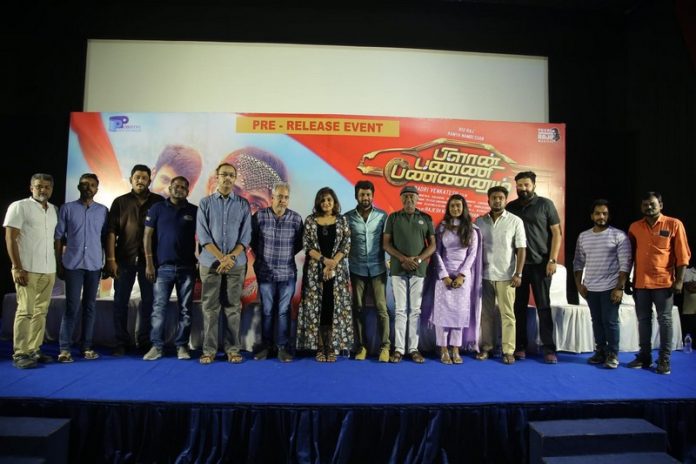 Rio Raj starrer Plan Panni Pannannum – worldwide theatrical release on 24th September 2021
The makers of actor Rio Raj and Ramya Nambeesan's upcoming film 'Plan Panni Pannanum' had earlier announced that the film will release soon, after the Tamilnadu government finally allowed theatres ito open with 50 percent capacity recently. Now, the makers have announced the film's release date. The film directed by 'Baana Kaathadi' and 'Semma Botha Aagathey' fame Badri Venkatesh will hit the screens on September 24.
The entire cast and crew of this film was present this evening in Chennai to interact with press and media. Here are some of the excerpts from the event.
Actor Rio Raj said, "I request press and media friends to be supportive and make this film a good success. Every actor and technician on the sets enjoyed thoroughly working. Its a dream come true fo me to have the musical score of Yuvan Shankar Raja sir. However, the trouble came in the form of COVID-19. I assure that Plan Panni Pannanum will be a laughter-riot. The pandemic times has imposed so much of pressure and stress on us. And now, we are happy to welcome audiences to theaters and enjoy the show.'
Actress Ramya Nambeesan said, "We are finally happy as a team to present the movie in the theaters. Its been a tough and challenging journey for all of us in the industry. Of course, OTT platforms have been a great support during the Lockdown time, but we must watch the movie in theaters. I request everyone to watch Plan Panni Pannanum in the theaters.'
Actress Poornima Ravi said, "This is my first movie and the whole experience of shooting was sometjing new to me. I thank the entire crew for keeping me comfortable on the sets. When director Badri sir approached me for the role, he affirmed that withoue the role would be an ordinary sister character. Henceforth, I thank the entire crew for being a great support." Furthermore, she enacted a dialogue from the trailer that won her applause.
Actor Bala Saravanan said, "Myself and Rio are like brothers, and our friendship dates back to the days of Vijay TV serial Kana Kaanum Kaalangal. I thank Rio for suggesting me to director Badri. The film will be a delightful entertainer for the family audiences, and we request everyone to watch the movie in the theaters on September 24, 2021."
Director Badri Venkatesh said, " Both film fraternity and press media had faced lots of hurdles during this pandemic times. And now, we are happy to see that the movie is having a theatrical release. If not for the firm decision of producers, this would have not been possible. Rio has done a great job, and I am looking forward to work with him in many movies. Ramya Nambeesan is a strict officer, who doesnt easily accept a movie. She had done her best. Bala Saravanan is an asset to the movie. Poornima Ravi is going to win applause from youngsters in the theaters. I invite everyone to theaters on September 24, 2021 and enjoy this movie, which will be a 100 percent laughter riot."
Cinematographer B. Rajashekar said, "We completely enjoyed making the movie on the shooting spot. Working with Badri has been great. Although many offers from the leading OTT platforms, but still the producers remained firm over their decision in getting a theatrical release."
Editing Sam RDX said, "This is a moment that everyone of us in the team waited for. While editing the movie, I was really confused when.and where to cut and edit. We all enjoy the movies like Kadhala Kadhala and Panchathanthiram, whenever aired on television. Similarly, Plan Panni Pannanum will be a good fun-filled entertainer and it will be a stress buster for all in the theaters."
Actor Siddarth Vipin said, "During the pandemic times, I was really anxious if the movie will be releasing on OTT platforms, but I am awestruck by the firm decision of producers to get it released in the theaters. I want audiences to come theaters and support us."
Art Director PPS Saravanan said, "The movie will be an out and out Entertainer. There are lots of recommendations that laughing out loud will curb down the Corona. So I request everyone to come theaters, laugh out and enjoy the show in the theatres from September 24, 2021 onwards."
Lyricist Niranjan Bharathi said, "Like everyone said the movie will be not just an anti-depressant, but a big treat for audiences in the theaters. I have written four songs for the film. I am happy to have worked in this movie. All the songs are different genres and the process of making it was so much enjoyable.'
Producer Rajesh Kumar said, "Initially, we decided to release the movie in April 2019. However, as everyone knows the pandemic issues had stalled the release. After passing through so much of stress and depression, we are finally seeing something positive. I believe the movie will be endowing audience with a great enjoyable experience. We are looking forward to a positive response from press, media and audiences on Septmeber 24, 2021."
Actor MS Bhaskar said, "This will be a good entertainer for audience of all categories. Director Badri Venkatesh gave me a lot of freedom on the sets. He welcomed and appreciated my suggestions in dialogues as well. I request press and media to encourage and support our hard work."