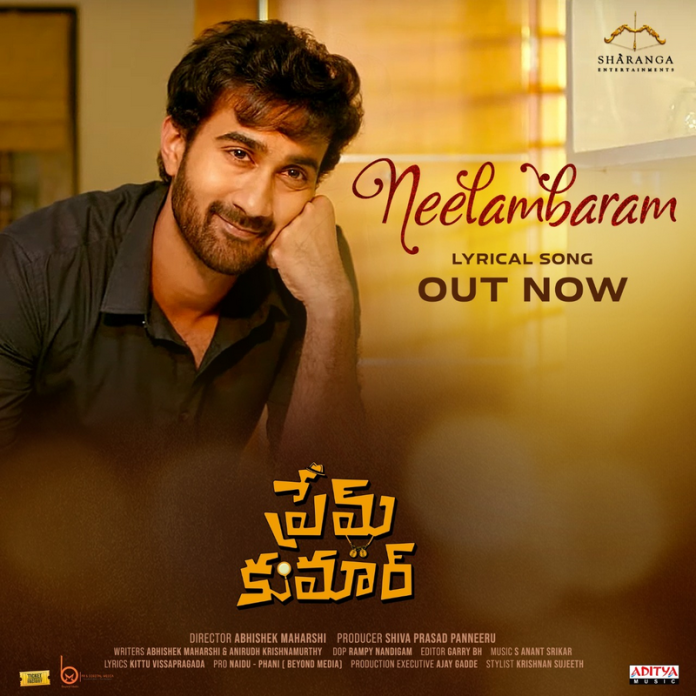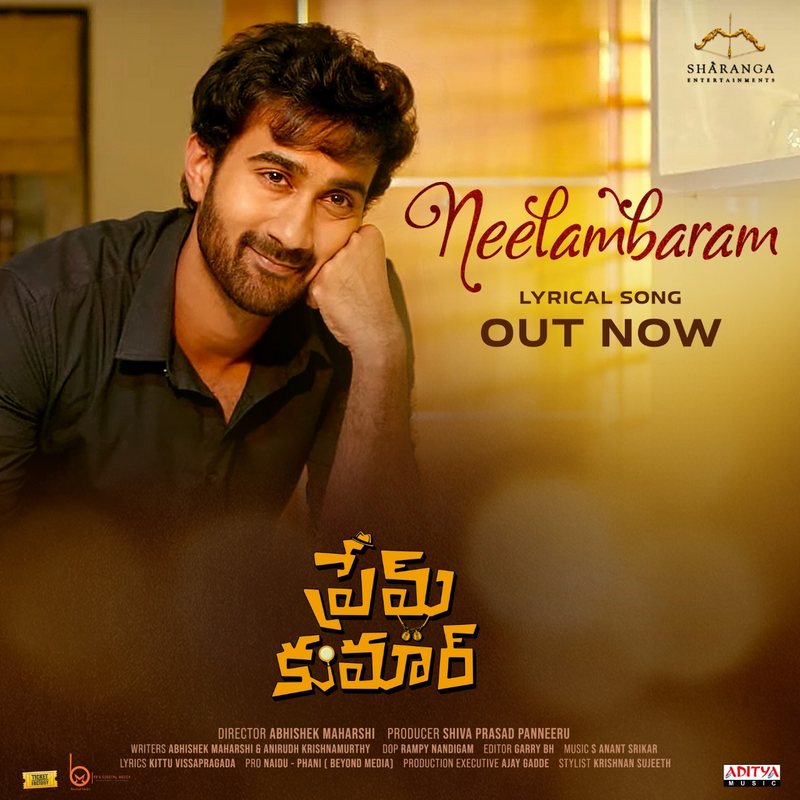 'Prem Kumar' starts singing about his dream girl… 'Neelambaram' song drops!
Sharanga Entertainments Pvt. Ltd. and producer P Shiva Prasad are currently doing a film with Santosh Shobhan as the hero. Titled 'Prem Kumar', the film marks the directorial debut of Abhishek Maharshi. Rashi Singh is its female lead. Krishna Chaitanya, Ruchitha Sadineni, Krishna Teja, Sudarshan, Ashok Kumar, Prabhavathi, Raj Madiraju, Madhu, Abhishek Maharshi, Sri Vidya, Sai Swetha, Akula Shiva and others have been roped in to play other roles. On Saturday, its song titled 'Neelambaram' was unveiled
Here are the initial lines from the romantic song:
'నీలాంబరం… చూసి నీ కళ్ళలో!
మేఘామృతం… జారే నా గుండెలో!
మాటలని మోయలేని పెదవే…
మౌనంగా నిన్ను సాయమడిగే…
పదే పదే… మనోహరంగా!
తదేకమే యధావిధంగానీ
పైనే ఆశ…'
Penned by Kittu Vissapragada, the song is composed by S Anant Srikar. Aditya Music has started streaming this Anurag Kulkarni rendition. Releasing the melody, the makers said that Prem Kumar has started singing a song for his dream girl!
Producer P Shiva Prasad said, "The response for the song has been amazing. The listeners are saying that it's a very good melody. We are going to unveil the rest of the songs soon. 'Prem Kumar' is a hilarious comedy entertainer. The director has developed a novel story with his writing department. The screenplay is exciting and hilarious. Post-production works are currently on. The release date will be announced soon."
Director Abhishek Maharshi said, "Santosh Shoban has played the titular role. Prem Kumar's marriage gets cancelled, but you have to watch the movie to know why his wedding got cancelled, because of whom, with whom and how. Will PK ever get married? Or will he remain a bachelor for the rest of his life? Love, marriage, family relations.. these elements define the film. We are happy with the response for the first song."
Cast:
Santosh Sobhan, Rashi Singh, Krishna Chaitanya, Ruchitha Sadineni, Krishna Teja, Prabhavathi, Sudharshan, Raj Madiraju, Ashok Kumar, Madhoo, Abhishek Maharshi, Sri Vidya, Sai Swetha and Akula Siva.
Crew:
Director: Abhishek Maharshi
Producer: Shiva Prasad Panneeru
Writers: Abhishek Maharshi, Anirudh Krishnamurthy
Editor: Garry BH
Director of Photography: Rampy
Music Director: Anant Srikar
Additional Dialogues: Charan Tej
PRO: Naidu Surendra Kumar – Phani Kandukuri (Beyond Media)
Digital Media: Ticket Factory