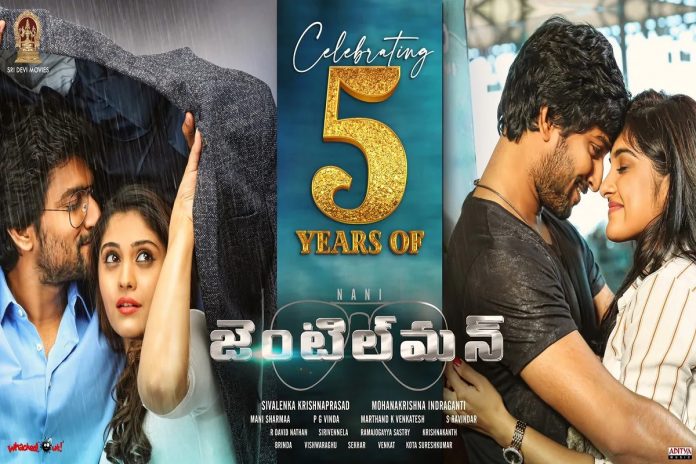 Nani is the Natural Star of Tollywood who stunned the audience with his ability to get into the skin of any role. After delivering back to back blockbuster hits with his lover boy image, Nani stepped into his first thriller drama Gentleman(2016.) On this day, 5 years ago Gentleman hit theatres and shook the industry with its love drama dosed with suspense factor.
Gentleman begins with Catherine (Nivetha Thomas) and Aishwarya (Surbhi) narrating their love stories to kill time on their way back to India. Aishwarya speaks about her boyfriend Jay(Nani) a sophisticated industrialist who falls in love with her when holidaying in Kodaikanal while Catherine talks about her boyfriend Gowtham (Nani) who falls in love with her at first sight and rescues her from her lascivious uncle. Through the conversation, Catherine and Aishwarya become best buddies, however a twist awaits when Catherine realizes Jay is none other than her boyfriend Gowtham. What happens later forms a suspenseful and entertaining plot.
Nani's dual appearance as Jay and Gowtham was critically acclaimed by the audience. His top notch skills to showcase his versatility was on point. Of all, Nivetha Thomas stole the show with her skilled acting and display of varied emotions. Surbhi as a young girl in love was an endearing watch. Mohana Krishna Indraganti's skeptical narration and the subtle romance between Nani and Nivetha Thomas was a beautiful watch. The amazing composition by Mani Sharma and the melodious songs Gusa Gusa Lade, Chali Chali Chudu and Saturday Night Fever are still the favourites of the Telugu audience. Here is to 5 years of Nani's Gentleman.