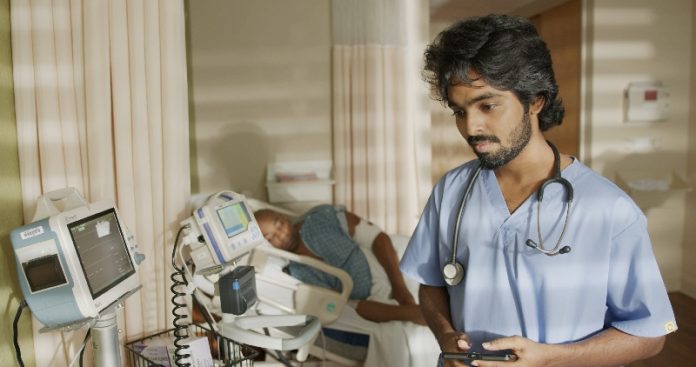 Kyyba Films in association with Nasik Rav Media presents Trap City featuring Nepolean, GV Prakash with Brandon T Jackson in the lead
After a successful outing with their production venture Devil's Night, Kyyba Films Tel K Ganesan is ready with an engaging entertainer titled Trap City that features top Tamil actor Nepolean, actor – music composer GV Prakash with popular Hollywood star Brandon T Jackson playing the lead. Founded by Tel K Ganesan and G B Thimotheose, Kyyba Films is a major film production company based in Michigan.
Tel Ganesan's earlier venture Devil's Night had a digital premiere and received a phenomenal response. Plans are on to release Trap City in theatres across the globe. Meanwhile Hollywood star Brandon T Jackson is all thrilled about his movie releasing in India while GV Prakash is thrilled to make his entry in Hollywood.
Nepolean, a popular name in Tamil cinema in Tamil cinema for playing versatile roles, made his debut in Hollywood with Devil's Night. His performance in the movie was widely acclaimed. Trap City is his second outing in Hollywood and he does a meaty role. He is also part of another titled Christmas Coupon.
GV Prakash is an ace music composer and a prominent actor in Tamil cinema. He is the nephew of Oscar and Grammy winner AR Rahman and he even sung for Rahman at a very young age. Trap City introduces GV Prakash to Hollywood. He plays the role of doctor.
ALSO SEE:
Comedian – actor – producer Brandon T. Jackson is best known for his work in films like Tropic Thunder, Lottery Ticket and Percy Jackson & the Olympians, and as a cast member on the VH-1 show Wild 'N Out with Nick Cannon. Jackson, CEO of his Kingdom Over Everything (KOE) Studios, has joined forces with Tel Kyyba Films to release the hip hop, urban drama Trap City.
Trap City is directed by Richard Burchell. Besides Jackson, Nepolean and GV Prakash, the movie also stars ,
Erica Pickett, Clifton Powell, Juhahn Jones, Denise L A White and Tarina Patel.
Trap City is the tale of a struggling rapper working as a drop man for a drug kingpin. Jackson, who portrays the rapper, records a song that becomes a viral sensation just before his arrest. Though his music fame intensifies because of his crime, a near fatal shooting forces him to face the greatest choice of his life.
ALSO SEE:
The highlight of the movie is that it speaks about incidents which can be related to recent police violence stories that hit the headlines. Be it the George. Floyd killing in Minneapolis or custodial deaths of a father and son at a police station in Tamilnadu.
Filmed in Nashville TN, the music score and soundtrack features former Eminem's D12 bandmate Swifty Mcvay as well as Brandon T Jackson, Omar Gooding, Project Pet, Lazarus, Sarkar Musik, Psychon, Jiim, Big Gemini, Sa Roc, Nitesh Aher, Awessum Frankie Itzkatto, G V Prakash and Lesle Lewis.
Says director Richard Burchell, 'Trap City combines elements of good old fashion story telling with the dynamics of hip hop, incorporating the trending themes of snitching, rap music, police violence and personalities going viral'.