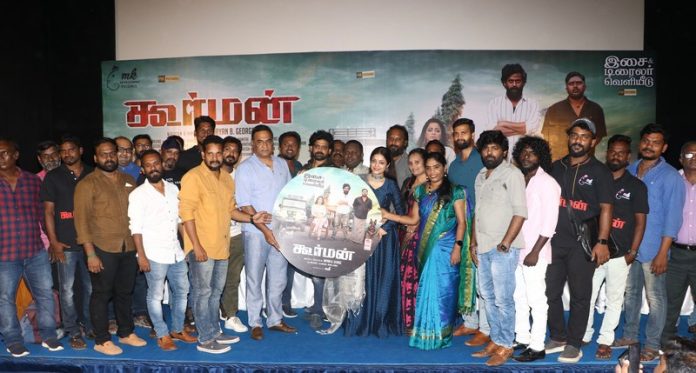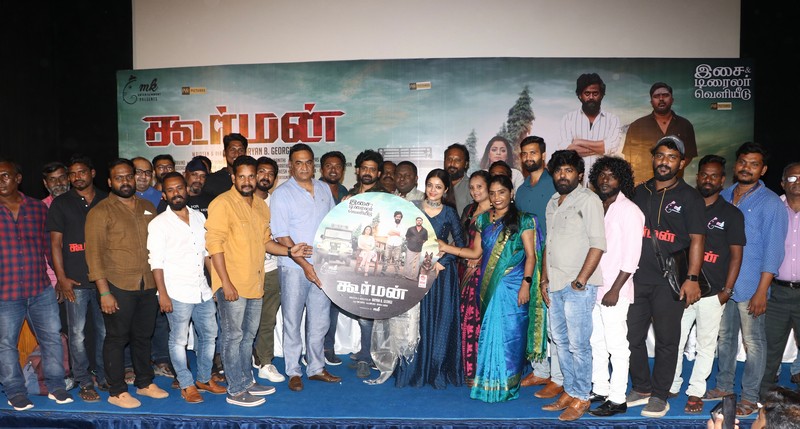 Koorman Movie Music and Trailer Release Celebrations!
Koorman is a psychological murder-mystery psychological thriller directed by Brayan. B. George and produced by MK Entertainment. The film features Janani Iyer and Bala Saravanan in the lead roles. The film is set against the unique story backdrop of a character finding the secrets and thoughts buried inside the hearts and minds of other characters. While the film is all set for the worldwide theatrical release shortly, the audio and trailer launch was held this evening in Chennai with the presence of the entire cast and crew. Before kick-starting the event, the entire auditorium comprising press, media and other special invitees were surprised with the presence of a mentalist, who invited one among the crowds to think about something, and he easily revealed it impeccably.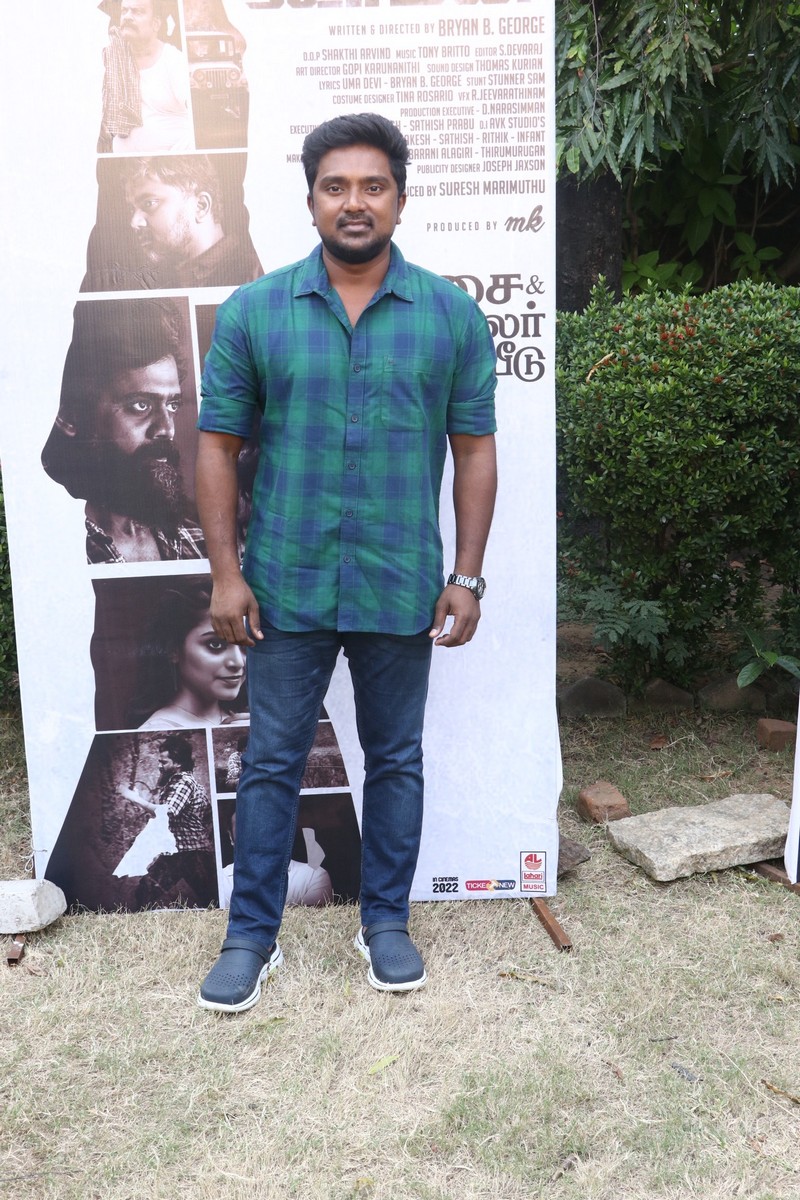 Actor Bala Saravanan said, "Just like the uniqueness of title, and event here involving Mentalist, the film's plot and screenplay alongside the making style would be unparalleled and newfangled one. The entire team itself is unique. I have learnt a lot of new things from the director while working with him. It's really an amazing and elated experience to be working with my close friend Rajaji. I have shared screen with a dog, which is not here now and that makes me sad. I am sure Koorman will be a new and refreshing experience for the audiences. I request everyone to watch the film in the theaters and extend your valuable support."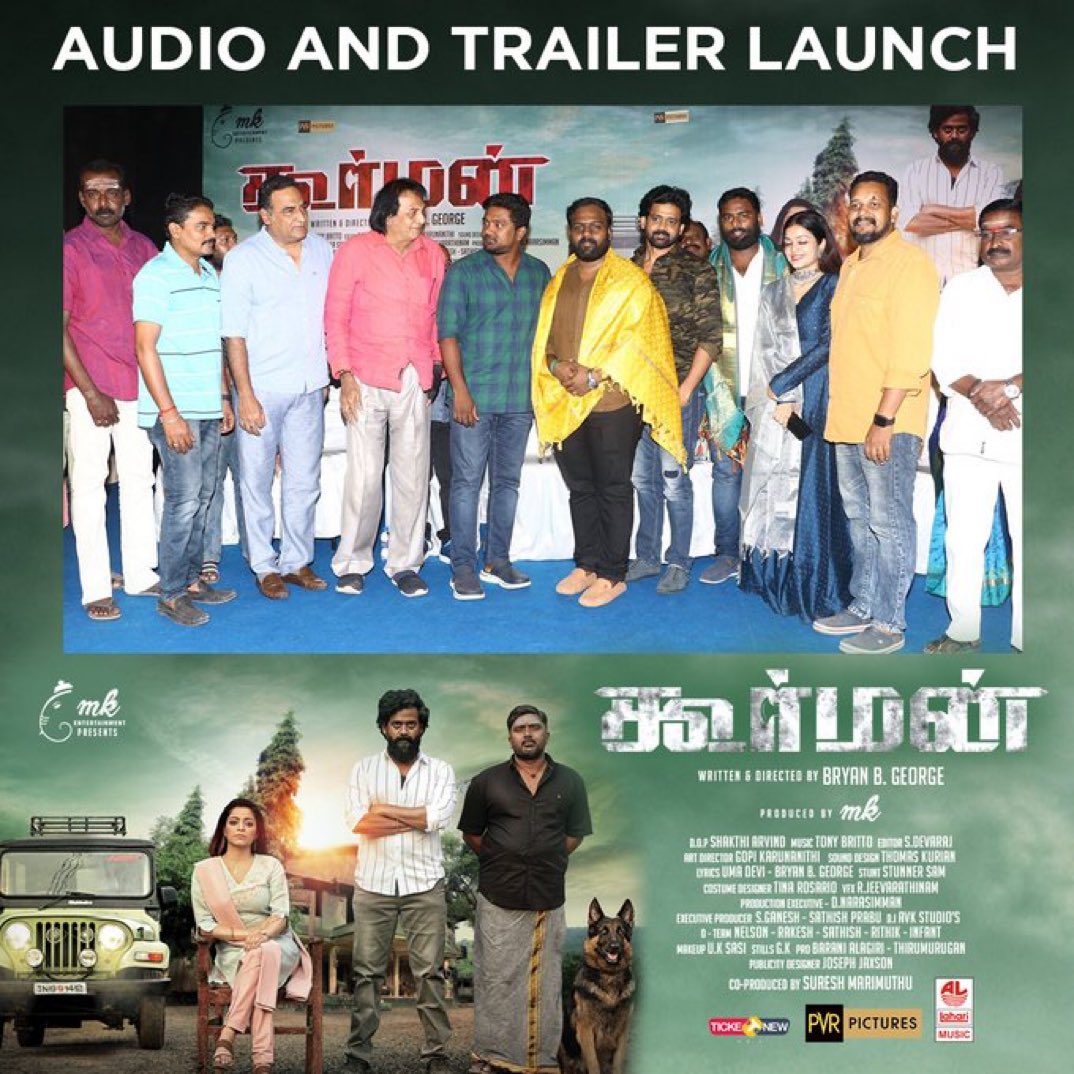 Actor Muruganandham said, "I play a very small role in Koorman, which I liked and got fascinated about. Producer Madhan is the main reason for me to take up this role. He is a good friend of mine, and is such a lovely good-hearted person. While actors and technicians get an opportunity despite the failure of their movies, producers cannot enjoy this privilege. I wish him that the film becomes a greater hit. I have already worked with Rajaji in the movie Enkitta Modhathey, and it's gleeful to be sharing the screen with him again. Director is such a silent and man of few words. I wish everyone in the crew for the great success of this movie."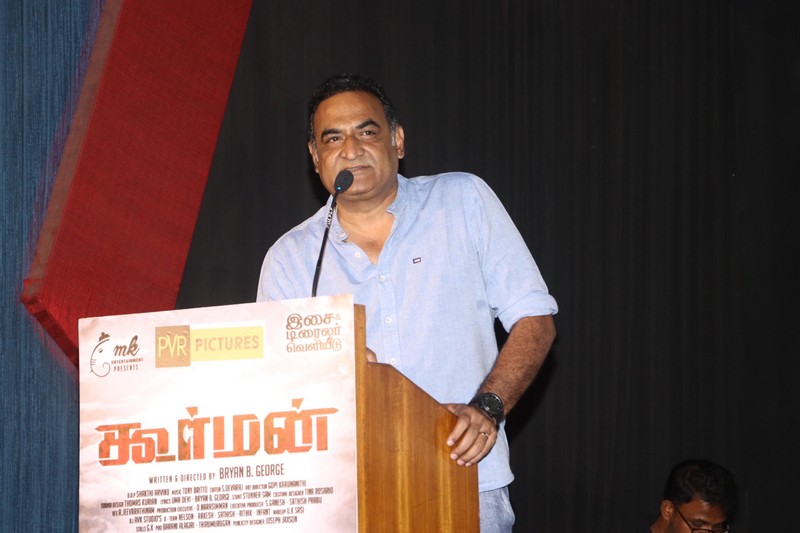 Aadukalam Naren said, "When Biju narrated the script and my character, I instantly told him that I will do this character. I was very much impressed with the making style of Biju, an the way, he composed each frame. Although, I have already performed cop roles in many movies, this one is quite unusual and different from them. The actors in this movie have delivered a natural performance with casual approach, and it was a good learning experience sharing the screen space with them. I wish the entire cast and crew for the grand success of this movie."
Editor Devaraj said, "Biju and myself share a friendship of more than 12 years. This film has lots of new-dimensional approach in storytelling. He made my job easier on the editing table with his screenwriting ability. This will be a good entertaining treat for the audiences in the theaters. I wish the crew for a good success, and request audiences to make their presence in the cinema halls and make it a successful movie."
Actor Praveen  said, "I am extremely happy for having got a chance to be a part of this movie. Madhan had shared the gist of this story before a long time, and it's so nice of him to see that he invited me to be a part of this movie as the project got materialized. I am playing a second lead character in this movie. I was very much enchanted with this character, and wanted to do with my fullest abilities. My co-stars have done a fabulous job with their performances. Despite being the experienced actors, both Rajaji and Bala Saravanan gave me good space and encouraged me to perform well. I wish Madhan for the grand success of this film for exerting his heart and soul into the production of this movie."
Super Good Subramani said, "I am so happy that Jai Bhim has achieved a global fame and it would be soon honoured with the Oscars. The film gave me an identity, and I am sure, Koorman will give me more identity for my characterization and performance. I have known the director from the days, where he worked as assistant director. He is a hard working person, and this film will reap the harvest of success for him."
Executive Producer Sathish said, "I thank the entire cast and crew of Koorman for extending their earnest efforts in this project. We are planning to present the film to audiences with a great theatrical experience at the earliest, and looking forward to their support."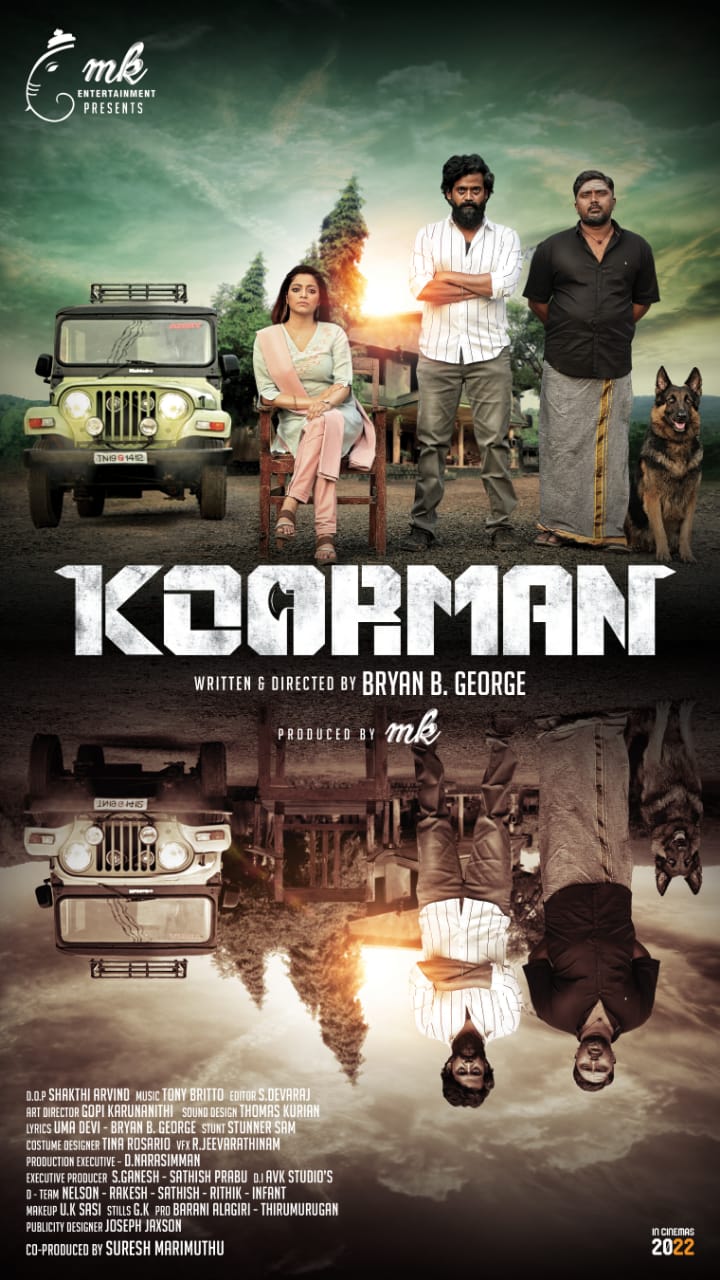 Lyricist Uma Devi said, "Firstly, I would like to thank the team for emphasizing the literary value of Koorman term. The entire team is a bunch of powerhouse talents for they have brilliancy and at the same time, capable of getting the required work from. I was introduced to music director Tony through Santhosh Narayanan. He has composed music with a newfangled dimension that doesn't carry the trace or inspiration of any other works. I have written a couple of songs that are crooned by Diwakar and Vaishali and another song by Pradeep Kumar. I am sure, the songs will be loved by all, and so will be the movie."
Music director Tony Britto said, "I thank both the producers for making me a part of this project. Director is always a disciplinarian, and to get feedback from him isn't an easy task. I had to keep following his assistant to get his words about my tunes, and it was happy to hear that he liked all the tunes I gave him. A couple of songs are written by Uma Devi and one is written by Biju himself. I request everyone to listen to the songs and share your valuable feedback."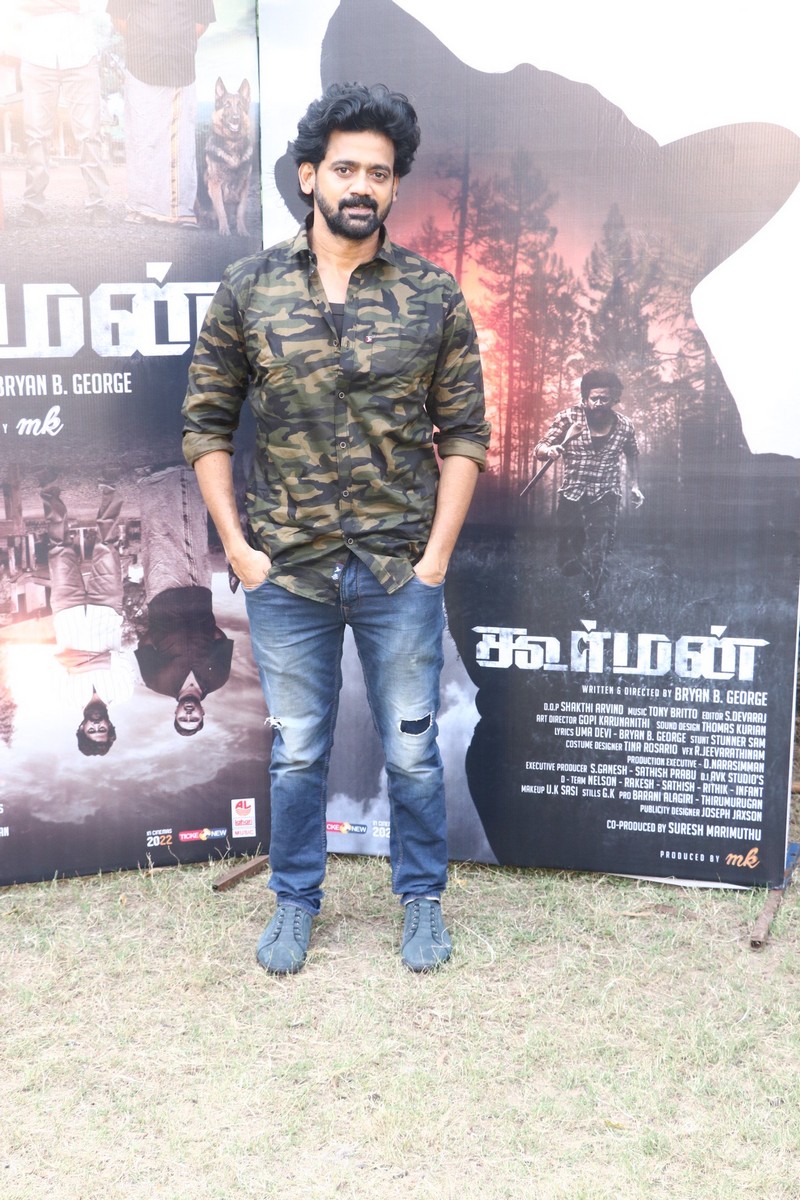 Actor Rajaji said, "I take this opportunity to thank MK Entertainment producer for offering me an opportunity to be a part of this project. He is such a selfless person, and is always concerned about the well-being of the others. His gesture of offering me the chance to be a part of this project is an ample exemplification. Suresh has been a great help and pillar to this project. A German shepherd has played a pivotal role in this movie, and its saddening to reveal that it is no more with us. Initially, Biju wanted me to be a part of audition, and aftermath the process; he just helped me a lot in nurturing my performance. The background score by Tony is going to be an absolute factor in enhancing the quality of this film."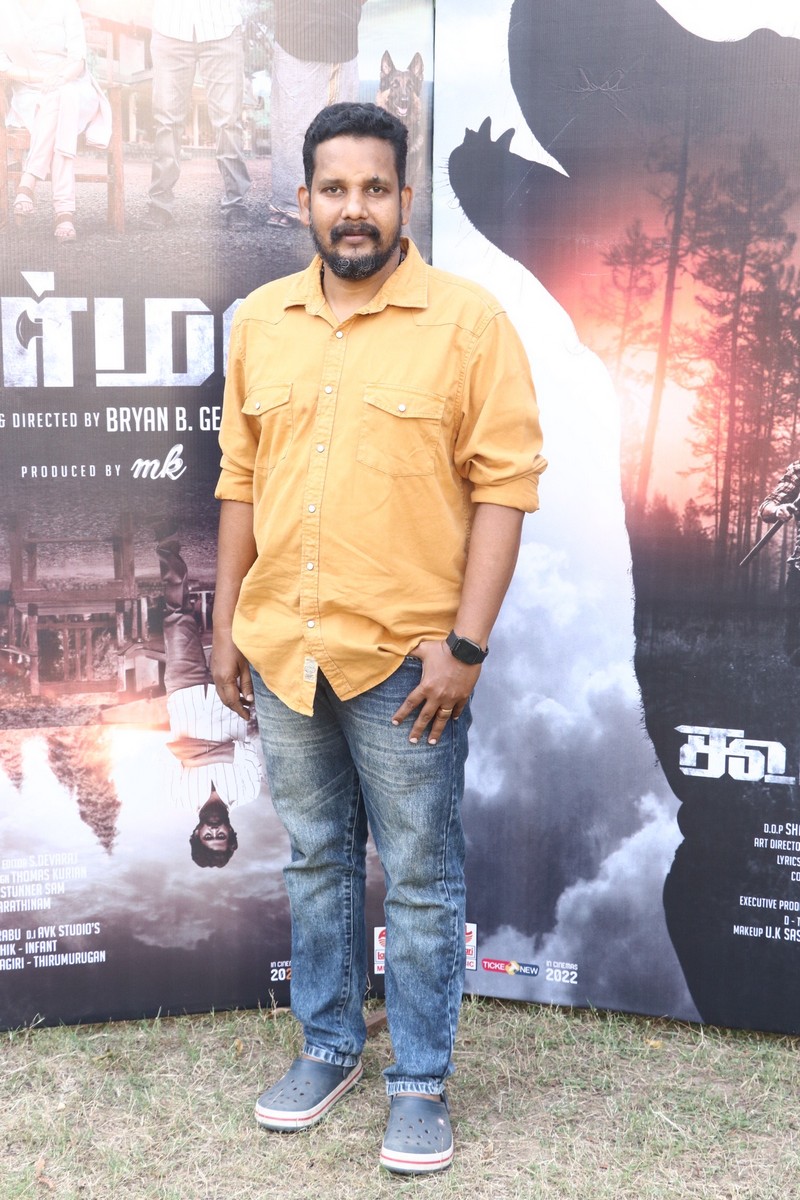 Director Brayan. B. George said, "Every cast and crewmember have done their jobs to their best, and this helped me to complete the project without any hurdles. To be precise, I have done nothing as much as their hard work.  Producer Madhan okayed this script in just 40 minutes of narrative process, which isn't an easy and common thing in today's industry. I extend my heartiest thanks to Madhan sir for making this happen. Suresh sir has been the pillar in getting the project completed without any issues. Actor Rajaji completely surrendered to my instructions, and has given more soul and life to the character he has essayed. I wanted him to stand upside down, and doubted whether he can do it. To my surprise, he did it effortlessly. I wanted an actress with Tamil fluency and that's the reason Janani Iyer is on board for this movie. During many days, we would shoot nearly 4-5 scenes in a day, and she showed her complete cooperation towards this movie. Naren sir agreed to be a part of this movie for my sake. Uma Devi madam has penned spellbinding lyrics for this song. Britto has composed fabulous music. Koorman is a good movie, and I am looking forward to your valuable support. Thank You!!"
Actress Janani Iyer said, "I have known director Brayan. B. George from the days of Thegidi. I would always warn him that I must play the heroine role in his movie. What I thought and perceived as a joke, he had taken it seriously, and has made me a part of this project. It would be a stereotypical statement to utter that Koorman is going to be a fresh and first-of-its-kind movie. But I'm sure, all the invitees here would have understood about the film with the event that happened here. I am sure, the film will have lots of such amazing freshness. There was a magical moment during the shooting days. On a particular day, we were supposed to complete 5 scenes, but unfortunately were disturbed by heavy rain. Later, we decided to shoot those scenes under same climatic condition, but were deeply doubtful whether the rain would continue to pour down. Apparently, we were blessed by God as the rain didn't stop until we completed those scenes. In the same manner, the blessings of God will be here upon the success of this film. I can assure that everyone will love this movie, and I request you all to watch the movie in the theaters, thereby exhibiting your support."
Actor Naren released the audio, and Janani Iyer along with the crew received the copies.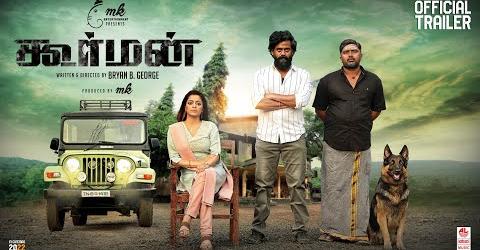 https://www.youtube.com/watch?v=BFjkP53S7f4&t=1s
Written and directed by Brayan. B. George
Cinematography – Sakthi Arvind
Music – Tony Britto
Editing – S Devaraj
Art – Karunanithi
Lighting – Thomas Sooriyan
Stunts – Stunner Sam
Costumer – Tina Rosario
Visual Effects – R. Jeeva Rathinam
Production Executive – D Narasimhan
Executive Producer – S. Ganesh and Sathish Babu
Make up – U.K. Sasi
Stills – GK
PRO – Bharani Azhagiri, Thirumurugan
Co-Production – Suresh Marimuthu
Production – MK