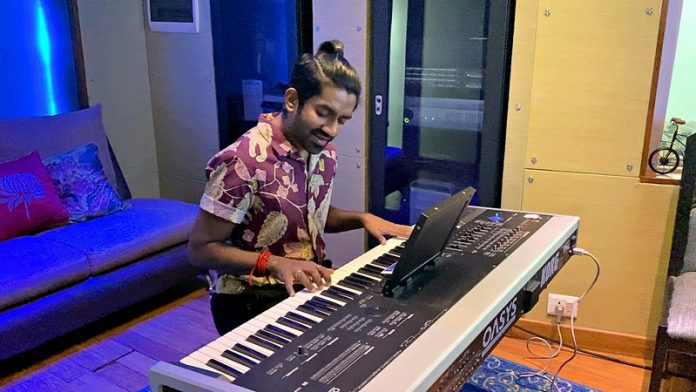 "Kaalai Adhikaalai" – The BEAUTIFUL 'MORNING ANTHEM' BY Music Director Dharan Kumar-Madan Karky-Sid Sriram
Few songs become our morning anthems or in other words, the wake-up treats to embrace the early dawns. Music director Dharan Kumar, who has always aspired and accomplished experimenting with various music genres has come up with a beautiful track 'Kaalai Adhikaalai' from 'Naduvan' starring Bharath Niwas and Aparna Vinod in lead roles.
Music director Dharan Kumar says, "Kaalai Adhikaalai has fulfilled my long time pursuit of composing a song based on the beauty of morning dawn. Madan Karky penned exquisitely elegant lyrics, which propelled more enthusiasm in me to come up with something unique. The song will have the picturing of the protagonist's morning routine of jogging amidst the morning dews and fresh airs that he relishes. When it comes to the poetic essence of songs based on mornings, they have a classical genre like Suprabatham. So we decided to create the song based on Carnatic fusion so that it appeals to both teens and adults. Sid Sriram embellished the song with his Midas-touch of his signature nuances and lovely pronunciations. Most of the songs set against the morning premises feature female vocalisms and, we earnestly wanted to break the chain with this track. A song's success gets adorned with a combination of good tunes, beautiful lyrics, and enchanting vocals. In this aspect, I am happy that Kaalai Adhikaalai has come out very well."
Written and directed by Sharang, 'Naduvan' is produced by Lucky Chhajer of Cue Entertainment. Apart from Bharath Niwas and Aparna Vinoth, the others in the star-cast are Gokul Anand, Yog Jaypee, George, Bala, Dasarathi Guru, Karthik, Suresh Raju, and Aaradhya Shri.
Dharan Kumar is composing music, Yuva is handling cinematography, Sunny Sawrav is the editor, Sasi Kumar is the art director. Lyrics are penned by Madan Karky and Dr. Burn.