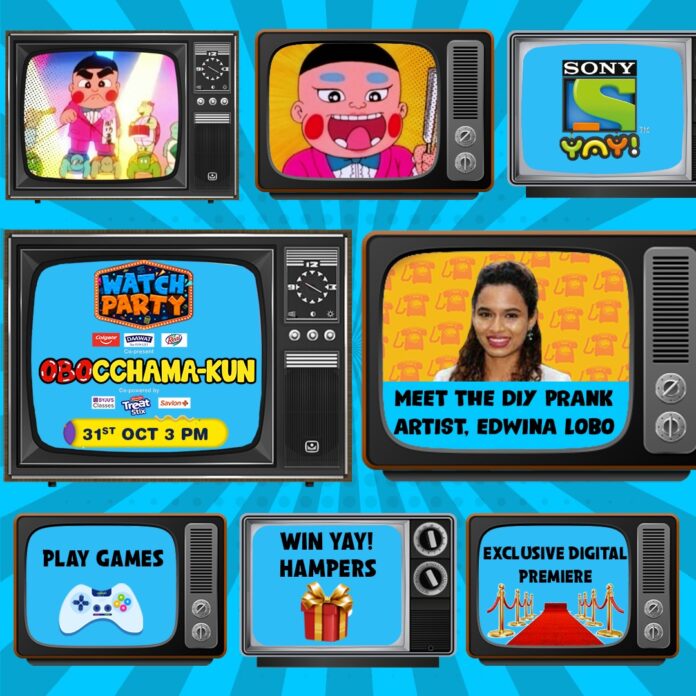 Its YAY! time, as Sony YAY! brings an exclusive Watch Party with fun DIY pranks, surprises, and a lot more
Mumbai: Sony YAY!, a popular kids entertainment TV channel, is here to double the excitement and happiness for their young fans. Kids are in store for a fun Sunday, as the channel invites them to a special Watch Party of Obocchama-Kun on Zoom on October 31st at 3 PM. The Watch Party is set to give kids to get an exclusive peek at their favourite show's new season, a show about a naughty rich kid who has funny and dramatic reaction and crazier adventures. This funfest will also feature the famous artist Edwina Lobo who will create a DIY prank Obocchama-Kun style.
Since its launch, the show that has received so much love that the channel reciprocated the response with a special Watch Party planned for their young fans giving them a chance to watch it before everyone else. So, hurry up, and make the most of your Sunday! Register now to secure your seat in this fun session by clicking on the link below. Block your date for October 31st, at 3 PM, and make your Sunday go YAY! by tuning in live on the channel's Facebook and YouTube pages.
Link for registration: https://bit.ly/SonyYAYWatchParty
Watch new episodes of Obocchama-Kun Every Monday to Friday at 10.30 AM