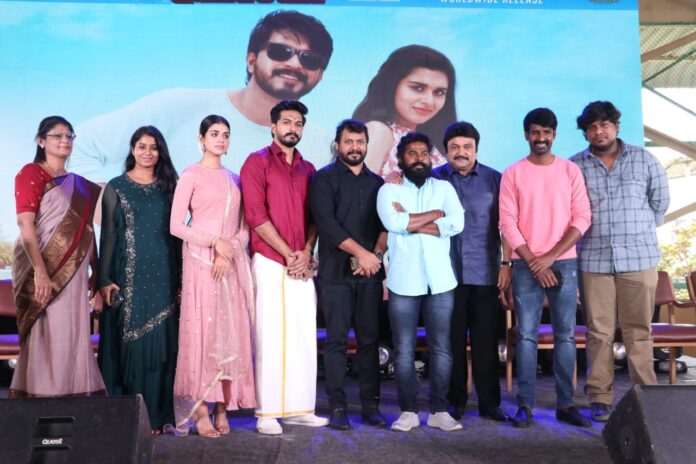 It's not an easy task to become successful in the movie industry says Actor Soori
Skyman Films International Kalaimagan Mubarak Presents A Kavin Directorial Mugen-Soori-Meenakshi Govindarajan starrer "VELAN" audio launched
Producer Kalaimagan Mubarak of Skyman Films International has lined up many projects that are scheduled at different stages of production. The first to hit the screens among them is Mugen starrer "Velan" directed by Kavin. The film features Soori in a prominent role and Meenakshi Govindarajan plays the female lead. Prabhu, Hareesh Peraadi, Brigida and other familiar actors are a part of the star-cast. While the film is scheduled for worldwide release on December 31, 2021, the audio launch of this film was held this morning in Jains Women College in a famous women's college in Chennai.
Here are the excerpts of this event
Producer Kalaimagan Mubarak kept his speech short, sweet and simple citing, "This is the first time, I am experiencing such an event in my production career. I thank everyone here on the behalf of Skyman Films International. We have tried out best in making a good film, and I request you all to encourage us by watching the film in the theaters and appreciate us."
Actor Prankster Rahul said, "I am so glad to be sharing the stage with eminent personalities of the film industry. It was an amazing experience to work with the entire team. Soori Anna was such a humble and good-hearted person. He will spark off laughter in me, every time, I see him on the sets. His sense of humour is unbeatable and you can't resist the laughter. Prabhu sir is such a great human, and he takes care of everyone with so much hospitality. He would even help us in the betterment of acting. I thank director Kavin for making me a part of this film. Myself and Mugen have become close friends now. I have never seen him spending his leisure time inside the caravan. He loves to interact with the cast and crew of this film all the time. Mugen has pranked me in the real life. Brigida has given a cute performance. Velan will be a delightful treat for everyone and I request you all to make this film, a great success."
Actress Meenakshi Govindarajan said, "I came to this college before 3 years seeking admission, but couldn't make it here. However, I am glad to see that I spending this moment here with you all. Working in this film, was a memorable experience for me. Many times, we would go for retakes due to laughter. After interacting with Mugen for the first time, I completely realized why everyone loves him. He is such a Gentleman and good-hearted person. His fans shower unconditional love on him. I am sure this film will be a good entertainment for all in the theaters."
Actress Brigida said, "After seeing the college students elated and excited, I feel like I am missing my college days. This film is so close to my heart. This project has endowed me with a turning point after the terrible pandemic phase. This film will be a delightful experience to all. I will be a part of many projects, and I am looking forward to your love and support."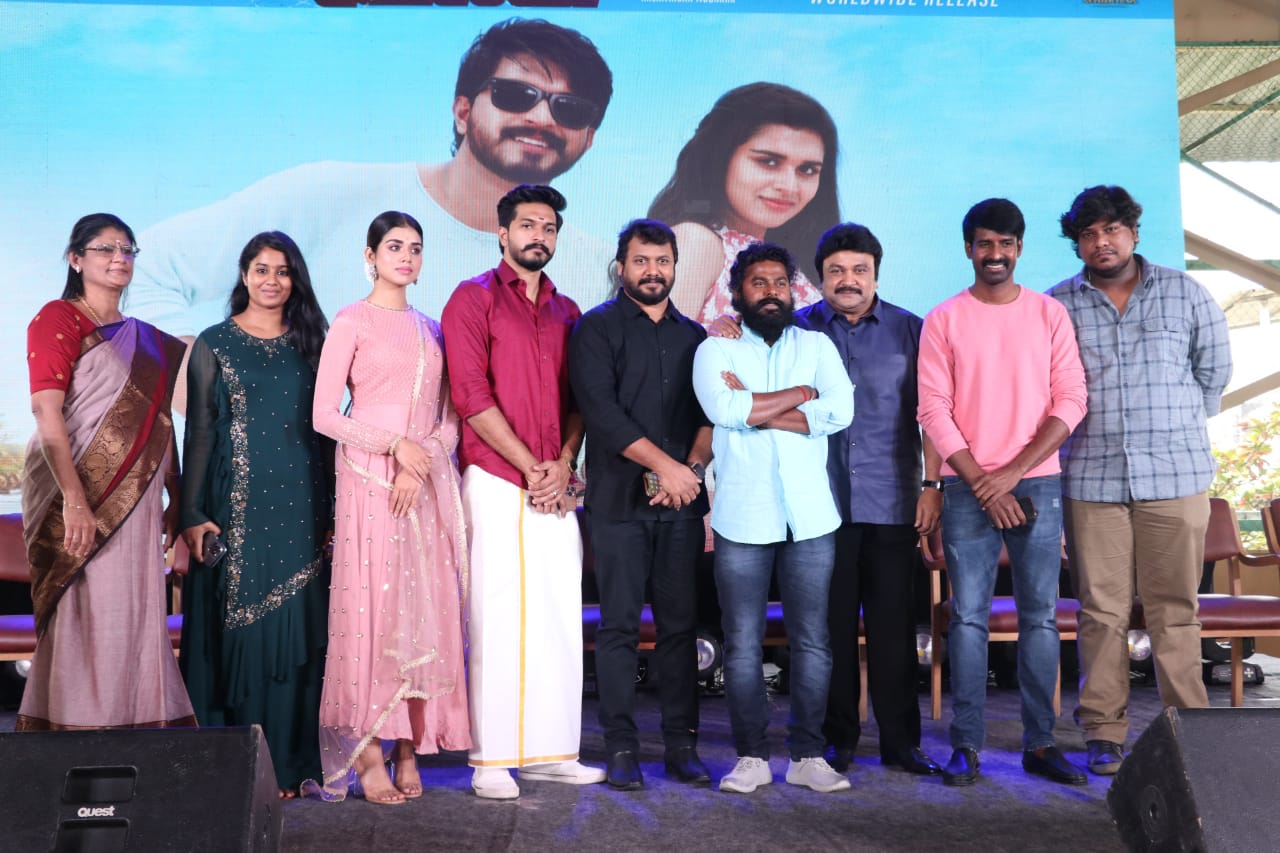 Actor Soori said, "While working in Annatthe, when the director says 'Shot is Ready', Rajinikanth sir would have been 35 steps ahead of everyone. God has blessed him with such a great energy. I am delighted to see the same energy and vibes here in this college. The principal is loaded with so much energy. It's not an easy task to become successful in the movie industry, but Mubarak sir has faced so many challenges and has become a great icon in the industry. His next production starring GV Prakash in the lead character is getting ready for release. He is distributing Ajith Kumar sir's Valimai. His Midas-Touch is adding success to all the projects. My brother like Kavin worked as assistant to Siruthai Siva sir. He is a hardworking and talented filmmaker. I wish him all the best to succeed like his mentor. If there are 500 people, Mugen easily wins 100% applause and whistle easily. Working with Mugen, almost gave a vibe of sharing the screen with Sivakarthikeyan. He has a great future ahead and has the blessings of God. I have already worked with Meenakshi in the movie Kennedy Club. She has delivered a commendable performance in this film. There was a huge fan base for Brigida on the shooting spot. Rahul has done a great job in this movie. I was spellbound and couldn't control my laughter after watching his prank in a car showroom. His talent of not getting slammed anywhere needs special mention. In spite of being a senior and experienced star, Prabhu sir treats everyone so kindly on the sets. He takes care of everyone on the sets with so much love. I pray to God that the film becomes a good hit."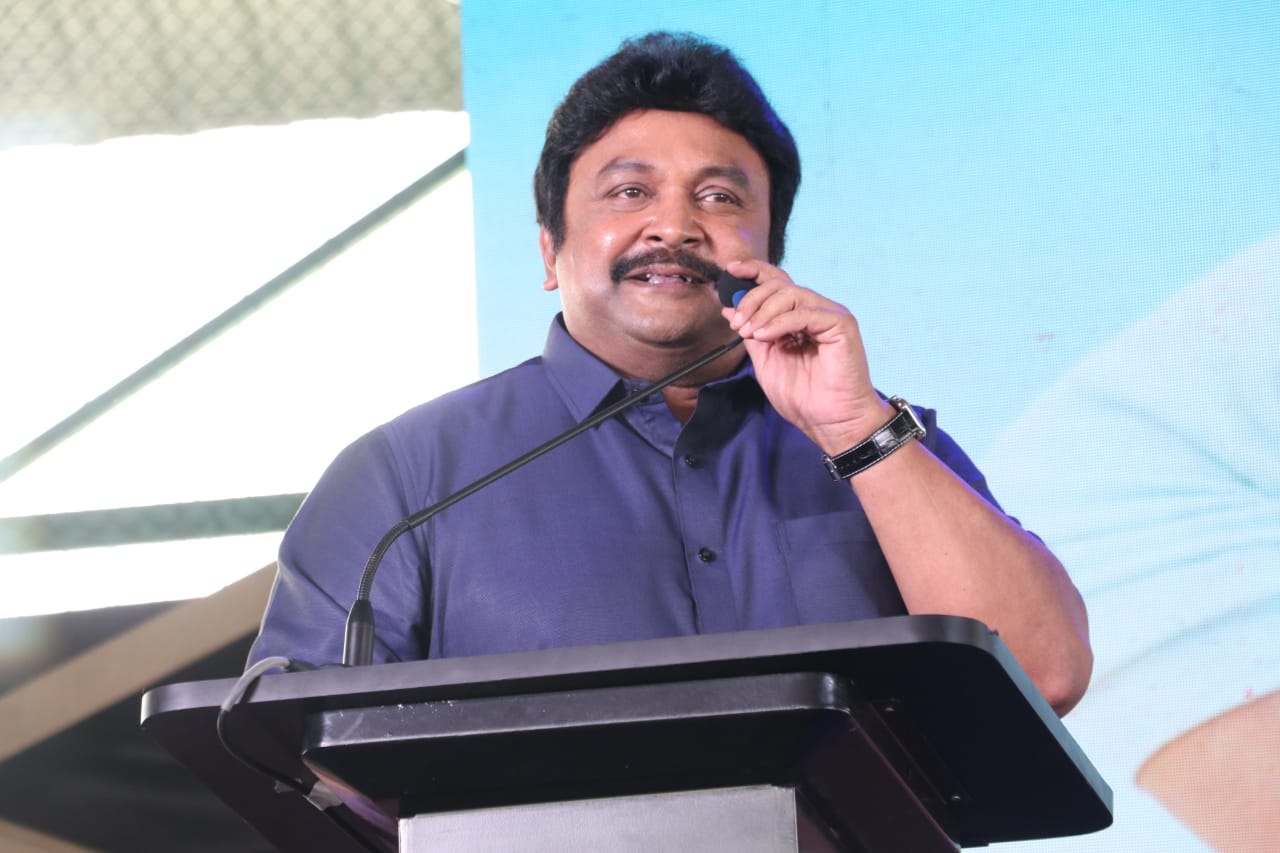 Actor Prabhu said, "I thank the faculty and board members of this college for allowing this event to happen here. Mugen has done a great job in this movie. Kavin is a wonderful filmmaker and I am so happy to work with a gentleman like producer Kalaimagan Mubarak sir. Rahul is doing a great job over online platform. I am happy to have worked with Meenakshi. Soori is a hardworking person, and has done a great work in this movie. Bigg Boss Mugen is such a good boy. Just like how, he was genuine and honest in the show, he has exerted same efforts for this film. This film will be a good breakthrough for him. The songs have come out very well. Both the action and comedy sequences have shaped up excellently. I thank Jain College for such a wonderful welcome and reception for our audio release here."
Actor Mugen said, "This is the first time, I am witnessing such a great stage in my entire life. I thank Kavin Anna and Mubarak sir for giving such an opportunity. I was no different from the aspiring artiste, who yearned for an offer, and I am so thankful to these people for giving me a chance in this movie. When Kavin brother narrated the script, I was completely engaged and thoroughly enjoyed it. I request Mubarak sir to keep introducing many young talents in the industry. Prabhu sir is such a legend, but he treated me as his own son. He took so much care about me and kept suggesting me lots of acting tips… I am a great fan of Soori Anna, and I want to see him scale greater heights. I gelled with Rahul instantly I saw him. He has faced so many challenges, before experiencing success. I pray that he keeps experiencing more success in his life. Thambi Ramaiah sir has done a good role in this film. The entire crew worked as a family together. Meenakshi is a dedicated artiste and does every single shot with so much involvement. Brigida has done a good performance in this movie. I thank everyone here and because of your love, I am here. Velan is an important film in my career. This film will be loved by everyone in your family, and I request you all to support us."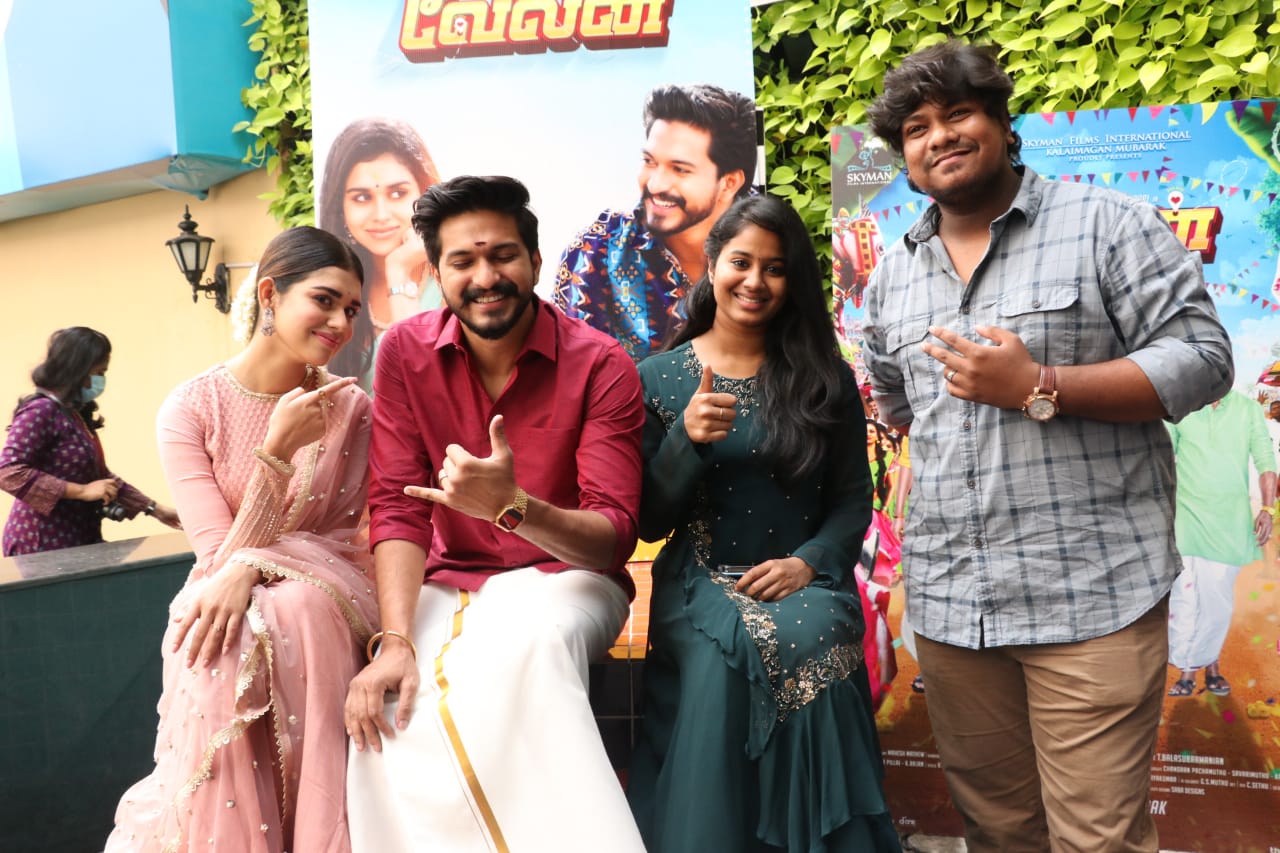 Director Kavin said, "Jain College students have made this occasion, look like a carnival. I thank Prabhu sir for being a part of this project. I still remember the moment in 2019, when the postproduction work of Viswasam was on full swing. I saw him giving Rs. 200 to everyone. I was standing across the corner. He spotted me and gave the money saying that it's going to be a big start for me. It all started there, and instantly I got an opportunity to get-go with my directorial debut. I met Mugen and narrated the script, which he liked. I felt that he would befittingly look perfect for the role of Pollachi native boy. He thoroughly enjoyed working in this film. Initially, he was doubtful and asked me whether he would do justice to this role. I strongly believed in him and signed him for the project. Later, I narrated the script to Mubarak sir. Many suggested him not to invest so much big money into a project with newcomer in the lead role. But he strongly believed that the script demands the production value and agreed to produce it without any compromises. I owe a lot to Mubarak sir for trusting me and my script. When I approached Soori Anna for this project, he was simultaneously shooting for Rajinikanth's Annatthe and Vetrimaaran sir film. He was quite busy, but still he agreed to be a part of this film. Till now, he has been involving himself into this project like my own brother. Thambi Ramaiah sir has combination scenes with everyone in the star-cast, and he has exhibited a fabulous performance. Meenakshi has delivered a commendable performance. Prankster Rahul kept giving lots of inputs that gave finest touch to the scenes. I thank all the technicians for being a great support in nurturing this project. Gopi Jagadeeswaran cinematography is going to be an additional attraction in this film. I thank everyone for making this event a great success and I am sure that you'll enjoy the movie in the theaters."
While Mugen, Soori and Meenakshi Govindarajan will be seen in the lead roles, the other actors are Prabhu, Maria Vincent, Prankster Rahul, Thambi Ramaiah, Hareesh Peradi, Brigida and many others. Gopi Sundar, the reigning music director of Malayalam industry has composed music and Gopi Jagadeeswaran has handled cinematography. Balasubramaniam is the art director. K. Sarathkumar is the editor. The other technicians are Mahesh Mathew (Stunt), Dinesh-Viji Sathish-Radhika (Choreography), Uma Devi-Vel Murugan-Kalaimagan Mubarak (Lyrics).
Produced by Kalaimagan Mubarak of Skyman Films International, the film written and directed by Kavin is all set for the worldwide theatrical release on December 31, 2021.