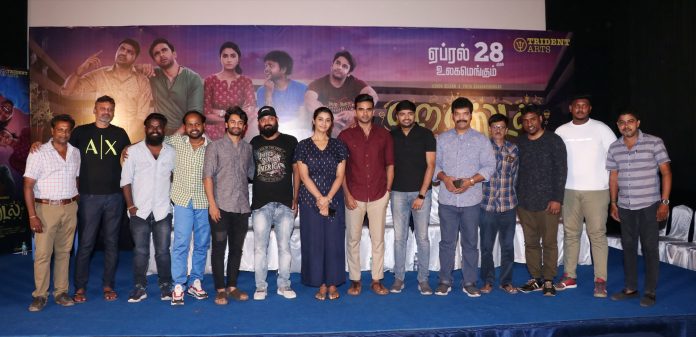 "Hostel" is all set for worldwide theatrical release on April 28, 2022
Ashok Selvan – Priya Bhavani Shankar starrer "Hostel", directed by Sumanth Radhakrishnan and produced by Trident Arts R Ravindran is all set for worldwide theatrical release on April 28, 2022. The entire cast and crew of this movie interacted with press and media fraternity sharing their experience and journey, while making this movie.
Director Sumanth Radhakrishnan said, "The film is made with lots of jolliness, and the audience will experience the same while watching the movie. When I made my debut movie Sathuram, I got so much support from the Media and Press friends. Now I have a movie with complete confidence for a good banner like Trident Arts. I thank my producer Ravindran sir, IB Karthikeyan sir for introducing me to him. I thank my executive producer Murali Krishnan. Without his support, the movie would have not completed on time, and gear up for theatrical release. I thank my co-director Bharathi brother for a great support. It's a very simple and enjoyable movie. We have worked with heart and soul into the project, and I am sure, audiences will reflect themselves while watching this movie. The entire star cast has supported a lot in making this movie an enjoyable experience. The technical team has been the pillar of this movie.
Actor Krish Kumar said, "I thank Sumanth for giving me an opportunity to me. We started shooting this movie in 2021 before the culture of OTT commenced. Despite the OTT offers, I thank my producer Ravi sir for refraining from such a scenario and getting it released in theaters first. Being a newcomer, I thank Suman sir and Ravi sir for making me a part of this project that has big actors like Ashok Selvan, Priya Bhavani Shankar and others."
Cinematographer Praveen Kumar said, "I thank producers, director Sumanth, and art director Durai sir for making me work comfortably. Since the artwork was really good, it was easy for me to shoot from various angles. Ashok sir had adapted new mannerisms, which are completely different from his previous movies. It was really difficult to ask for one more take. So are the other actors, who have been great support for me. I thank everyone for making me a part of this project."
Music director Bobo Sashi said, "I thank Trident Arts and Suman sir for making me a part of this movie. There are two songs: One is Hostel Gaana crooned by Gaana King Deva, and then Mica Buddys, which is rendered by me. I thank Murali sir for making me feel comfortable throughout the project. I request everyone to watch the movie in the theaters and enjoy it."
Editor Rahul said, "It was an enjoyable experience working in this movie. It was really easy for me to work with the entire team. I thank Sumanth Anna for this opportunity. I request everyone to extend their support towards this movie."
Actor Yogi said, "This is my first stage and occasion. I am really happy to see my image and name mentioned in the movie poster. Most of the TV actors don't get opportunities in movies, but Sumanth sir encouraged me a lot to perform a character stating that it will gain me good response. I thank Ashok Selvan, Priya Bhavani Shankar, and other actors who encouraged me a lot to give the best work. This is a happy and fun filled movie. The final output has come out really well. I request everyone to support this movie."
Actor Ravi Mariah said, "When they initially invited me to be a part of Hostel, I was excited to relive my 3 years of hostel days. However, my hopes were dashed down, when director told me that I have to play Priya Bhavani Shankar's father. However, I was completely exhilarated to be sharing screen with a talented actress like Priya. Director is talented as he hasn't just remade the original version, but has adapted it. He has very well sketched the characterizations. I am sure; it will outperform the original Malayalam version. Ashok Selvan has done a commendable job. He is so humble and down-to-earth. Comedy is the antidepressant for everyone in today's situation, and I request everyone to give value towards it. I am sure, everyone will love this movie."
Actor Sathish said, "This is an out and out fun-filled movie. Ashok Selvan is attempting a new genre with every movie. It's nice to see him consistently working on many projects. Priya Bhavani Shankar has become my close friend after working in this movie. Everyone has done a commendable job in this movie. Sumanth is a producer friendly director. He has done a great job by shooting the entire movie within a single premise of the hostel backdrop in an engrossing manner. Ravi sir has given complete freedom in letting us complete this project with good output. Krish is a low-budget Prabhas, and has done a good job. Every actor in this movie has got a good and substantial role. I have personally liked this movie, and I am sure, audiences will love this movie as well."
Actress Priya Bhavani Shankar said, "I am so happy to be associated with such a good team. Ashok Selvan, Sathish and others have been wonderful co-stars. It was an effortless process of shooting the movie. Tons of thanks to producer Ravindran sir for making it smooth. It was really good to be filmed by cinematographer Praveen sir. Bobo Sashi has given beautiful songs. It has been a great experience working with Nasser sir. I got only a few scenes to be shoot in this movie, but am working with him in a couple of new projects. I thank the director for bringing us together. Hostel will be a delightful experience for the audiences in the theaters. I congratulate Sathish for a good lineup of movies. Ashok Selvan is doing a great job. His hard work has started reaping him harvest, and he will scale great heights."
Actor Ashok Selvan said, "I thank media and press friends for supporting all my movies. I thank producer Ravindran sir for making this project happen. Initially, I was reluctant to take up this project, but Sumanth had completely changed the script apart from picking up the gist from the original version. Priya is really doing a good job. She has become the finest actress for choosing best and unique scripts-roles. I am glad that Sathish has started scaling greater heights in lead role with unique scripts. I thank Krish and Yogi as they are making their debut with good movie like Hostel. Nasser sir is like a family to me, and it was great to work with him. Munishkanth, Ravi Mariah sir, Aranthaangi Nisha and others have done a great job. I request everyone to watch the movie in the theaters and support it. As Ravi Mariah sir said, Comedy is serious business. We have tried making it wholeheartedly. Like he said, I request everyone to experience and appreciate it."
Hostel is produced by R. Ravindran of Trident Arts. Sumanth Radhakrishnan is directing this movie.
Star-cast:
Ashok Selvan, Priya Bhavani Shankar, Sathish, Munishkanth, Nasser, Ravi Mariah, Krrish, KPY Yogi, Ragul and many others.
Technical Team:
Bobo Sasii (Music), Praveen Kumar (DOP), Ragul (Editor), G Durai Raj (Art), Apsar R (Choreography), A Keerthivasan (Costume Designer), Pradeep Dinesh (Stunt), Sathish AIM (PRO), T Selvaraj-SN Asraf (Production Executive), Murali Krishnan (Executive Producer), Kal Raman (Co Producer)