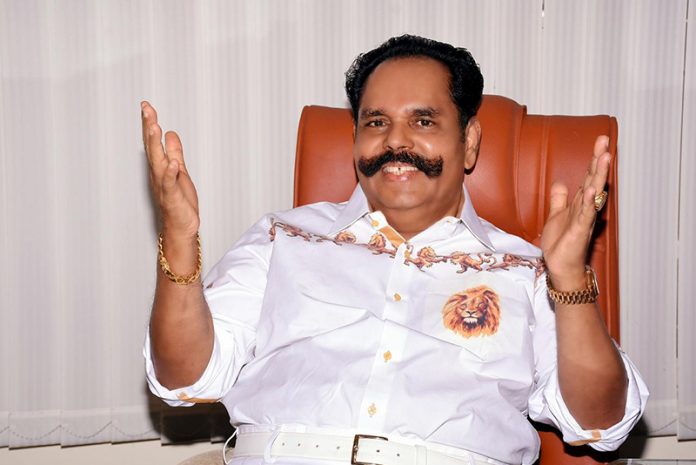 Gentleman2 begins – K T Kunjumon the Mega Producer announces!
In two types of cinemas- Story telling cinema; K T Kunjumon showed them the daring way on how to the produce big budget films with strong story. Continuing the trend with the block buster movies, 'Vasanthakala Paravai' and 'Surieyan'… in 1993 mega budget movie 'Gentleman' was produced, introducing  Shankar as director– Now known as a Mega Movie director. The film was a turning point for the action king Arjun. A R Rahman's album of 'Gentleman' became an instant hit across the country. After creating a niche for Rahman's music, K T  Kunjumon created a mega movie the' Kadhal Desam' from a small love story. And he rose as a hero among movie fans.
K T Kunjumon introduced Prabhudeva as a Hero through another block buster movie ' Kadhalan' also brought Telugu Super star Nagarjuna Akkineni to Tamil Film industry through his mega movie Ratchakan, and introduced Miss universe Sushmitha Sen in silver screen. He not only introduced but gave big breaks to many more Actors and Technicians through his movies. Now returning to entertain the movie fans with 'Gentleman2' which with twice greater than 'Gentleman'. He announced that through 'Gentleman2,  I am resuming movie production works; moreover, he said:
ALSO READ:
"ஜென்டில்மேன்-2" ஆரம்பம் ! பிரமாண்ட தயாரிப்பாளர் K.T.குஞ்சுமோன் அறிவிப்பு
'Gentleman' became a mega hit in Tamil, Telugu and in other languages. This movie released all over the world in many languages got overwhelming reception from a worldwide audience. Twice the greatness of 'Gentleman' can be seen in 'Gentleman2' will challenge the best of Hollywood movies with the most updated movie production techniques. 'Gentleman2' will be produced by Gentleman film International as part two of 'Gentleman'; Initially, it will be produced in three languages-Tamil, Telugu and Hindi. Discussions are going on with  Actors, Actresses, and Technicians. The official announcement on 'Gentleman2' will be released soon. 'Gentleman2' will be first released in theatres all over the world. Only after it will be released to other mediums, he announced. He has also produced Malayalam movies with malayalam super stars Mammootty , Mohanlal, and many more Malayalam artists. He also has released as a distributor hundreds of movies including that of Tamil superstars Rajinikanth, Kamalhaasan, in Tamilnadu, Kerala and Maharashtra . Because, whichever movie released, he used to release with mega budgeted publicity, KT Kunjumon's releases are always a big celebration for the movie fans.