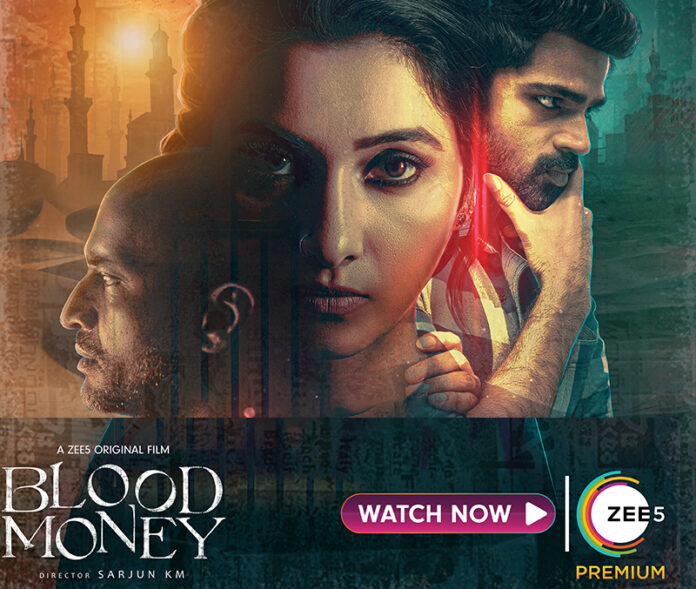 Blood Money – A ZEE5 Original Movie wins the hearts of general audiences and film critics!!!
ZEE5 Tamil on 24th December 2021 premiered 'Blood Money – a Suspense Drama' which is now experiencing incredulous praises. The film is directed by Sarjun KM and features Priya Bhavani Shankar in the lead role with Shirish, Kishore playing important roles. Both the general audiences and critics are relentlessly appreciating the film, which has made it the highest viewed content on ZEE5, thereby creating a new record.
"Blood Money" strongly emphasizes the role of media in society and the way it has been presented has found excellent response. Blood Money has colossally attempted in bringing to light the real power of media, and how important and valuable is the life of innocents.
General audiences and critics have been appreciating the film for its hard-hitting and unique core content that deals with the pathos and touches of the melancholy of common people. Besides, the stellar performances of the actors, gripping screenplay, and top-notch technical aspects have escalated the stature of this film for a greater movie-watching experience. The strong word of mouth and viral positive talks about the film have furthermore elevated the attention towards this film.
Directed by Sarjun KM, Blood Money is produced by Irfan Malik of Emperor Entertainment on a grand scale and the film is available on the Zee5 OTT platform and can be viewed across the world.
Screenplay & Dialogues – Shankar Das
Cinematography – G Balamurugan DFT
Music – Sathish Raghunanthan
Art – Surya Rajeevan
Editing – Prasanna GK
Lyrics – Kugai M Pugazhendhi
While the competition among the big players is getting tougher, ZEE5 has carved a niche of excellence for endowing its subscribers with a wide array of spellbinding, entertaining, and gripping Originals. In particular, the Tamil-speaking groups across the world have acknowledged ZEE5 as their best source of entertainment for its consistent arrival of prodigious movies like Vinothaya Sitham, Dikkiloona, Malaysia to Amnesia, and many more blockbuster flicks.