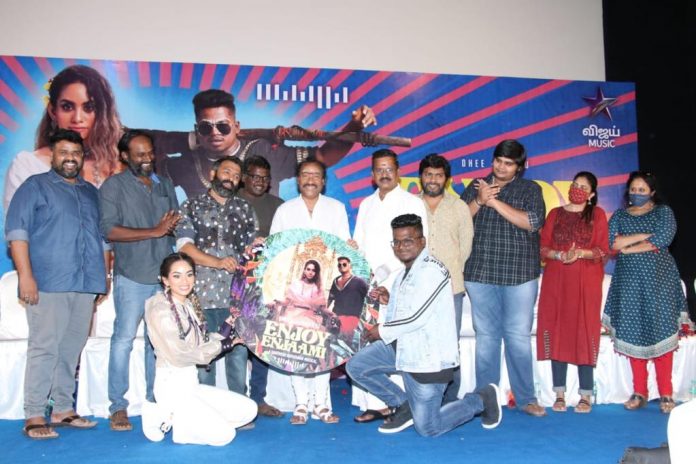 AR Rahman launches Maajja, a platform for South Asian independent musicians : First "Independent song" sung by Singer Dhee
Maajja, together with academy award winner AR Rahman, provides a platform to encourage and elevate South Asian independent musicians to the global stage. "Enjoy Enjaami" by Dhee and Arivu, maajja's maiden release, was launched today.
Here are some excerpts from the event…
Director Manikandan said, "I am completely unprepared for the occasion as I didn't hear the song. But I am in awe of Arivu's lyrics. It encapsulates the beauty of Tamil culture. The song is conceptualized about the equality. When citing the term 'Equality', it's about every being, even the grass and butterfly. Dhee has done a remarkable job and her rendition expressed the emotions of the lyrics. Working with Santhosh Narayanan was awe-inspiring. He took more efforts in making the essence of every word grasped by lay people was excellent."
Director Nalan Kumarasamy said, "I have already listened to the song, but I got more enthralled watching the visuals. Every song must narrate a story and this song has done it."
Director Mari Selvaraj said, "Dhee is such a talented artist and she owns a unique style of rendition. Despite being from Australia, she adapted and delivered more songs with the right pronunciations. Getting on with this song, both Arivu and Dhee together have delivered a power-packed track. Both of them will have big honours and acclaims from all over the places. It's really great to see Santhosh bringing them together for this song. Santhosh is always in awe of Arivu like Dhee. Santhosh sir is such a humble and down-to-earth person. Whenever, I show some talents even from the deep remote villages, he would immediately ask them to record a song and give a breakthrough."
ALSO READ:
Director Sudha Kongara said, "When composing a particular track, we wanted someone who could emote well through the voice of a teen girl. It was during that time, Santhosh showcased the voice of Dhee and she nailed it down. Even now, she has done a fabulous work with 'Kaattu Payalae' from Soorarai Pottru. The combination of Dhee-Santhosh Narayanan-Arivu is brilliant and unparalleled."
Producer Kalaipuli S Thanu said, "My association with Santhosh Narayanan dates back to the days of Kabali followed by Kaala and now with Karnan. Our associations will continue hereafter as well. The song is really amazing and I am very much confident that it will go places with global acclaims and accolades."
Director Karthik Subbaraj said, "Myself and Santhosh Narayanan together have been discussing this concept of song for a very long time. Santhosh's intention was not to introduce Dhee, but promote the independent artists."
Director Ranjith says, "This is a great effort by Santhosh Narayanan, Dhee and Arivu. This isn't just about pioneering with something unique, but a great means of bringing forth the talented independent artists under spotlights. Santhosh has been very much religious about promoting such musical culture. Dhee isn't just a playback singer, but she is very much emotional about the lyrical part. In this song, it is very much embellished with her efforts. Arivu has done an excellent job. Digital platforms have been bridging the gap between the music from among groups in various social strata. I am sure, this is the beginning and there will be more independent music artists getting acknowledged in the near future."
Music director Deva said, "This is a beautiful occasion. I have always heard that Santhosh Narayanan unconditionally appreciates new talents. Dhee might not look like someone from our region, but her Tamil pronunciation is excellent. Lyricist Arivu has done a fabulous job as well.
Singer Dhee, "I am someone, who isn't prepared to deliver speech in occasion like this. I am touched with the gesture of media and press friends for their presence here. I thank maajja for introducing the new platform to promote South Indian Independent artists. I thank Amith for his amazing job. Arivu is one of the best artists in the world. More than being my father, I always feel excited to work with another artist Santhosh Narayanan. I am always in awe of Ranjith anna's works and this song is inspired by his works. My mother is my God and she has done a great dedication in making me an artist."
Lyricist Arivu said, "The life of independent artists is always confined to limited audience. But today, I am surprised to see that my single is getting a grand audio launch. Writing for a film song is far different from independent songs. We need to write for situations in films, whereas independent songs speak about a theme and concept. I thank maajja for making this happen. I thank AR Rahman sir for being the curator. Santhosh Narayanan sir is a political music director. He doesn't compose music just like that, but he would go in depth and find the roots before starting his work."
Music director Santhosh Narayanan said, "When a well established artist like Arivu himself had emotional tears for getting recognized today, just imagine, there are more than 1 lakh independent artists, who are waiting for recognitions. Now we have started visiting many villages and towns to record the talents. More than enjoying their soulful works, I wanted to seek apology from those artists for not letting their talents exhibited earlier. Dhee is a talented artist. Ranjith is the inspiration behind my ambitious drive to go explore more new music."
Lyricist Vivek said, "This is a special platform. Dhee is someone unique and extraordinary. She has been into pop culture, but has spearheaded by exploring into different genre. Santhosh Narayanan has the ability to express his prowess as a gentle candle light and firestorm at the same time through his music. To see the great works of Dhee, we are happy and confident that music is in the right hands. Arivu is such an amazing artist."