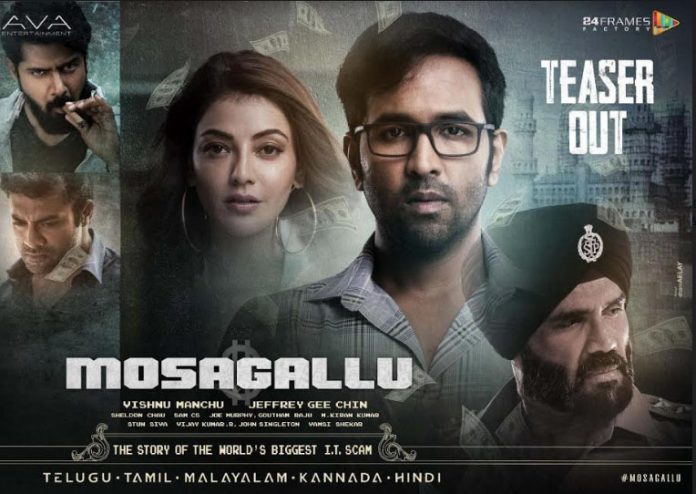 Allu Arjun Unveils Vishnu Manchu's Mosagallu Teaser
Stylish Star Allu Arjun has unveiled Vishnu Manchu's Mosagallu teaser today. The teaser exposes Mosagallu and the size of their scam.
The teaser begins with US President Donald Trump addressing the media at White House warning the offenders of the biggest IT scam that originated in India and shook the United States Of America.
"We will find you. We will eliminate you. And I'm ready and prepared to take whatever action is necessary," says Trump.
The next episode introduces Vishnu Manchu and Kajal Aggarwal as the masterminds behind the scam.
We can see a shed full of money packed in bags and Kajal says, "Idi Saripothundi Kada." Vishnu replies, "Aata Ippude Modalayyindi."
Sam CS's music complements the visuals.
The teaser that has exposed Mosagallu and the size of their scam is interesting and it makes us curious to know the story behind the scam. It indeed raises expectations on the film.
Mosagallu will be released in multiple languages in Telugu, Tamil, Malayalam, Kannada and Hindi.
Vishnu Manchu is producing the film, while Jeffrey Chin is directing it. Kajal Aggarwal will be seen as Vishnu's sister.
Bollywood star Suniel Shetty makes Tollywood debut with the flick.
Cast: Vishnu Manchu, Kajal Aggarwal, Suniel Shetty, Ruhi Singh, Naveen Chandra, Navdeep and others.
Crew:
Producer – Vishnu Manchu
Executive Producer- VijayKumar R
Director – Jeffrey Gee Chin
DOP – Sheldon Chau
Production Design – Kiran Kumar M