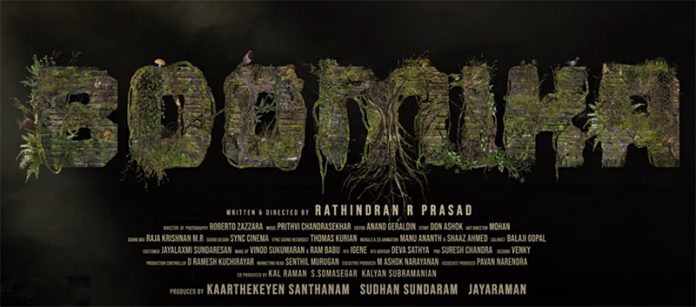 Aishwarya Rajesh's 25th film "Boomika"
Stone Bench Films that has been consistently churning out films with unparalleled themes and top-notch calibre has made an announcement about its fourth venture titled 'Boomika', which is presented by Karthik Subbaraj and produced in association with Passion Studios. It marks the 25th film of Aishwarya Rajesh, who plays the role of a psychiatrist. The film is written and directed by Rathindran R Prasad, who shot to fame for his outstanding presentation of yet-to-release directorial debut 'Idhu Vedhalam Sollum Kathai' that found an immensely amazing response for the trailer.
Director Rathindran R Prasad says, "Technically, this will be my first film to release and it was a great experience to work with ace producers at Stone Bench Productions and Passion Studios. We have completed shooting the entire film in a single stretch schedule of 35 days across the forest regions and abandoned properties in Nilgiris and it involved lots of challenges and hardships like heavy downpours. Apart from Aishwarya Rajesh and Paval Navageethan, the film has lots of newcomers in the star-cast. I am thankful to the entire technical crew, especially Italian cinematographer Roberto Zazzara, who has captured the best visuals for this film. I am also confident that the musical score of Prithvi Chandrasekhar will be greatly extolled. We are extremely happy about the response for the motion title and will be soon releasing the first look and teaser."
Producer Kaarthekeyen Santhanam, Stone Bench Production says, "We are extremely excited to collaborate with Rathindran on Boomika. Apart from being a master storyteller, he is an astute technician and planner. It was a very quick execution in just 35 days and we are very happy with the way it's shaped up. It also gives us immense happiness that this happens to be Aishwarya Rajesh's 25th film. Her acting prowess needs no introduction and needless to say she has done an outstanding job in the film.
The film also has many newcomers in both the cast and the technical field and all have done a tremendous job. Rathi assembled a young, hardworking, and fun team and they all have done great service to the project.
We shall in due course release the first look and other material and we are confident that this will appeal to the audience. We look forward to everyone's support as always"
The technical crew comprises Italy based Roberto Zazzara (Cinematographer), Prithvi Chandrasekhar (Music), Anand Geraldin (Editor), Don Ashok (Stunt), Mohan (Art), Raja Krishnan MR (Sound Mix), Sync Cinema (Sound Design), Thomas Kurian (Sync Sound Recordist), Manu Ananth & Shaaz Ahmed (Murals & 2D Animations), Balaji Gopal (Colorist), Jayalakshmi Sundaresan (Costumer), Vinod Sukumaran & Ram Babu (Makeup), iGene (VFX), Deva Sathya (VFX Advisor), Suresh Chandra & Rekha (PRO), Venky (Publicity Designs), D Ramesh Kuchirayar (Production Controller), Senthil Murugan (Marketing Head), Pavan Narendra (Associate Producer), M Ashok Narayanan (Executive Producer), Kal Raman, S. Somasegar, Kalyan Subramaniam (Co-Producers).
The film is presented by Karthik Subbaraj and is produced by Kaarthekeyen Santhanam, Sudhan Sundaram, and Jayaraman for Stone Bench Productions and Passion Studios.
ALSO READ:
ஐஸ்வர்யா ராஜேஷ் நடிப்பில் 25 வது படம் "பூமிகா"!