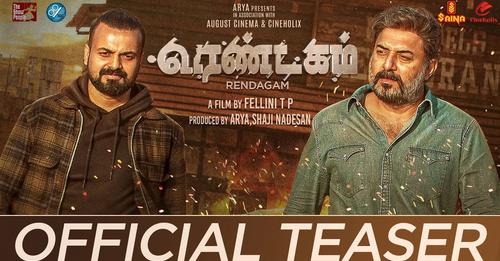 Actor Karthi releases the teaser of Arvind Swami- Kunchako Boban starrer 'Rendagam'!
Produced by Actor Arya's August Cinemas and Show People, the Aravind Swami- Kunchacko Boban bilingual 'Rendagam' (Tamil)/ 'Ottu' (Malayalam) is directed by T.P. Fellin. The first look poster of the film that released recently, has been well received.
Arvind Swamy is an actor par excellence who enjoys a wide fanbase for portraying different roles in Tamil cinema, with critically acclaimed roles in films like Thani Oruvan, Bogan, Chekka Chevandha Vaanam, Navarasa. Following this successful journey, the actor is currently playing the hero in the upcoming film Rendagam alongside Malayalam actor Kunchacko Boban, who also starred in the Malayalam Remake of the Tamil superhit film 'Kadhalukku Mariyadhai' titled 'Aniyathipraavu' with Shalini Ajith who featured in the orignal too.
Rendagam will mark the Tamil debut of Kunchacko Boban.
Along with them, Jackie Shroff, Eesha Rebba, Aadukalam Naren and Deepti Sati are playing pivotal roles.
Actor Karthi released the teaser of the film on his social media pages.
Technical team:
Direction: TP. Fellin
Production: Arya, Shaji Natesan
Written by: S Sanjeev
Co-Direction – Sasi Kumaran
Music – A H Kashif
Cinematography – Gautham Shankar
Editing – Appu N Pattathari
Art Direction – Subhash Karun
Costumes – Steppy Xavier
Makeup – Ronex Xavier
Pictures – Roshkumar
Stunts – Stunt Silva
Dance – Sajna Najam
Public Relations – Riaz K Ahmed (V4U MEDIA)